2015 Intel ISEF alum named to 2016 Forbes' 30 Under 30 in energy sector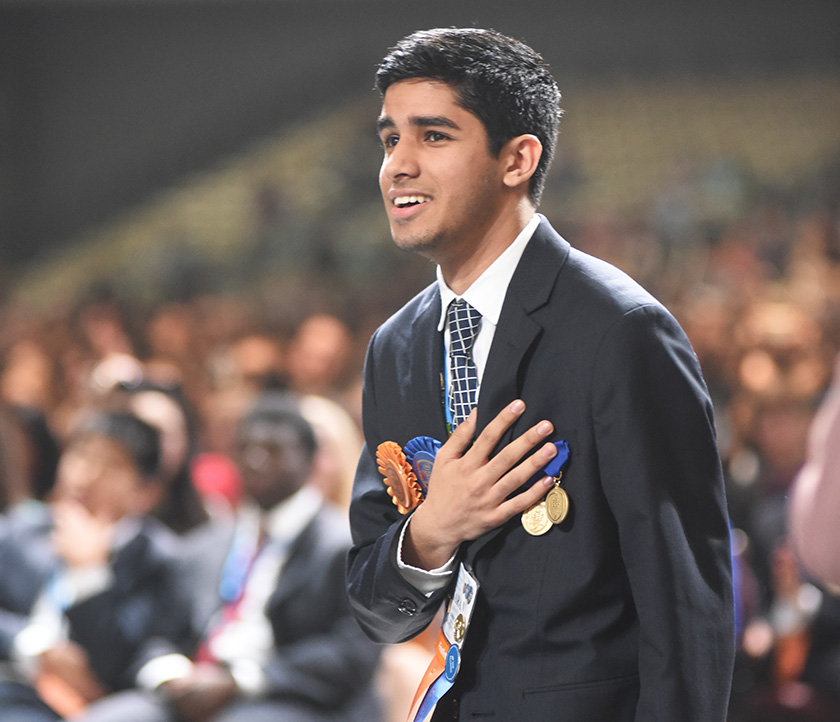 "Science fair helped me discover my career path," said Karan Jerath.
Karan, a 2015 Intel International Science and Engineering Fair (Intel ISEF) finalist, studies oil spills and petroleum engineering at the University of Texas. He was named one of Forbes' 30 Under 30 in the energy sector in 2016 — one of four Society alumni named to the list.
After Intel ISEF, Karan said new opportunities for continuing his research have opened up.
Read on to find out how science fairs inspired Karan.
---
MEETING INSPIRING SCIENTISTS FROM AROUND THE WORLD AT INTEL ISEF: I met some of the most inspiring and dedicated people from around the world. It was a fantastic opportunity for all of us to share our ideas that will hopefully change the world one day.
We had so much in common and it was refreshing to be surrounded by like-minded people. I am in still in touch with many of them.
The whole Intel ISEF experience encouraged me to stick with STEM. And that's how I picked petroleum engineering for my major.
I've also been mentoring students at my high school on their science fair projects. The science fair process has had a big impact on me and Intel ISEF changed my life. It has given me the confidence to share and push my ideas forward.
---
Help others into science fairs so they too can share world-changing ideas. Join the Society today!
---
WHY OIL: Science fair helped me discover my career path. After experimenting with several diverse fields, starting with my freshman year of high school, I came to the conclusion during my sophomore year that the oil and gas industry aligned perfectly with my interests.
The industry has potential. This is what drew me to it. It is a diverse field that needs constant growth and improvement.
Intel ISEF changed my life. It gave me the confidence to share and push my ideas forward.
It is an industry in which things can go up or down any day, which can be exciting. One must be an excellent problem solver and understand the intricacies of how the world works to face the diverse challenges that appear every day.
There is so much more that could be done in the industry. I realized through science fair that my overall career goal is to to make the industry more efficient, more environmentally conscious, and more economical.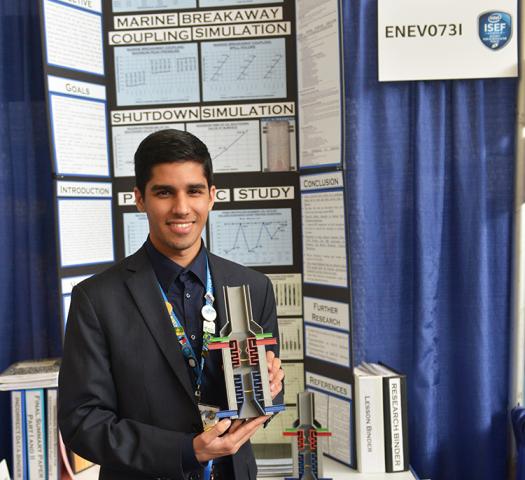 GOOD IDEAS DON'T HAVE AN AGE LIMIT: Good ideas are encouraged no matter how old you are. The Forbes recognition gives me the confidence to continue working hard and follow through with my oil spill invention. Being the youngest member in the energy category truly makes me believe that young people can make a difference and that nothing is impossible.
My invention was aimed at refining and testing the capabilities of a simulated subsea wellhead separation device. The idea was to have an effective, temporary solution in the case of an unforeseen subsea oil spill. The entire spectrum from the subsea collection of crude oil, to the transportation from the wellhead separation device into a surface vessel, was simulated and analyzed on modeling software.
My simulated device can collect the three phases of water, oil, and gas as heterogeneous mixtures and separate them into homogenous mixtures so they can be immediately recycled while the wellhead is still producing. This is a quality that is unique to my device. Through an internal baffle chamber, as well as temperature, density, and pressure sensors, the device is able to function independently and optimize the separation process.
ADVICE FOR OTHERS INTERESTED IN STEM: Being interested in science and math can help you make a difference and lead to new discoveries. Through my interest in science and engineering, I realized that if you want to help change the world, it does not matter how old you are or if your idea is big or small. As long as you allow it to become a reality, the world will sit up and notice it. Even at a young age, you have the potential to be successful. You have to keep moving forward until you accomplish your goals and keep pushing through any of the roadblocks you come across. At first you may not succeed, but that is just part of the process in the science field!