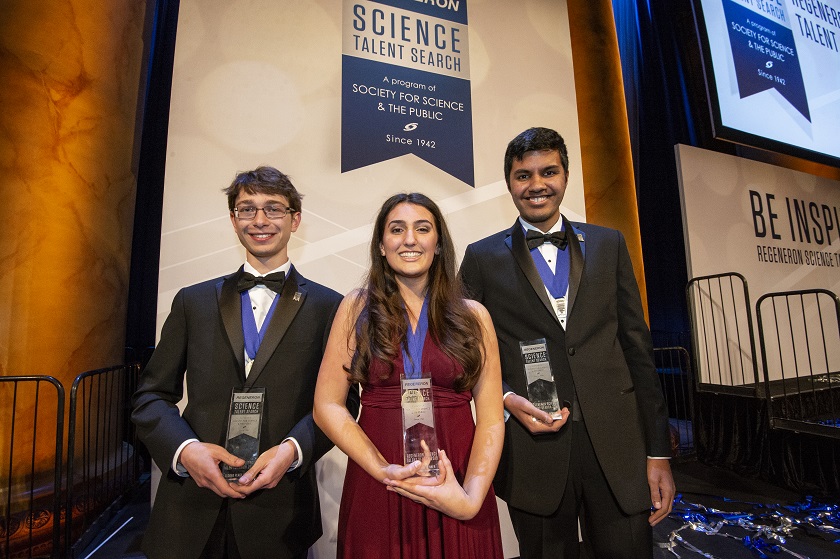 2019 Regeneron STS Winners
On the 12th of March, Regeneron and Society for Science & the Public announced the top winners of the 2019 Regeneron Science Talent Search.
Ana Humphrey, 18, of Alexandria, Virginia, won the top award of $250,000 for her mathematical model to determine the possible locations of exoplanets – planets outside our solar system – that may have been missed by NASA's Kepler Space Telescope.
The second place award and $175,000 went to Samuel Weissman, 17, of Rosemont, Pennsylvania for his project analyzing the genetic makeup of HIV in two patients on long-term anti-retroviral therapy to understand why they continued to have "reservoirs" of treament-resistant HIV-infected cells.
The third place award and $150,000 went to Adam Ardeishar, 17, of Alexandria, Virginia, for his project combining a classic previously unsolved math problem called the "coupon collector problem" with extreme value theory.
In total, Regeneron awarded $3.1 million in prizes through the Regeneron Science Talent Search 2019, including $2,000 to each of the Top 300 Scholars and their schools.
Other top honors from the competition include:
Fourth Place: Madeleine Yang of Beverly Hills, Michigan
Fifth Place: Carolyn Beaumont of McLean, Virginia
Sixth Place: Samuel Ferguson of West Windsor, New Jersey
Seventh Place: Brent Perlman of Armonk, New York
Eighth Place: Rachel Seevers of Lexington, Kentucky
Ninth Place: Vincent Huang of Plano, Texas
Tenth Place: Eshika Saxena of Bellevue, Washington
The remaining 30 finalists each received $25,000.
Download the Finalist Book to see finalists by state and project title.
2019 Regeneron STS Finalists
On January 23, Society for Science & the Public and Regeneron named the 40 finalists in the Regeneron Science Talent Search. The finalists are invited to Washington, D.C. in March to undergo final judging, display their work to the public, meet with notable scientists, and compete for $1.8 million in awards. Each finalist will receive a minimum $25,000 award, with a top award of $250,000.
Science Talent Search alumni have made extraordinary contributions to science and hold more than 100 of the world's most coveted science and math honors, including the Nobel Prize and the National Medal of Science.
Students are selected based upon their scientific research and also on their overall potential as future leaders of the scientific community.
To learn more, view the full list of finalists, read the official press release, and read a blog post on Medium by George Yancopoulos, Founding Scientist, President, Regeneron Laboratories and Chief Scientific Officer, Regeneron; Science Talent Search 1976 Alum.
2019 Regeneron STS Scholars
On January 9, the Society named the top scholars of the Regeneron Science Talent Search, the nation's oldest and most prestigious pre-college science competition.   The Regeneron Science Talent Search, a program of the Society for Science & the Public, recognizes and empowers the most promising young scientists in the U.S. who are creating the ideas and solutions that solve our most urgent challenges.
Each scholar, selected from 1,964 entrants, receives a $2,000 award with an additional $2,000 going to his or her respective school, resulting in $1.2 million in total scholar awards from Regeneron. The 40 finalists chosen to compete in Washington, D.C in March will be announced on January 23.
To learn more, view the list of scholars, download the Scholars Book, and read a blog post on Medium by Maya Ajmera, Society for Science and the Public President and CEO and Publisher of Science News.