Grand Award Judging at the International Science & Engineering Fair
Judge at Regeneron ISEF
Students finalists overwhelmingly say that the most significant interactions that they have at the fair are with the judges. Likewise, judges find their discussions with these outstanding students to be a positive and uplifting experiences. We encourage you to volunteer your time to support these young scientists and engineers and to be inspired!
Sign-up to be notified when the 2023 Application opens!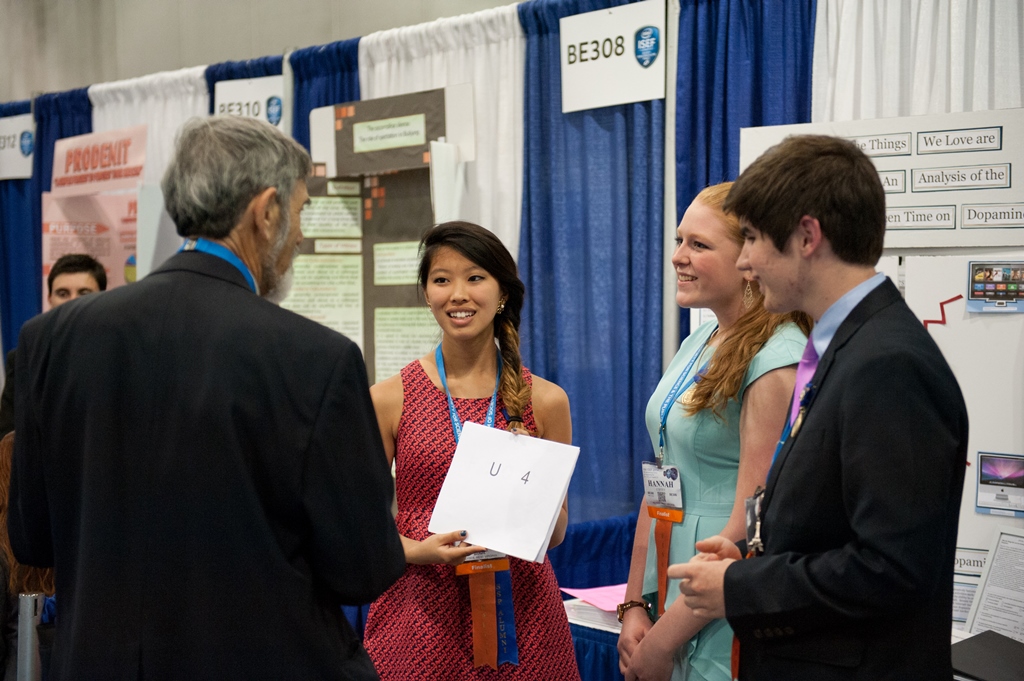 Sign-up to be notified when the 2023 Application opens!
Each year at Regeneron ISEF, more than 1,800 students representing 80 countries, regions, and territories compete for more than $5 million in awards, scholarships, internships and prizes. These high school students are the top winners of regional, state and national science fairs from around the United States and the world.
Regeneron ISEF 2023 is planned to be held in Dallas, TX from May 13-19.
By volunteering, you can play an important role in encouraging these students to become the future science and engineering leaders of tomorrow.
A Grand Award Judge must have one of the following qualifications:
Have a minimum of six years related professional experience beyond receiving their B.A., B.S., or Master's degree, OR
Have a Ph.D., M.D., or equivalent (D.O., Ed.D., D.D.S., D.V.M., etc.), OR
Is a current graduate student with more than four years of doctoral-level research experience or who is within one year of doctoral dissertation defense.
Judges may include university faculty and scientists, industrial engineers and scientists, representatives of private and federal research centers and agencies, medical researchers, post-doctoral fellows, and senior graduate students. Affiliated science fair directors and elementary or secondary school teachers are NOT eligible to serve as Regeneron ISEF judges.
Background Check
As part of the application process, all volunteers and judges will have a background screening completed through Sterling Volunteers, a third-party vendor.
Learn More
Ethics Statement
All Grand Award Judges should note that you will be asked to agree to an Ethics Agreement when submitting your applications. The terms of the Ethics Statement can be found below.
I hereby acknowledge that by submitting this application:
I agree to serve as a judge for the Regeneron International Science and Engineering Fair 2022.
I agree to act in a positive and ethical manner, treating each student finalist I encounter fairly and respectfully.
I will keep confidential any privileged information obtained through my volunteer service. I will not use such information, nor disclose it to third parties.
I agree to disclose all conflicts of interest resulting from direct competitive, collaborative or other relationships with any of the student finalists.
I acknowledge that I have read and agree to abide by Society for Science's harassment policy protecting all Regeneron ISEF participants from harassment and sexual harassment by another Regeneron ISEF participant or other person for any reason including, but not limited to: age, national origin, race, color, religion, gender, sexual orientation, marital status, disability, ancestry and/or veteran status and understand The Society's responsibility to investigate claims of violation of the policy.
I agree to notify the Society at judging@societyforscience.org immediately if I become aware of any circumstance that would compromise either (a) my ability to attend the event or (b) fairly evaluate finalists' projects.
I acknowledge that I am aware that the interviews will be recorded only for the purpose of reviewing, if needed, by Society for Science staff if there are any complaints during the judging process. NOTE: Only applies to virtual judging. In-person interviews are not recorded.
I am aware that I am not permitted to record or take any screenshots throughout the judging process. This is strictly prohibited for Regeneron ISEF 2022.
I agree to abide all COVID-19 safety protocols while attending Regeneron ISEF 2022.
Each year more than 50 professional organizations affiliate with Regeneron ISEF as Special Award Sponsors to provide awards from their respective organizations. Special Award Organizations (SAO's) recruit their own judges to choose the winners of their awards. Please note that a judge cannot serve as both a Special Award Judge and a Grand Award Judge.