Special Award Organizations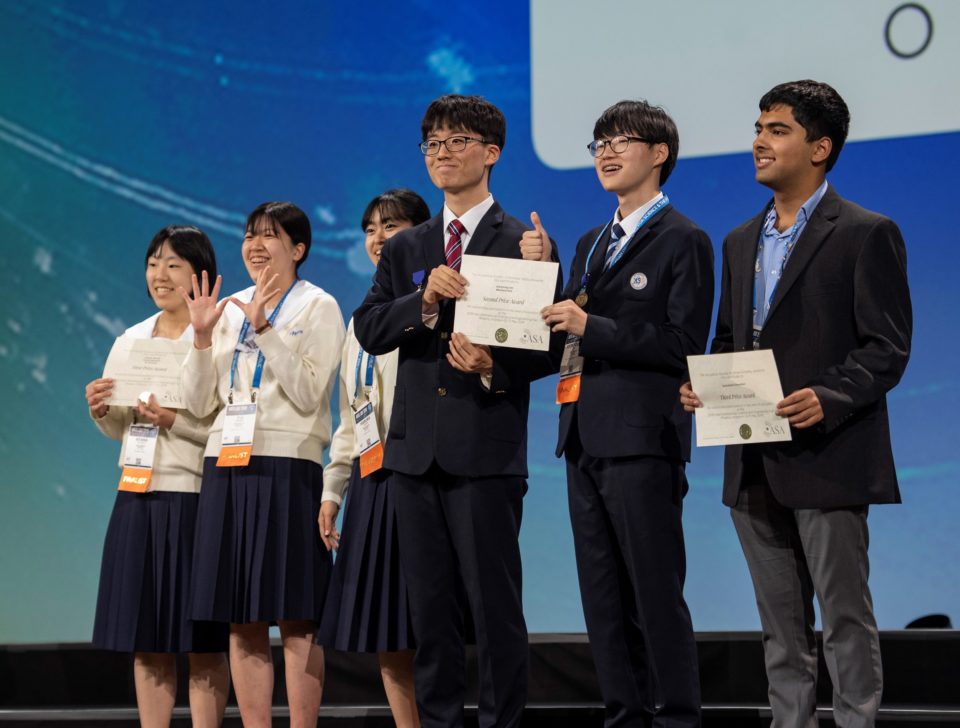 SSP would like to thank the following organizations for their support of Intel ISEF 2019. Additional organizations will be added as their affiliation is completed. If your organization is interested in being a Special Award Organization, please visit this page for more information.
Acoustical Society of America
The purpose of the Acoustical Society of America (ASA) is to generate, disseminate, and promote the knowledge and practical applications of acoustics. The Acoustical Society of America awards three finalists with cash prizes for themselves, their schools, and their mentors as well as financial support to attend the ASA next meeting. These meetings offer opportunities for students and young researchers as well as experienced acousticians to share information.
Air Force Research Laboratory on behalf of the United States Air Force
The Air Force Research Laboratory is a global technical enterprise, boasting some of the best and brightest leaders in the world. We are Revolutionary, Relevant, and Responsive to the Warfighter. We defend America by unleashing the unconquerable power of scientific and technical innovation. Our mission is leading the discovery, development, and integration of affordable warfighting technologies for our air, space, and cyberspace force.
American Chemical Society
The American Chemical Society Education Division promotes excellence in science education and science literacy through a number of activities supporting teachers and learners of chemistry. Through its participation in Intel ISEF, ACS encourages and supports high school students in their exploration of the chemical sciences through research experiences.
American Committee for the Weizmann Institute of Science
The American Committee for the Weizmann Institute of Science, founded in 1944, develops philanthropic support for the Weizmann Institute of Science in Israel, one of the world's premier scientific research institutions. The Dr. Bessie F. Lawrence International Summer Science Institute at the Weizmann Institute provides students with a unique opportunity to participate in hands-on studies in professional academic laboratories at the forefront of scientific research.
American Geosciences Institute
AGI was founded in 1948, under a directive of the National Academy of Sciences, as a network of associations representing geoscientists with a diverse array of skills and knowledge of our planet. The Institute provides information services to geoscientists, serves as a voice of shared interests in our profession, plays a major role in strengthening geoscience education, and strives to increase public awareness of the vital role the geosciences play in society's use of resources, resilience to natural hazards, and the health of the environment.
American Institute of Aeronautics & Astronautics
The American Institute of Aeronautics and Astronautics is committed to inspiring the next generation of aerospace professionals by recognizing exceptional students at all levels. We encourage students' progress through STEM-based educational programs, design competitions, scholarships, and awards such as the AIAA "Look Up!" Award. We will award a cash prize for the top three aerospace-related projects. We encourage students to Look Up! and see their future in aerospace.
American Mathematical Society
The American Mathematical Society was founded in 1888, to further the interests of mathematical research & scholarship, as well as to serve the national/international community through its publications, meetings, advocacy & other programs. Friends and family of the late mathematician, Karl Menger, contribute to a fund in his memory, to be distributed by the AMS for annual awards at the Intel International Science and Engineering Fair.
American Meteorological Society
The American Meteorological Society (AMS) is the nation's leading scientific and professional society advancing the atmospheric and related sciences, technologies, applications, and services for the benefit of society. Founded in 1919, the AMS has a membership of more than 14,000 professionals, students, and weather enthusiasts. AMS offers numerous scholarships and fellowships to support students pursuing careers in the field.
American Psychological Association
The American Psychological Association is the largest scientific and professional organization representing psychology in the United States. APA is the world's largest association of psychologists, with more than 118,000 researchers, educators, clinicians, consultants and students as its members. APA's mission is to promote the advancement, communication, and application of psychological science and knowledge to benefit society and improve lives.
American Statistical Association
The American Statistical Association is the world's largest community of statisticians. The ASA supports excellence in the development, application, and dissemination of statistical science through meetings, publications, membership services, education, accreditation, and advocacy. Our members serve in industry, government, and academia in more than 90 countries, advancing research and promoting sound statistical practice to inform public policy and improve human welfare.
Arizona Public Service Company
For more than 130 years, APS has powered Arizona's growth, prosperity and innovation. Today, we provide 2.7 million people with safe, reliable and increasingly clean energy. Our 6,400 employees are dedicated to ensuring a bright energy future for Arizona. APS is excited to award three cash prizes for projects that provide scalable, real-time solutions to current energy challenges.
Arizona State University
Arizona State University is pleased to offer a comprehensive scholarship combining a monetary award and an environment focusing on knowledge, learning and research. The New American University Intel ISEF Scholarship is renewable for four years, Individuals and teams will be considered for these awards.
Ashtavadhani Vidwan Ambati Subbaraya Chetty Foundation
AVASC is an educational and medical service foundation dedicated to recognizing academic talent and providing services to the needy. AVASC will award projects that display outstanding creativity, ingenuity, and have the potential to alleviate the human condition or mark a substantive advancement in the scientific field.
Association for Computing Machinery
ACM is widely recognized as the premier membership organization for computing professionals, delivering resources that advance computing as a science and a profession; enable professional development; and promote policies and research that benefit society. ACM hosts the computing industry's leading Digital Library and serves its global members and the computing profession with journals and magazines, conferences, workshops, electronic forums, and Learning Center.
Association for the Advancement of Artificial Intelligence
AAAI is a scientific society devoted to advancing the scientific understanding of the mechanisms underlying thought and intelligent behavior and their embodiment in machines. AAAI promotes research in, and responsible use of, artificial intelligence, as well as public understanding of artificial intelligence. AAAI also strives to improve the teaching and training of AI practitioners, and provide guidance on the importance and potential of current AI developments and future directions.
ASU Rob and Melani Walton Sustainability Solutions Initiatives
ASU Walton Sustainability Solutions Initiatives are the result of a $27.5 million investment in Arizona State University's Julie Ann Wrigley Global Institute of Sustainability by the Walton Family Foundation. Within the Walton Sustainability Solutions Initiatives, diverse teams of faculty, students, entrepreneurs, researchers, and innovators collaborate to deliver sustainability solutions, accelerate global impact, and inspire future leaders through eight distinct initiatives.
China Association for Science and Technology (CAST)
China Association for Science and Technology (CAST) is the largest organization of scientists and technologists in China.One of its missions is to promote public understanding of science. Having developed science education programs,CAST supports youth and adolescents in becoming citizens with high scientific literacy. CAST awards are given to the projects that best reflect the originality and innovation of the students' work in all scientific disciplines.
Drexel University
Drexel University will award eight full scholarships valued at $200,000 each to those students whose projects match Drexel's curriculum. Drexel is recognized for its focus on experiential learning through co-operative education, its commitment to cutting-edge academic technology and its growing enterprise of use-inspired research. Drexel Co-op enables students to balance classroom theory with practical, hands-on experience.
Drug, Chemical & Associated Technologies Association (DCAT)
The Drug, Chemical & Associated Technologies Association (DCAT) is a not-for-profit, global business development association whose unique membership model integrates both innovator and generic drug manufacturers and suppliers of ingredients, development and manufacturing services, and related technologies. Through our participation in Intel ISEF, we are investing in the future of science by supporting young scholars who represent the geographic regions and areas of study that reflect the global membership of DCAT.
Florida Institute of Technology
Florida Institute of Technology is a nationally ranked, doctoral degree granting research university. The university offers degrees in engineering, science, computing, aeronautics, business, psychology and liberal arts. It's location just south of the Kennedy Space Center provides incredible research opportunities for students interested in engineering and science. Florida Tech will offer three presidential scholarships to ISEF participants that equal full tuition each year for four years upon fulltime enrollment at the university. Awardees must complete the FAFSA to be eligible.
Fondazione Bruno Kessler
The Bruno Kessler Foundation (FBK) is a leading research center in Trento, Italy. WebValley is the FBK Summer School program for interdisciplinary scientific research. A team of enthusiastic and motivated high school students and FBK researchers accepts a project challenge, proposed by a visiting scientist. FBK's Board of Directors will award several Intel ISEF finalists full fellowships, 1 of them to include travel to Italy, to be part of the WebValley team in June.
Geological Society of America & American Geosciences Institute
The Geological Society of America (GSA) and the American Geosciences Institute (AGI) are two of the leading geoscience organizations in the world. GSA was founded in 1888 and supports theprofessional growth of earth scientists at all levels of expertise and from all sectors: academic, government, business, and industry. The Society unites thousands of earth scientists from every corner of the globe in a common purpose to study the mysteries of our planet (and beyond) and share scientific findings. GSA is supported, in part, by funds donated to and raised by the GSA Foundation. AGI is a federation of geoscience societies founded by the National Academy of Sciences in 1948. The Institute provides information services to geoscientists, supports the shared interests of the geosciences, and plays a major role in geoscience education.
GoDaddy
GoDaddy is the world's largest technology provider dedicated to small business. GoDaddy believes it has a responsibility to make a difference in the community. As part of that philosophy, GoDaddy contributes to nonprofit organizations that focus on causes meaningful to customers, employees and to our community.
IEEE Foundation
IEEE is the world's largest professional association dedicated to advancing technological innovation and excellence for the benefit of humanity. IEEE awards the $10,000 Presidents' Scholarship to recognize a deserving student for an outstanding project demonstrating an understanding of electrical engineering, electronics engineering, computer science, or other IEEE field of interest. In addition to the scholarship, IEEE awards a $600 Second Place Award and a $400 Third Place Award.
Innopolis University
Innopolis University is a Russian higher education institution focused on education and research in the field of IT and Robotics. Innopolis University employs 81 faculty members from 22 countries.In cooperation with representatives of the real sector of economy, the University staff adapts educational programs for their needs. All education programs taught in English.
International Council on Systems Engineering – INCOSE
The International Council on Systems Engineering (INCOSE) is a not-for-profit membership organization founded to develop and disseminate the interdisciplinary principles and practices that enable the realization of successful systems. The INCOSE Best Use of Systems Engineering award is awarded to the best interdisciplinary project that can produce technologically appropriate solutions that meet societal needs. The INCOSE Special Systems Engineering Prosthesis award is awarded to the best use of Systems Engineering process used in the development of prosthesis
K. Soumyanath Memorial Award
This award is presented by the family of Krishnamurthy Soumyanath (1957 – 2010), for the best project in Computer Engineering. Dr K. Soumyanath was an Intel Fellow and held the title of Chief Architect, Integrated Platform Research at Intel Labs, USA. He led research and development in circuits and architectures for next-generation transceiver devices. The prize honors the memory of an energetic and adventurous individual who inspired and mentored many young people to excel in all aspects of life.
King Abdul-Aziz & his Companions Foundation for Giftedness and Creativity
King Abdul-Aziz & His Companions Foundation for Giftedness and Creativity, "MAWHIBA", is a national educational foundation in Saudi Arabia established to help cultivate a comprehensive environment of creativity. The organization seeks to build a sustainable future by encouraging youth around the world to search for innovative means toward developing concepts in relevant fields of study. To support this goal, MAWHIBA will award prizes in four distinct categories of the Fourth Industrial Revolution (4IR) that include machine learning in real-world chemistry applications, machine learning in real-world chemistry and environmental applications, robotics and cybersecurity. A total of fourteen awards will be given to students who excel in the evaluation criteria.
Mu Alpha Theta, National High School and Two-Year College Mathematics Honor Society
Mu Alpha Theta strives to promote the enjoyment and scholarship of mathematics. The Mu Alpha Theta Award is given to the most challenging, thorough, and creative investigation of a problem involving mathematics accessible to high school students. Components of the investigation often include mathematical proof, mathematical modeling, statistical analysis, visualization, simulation, and approximation.
National Aeronautics and Space Administration
The National Aeronautics and Space Administration (NASA) is the United States government agency responsible for the nation's civilian space program and for aeronautics and aerospace research. Founded in 1958, NASA drives advances in science, technology, aeronautics, and space exploration to enhance knowledge, education, innovation, economic vitality, and stewardship of Earth.
National Anti-Vivisection Society
Since 1929, the National Anti-Vivisection Society has promoted greater compassion, respect and justice for animals. NAVS educational and advocacy programs advance better, more humane science; support the development of alternatives to the use of animals in research, testing and education; and effect changes which help to end the unnecessary suffering of animals.
National Center Junior Academy of Sciences of Ukraine
Junior Academy of Sciences of Ukraine is an educational system under the auspices of UNESCO that aims at providing the organization and coordination of students' research activities, creating conditions for their intellectual and creative development, spiritual advance, and vocational self-determination to engage children in discovery and creation.We would like to honor Intel ISEF Finalists Special Awards whose projects will be in alignment with United Nations Sustainable Development Goals.
National Institute on Drug Abuse, National Institutes of Health & the Friends of NIDA
The Addiction Science Award is given by the National Institute on Drug Abuse (NIDA), part of the National Institutes of Health, and the Friends of NIDA, (a group that supports NIDA's mission) to three exemplary projects on the topic of addiction science.
National Oceanic and Atmospheric Administration – NOAA
The National Oceanic and Atmospheric Administration (NOAA) is the United States government agency with a mission of science, service, and stewardship. Its mission touches the lives of every American, protecting life and property and conserving and protecting natural resources. NOAA's "Taking the Pulse of the Planet" awards recognize outstanding projects in ocean, coastal, Great Lakes, weather, and climate sciences with cash awards and a first prize summer internship.
National Security Agency Research Directorate
The NSA Research Directorate is one of the most established research organizations in the U.S. Intelligence Community. As a world leader in science and technology, Research engages with leading industries, universities, and national laboratories to both advance core competencies and to leverage work in overlapping disciplines. The ISEF Special Awards recognize exceptional research that demonstrates world-class skills in mathematics, computer science, cybersecurity, engineering, physics, and neuroscience while promoting research that can assure and protect cyberspace.
National Taiwan Science Education Center
Established in 1956, the National Taiwan Science Education Center (NTSEC) is the only national center for science education in the country. The Center's permanent exhibition area displays rich contents related to Life Sciences, Physics, Chemistry, Mathematics and the Earth Sciences, and the NTSEC also hosts the most up-to-date science exhibitions in collaboration with other international and domestic museums.
Office of Naval Research on behalf of the United States Navy and Marine Corps
The Naval Science Awards Program (NSAP) is a U.S. Navy and Marine Corps program that encourages our nation's students to develop and retain an interest in science and engineering. NSAP recognizes the accomplishments of eligible students at regional and state science and engineering fairs and the Intel International Science and Engineering Fair (ISEF) in producing and presenting quality science and engineering projects.
Oracle Academy
As Oracle's flagship philanthropic educational program, Oracle Academy advances computing education globally to drive knowledge, innovation, skills development, and diversity in technology fields. In FY 2018, Oracle Academy worked with more than 15,000 educational institutions across 128 countries, supporting 6.3 million students worldwide. Oracle Academy offers educational institutions and educators free curriculum, resources, training, cloud-hosted technology and software, support, and certification resources. The program works with public and private partners to provide the tools educators need to engage, inspire and prepare students to become innovators and leaders of the future. Through Oracle Academy, students receive hands-on experience with the latest technologies, helping make them college and career ready in the era of big data, artificial intelligence, machine learning, cloud computing, Internet of Things, and beyond.
Patent and Trademark Office Society
The PTOS is a membership-based organization for Patent and Trademark professionals and other interested individuals. From its inception in 1917, the Society has been dedicated to the improvement and appreciation of the United States Patent and Trademark Systems through promoting the systems' growth and well-being, as well as promoting the social and intellectual welfare of the Society members.
Ricoh USA, Inc
Ricoh is empowering digital workplaces using innovative technologies and services enabling individuals to work smarter. For more than 80 years, Ricoh has been driving innovation and is a leading provider of document management solutions, IT services, commercial and industrial printing, digital cameras, and industrial systems. Ricoh has a long-standing environmental mission and commitment to sustainability, bringing corporate, social and environmental responsibilities into balance.
Shanghai STEM Cloud Center
The Shanghai STEM Cloud Center is the very first STEM education center in China that provide diverse programs for schools, teachers and students. Cooperated with professional societies, associations, research institutions in STEM field, the mission of our center is to encourage students to study Science, Technology, Engineering and Mathematics, and always be curious about the real world.
Sigma Xi, The Scientific Research Honor Society
Founded in 1886, Sigma Xi is the international honor society of research scientists and engineers, with a distinguished history of service to science and society. This multi-disciplinary society includes members who were elected based on their research achievements or potential, and historically, more than 200 members have won the Nobel Prize. The Society is pleased to offer awards for the best demonstration of interdisciplinary research.
SPIE, the International Society for Optics and Photonics
SPIE, the International Society for Optics and Photonics, was founded in 1955 to advance light‐based technologies. The Society serves more than 264,000 constituents from approximately 166 countries, the not-for-profit society advances emerging technologies through interdisciplinary information exchange, continuing education, publications, patent precedent, and career and professional growth.
U.S. Agency for International Development
USAID is the world's premier international development agency and a catalytic actor driving development results. USAID's work advances U.S. national security and economic prosperity, demonstrates American generosity, and promotes a path to recipient self-reliance and resilience. The U.S. Global Development Lab serves as an innovation hub. We take smart risks to test new ideas and partner within USAID and with other actors to harness the power of innovative tools and approaches that accelerate development impact.
United States Environmental Protection Agency
From nanomaterials a billionth of a meter in size to global climate dynamics, EPA scientists and engineers are investigating every scale of our environment and the links between environment and human health. EPA conducts research that addresses the highest priority science needs of the nation. The work performed by EPA scientists, engineers and their research partners improves the quality of the air we breathe, the water that sustains us, and the land upon which we live.
United Technologies Corporation
United Technologies Corporation is a diversified company that provides a broad range of high-technology products and services to the global aerospace and commercial building systems industries. We are pleased to offer eight awards of $3,000 in UTC common stock for projects showing excellence in science and engineering.
University of Arizona
Established in 1885, the University of Arizona (UA) is the state's land-grant university. Recognized as a global leader, the UA is also a leader in research, bringing more than $622 million in research investment each year, and ranking 21st among all public universities. UA offers over 300 undergraduate and graduate degree programs in 16 academic colleges. UA will award scholarships to outstanding awardees who have demonstrated robust research for the greater good of society.
Wolfram Research, Inc.
Founded by Stephen Wolfram in 1987, Wolfram Research is one of the world's most respected software companies—as well as a powerhouse of scientific and technical innovation. As pioneers in computational science and the computational paradigm, we have pursued a long-term vision to develop the science, technology, and tools to make computation an ever-more-potent force in today's and tomorrow's world.