Special Award Organizations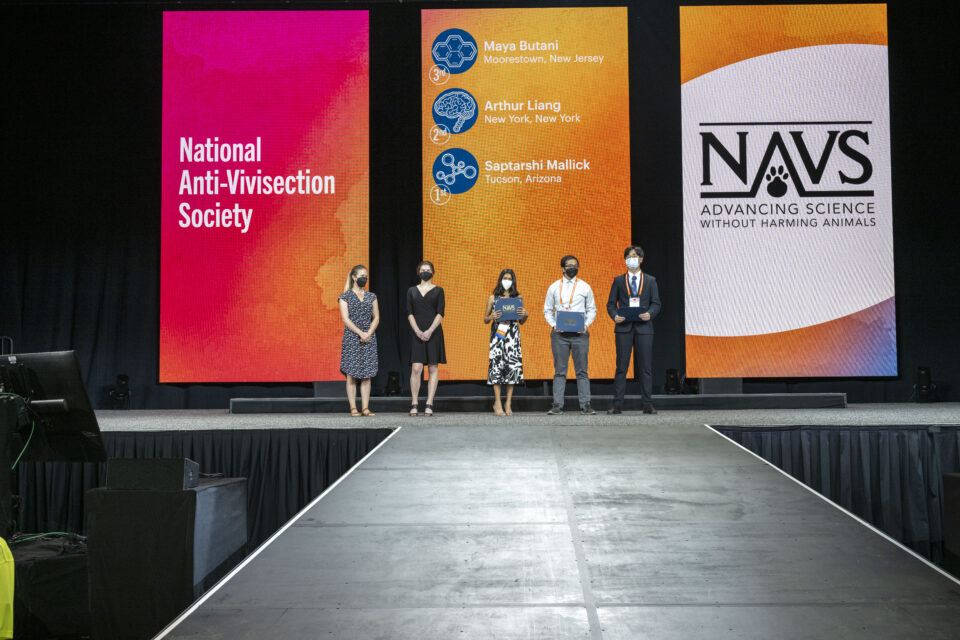 The Society for Science would like to thank the following organizations for their support of Regeneron ISEF 2023. If your organization is interested in being a Special Award Organization, please visit this page for more information.
Acoustical Society of America
The Acoustical Society of America (ASA) began participating at ISEF in 1978 in order to promote acoustics and recognize the accomplishments of high-school students. ASA's long-time participation in Regeneron ISEF recognizes the importance of promoting STEM education and generating interest in acoustics among all students. The Society's student outreach program also includes acoustics demonstration sessions for middle- and high school students and the exploresound.org website.
American Psychological Association
APA hopes to promote a psychologically literate public and engage a future generation of researchers. APA is committed to supporting the promotion of scientific research and education at the secondary school level. We enthusiastically offer special awards to Regeneron ISEF participants whose projects display excellence in psychological research.
Arizona State University
Arizona State University is a New American University, promoting excellence in its research and among its students, faculty and staff, increasing access to its educational resources and working with communities to positively impact social and economic development. ASU seeks to create meaningful change by producing knowledge that translates into action. ASU is pleased to recognize projects that demonstrate use-inspired research with purpose and impact.
Association for the Advancement of Artificial Intelligence
A goal of AAAI's outreach program is to promote STEM education in grades K-12. Participation in Regeneron ISEF is a perfect opportunity to recognize and celebrate excellence in this area.
Central Intelligence Agency
The Central Intelligence Agency invests in students' scientific, technology, engineering, arts and mathematics (STEAM) education across the country to meet the Intelligence Community and nation's long term national security needs. We hope to encourage nation-wide interest in the development of STEAM skills to see today's students grow into the nation's future technical leaders.
Florida Institute of Technology
The qualities and characteristics of ISEF participants align with Florida Tech's mission. The university seeks to identify and enroll a high quality, highly selective and culturally diverse undergraduate student body in support of its mission to prepare students for entering the global workforce and serving within their communities.
London International Youth Science Forum CIC
We strive to empower young people who are passionate about STEM and want to facilitate opportunities for them to fulfill their potential. We provide our students with a deeper insight into science (STEM) and how science can be applied for the benefit of all humankind. Since our beginning, the idea of LIYSF is about bringing young people from different nations together to learn about each other and our different cultures through a shared passion for science.
National Anti-Vivisection Society
NAVS strongly believes in supporting and advancing the careers of innovative young scientists whose work includes ethical and humane considerations as part of their research design and execution.
National Oceanic and Atmospheric Administration – NOAA
NOAA's Office of Education is a proud supporter of student research on issues related to our agency's mission. To raise awareness of Earth sciences, NOAA offers "Taking the Pulse of the Planet" awards at the Regeneron ISEF, as well as at local and regional U.S. science fairs. Through these awards, NOAA encourages students to pursue research and careers related to NOAA's mission and recognizes their outstanding projects in ocean, coastal, Great Lakes, weather, and climate sciences.
Office of Naval Research on behalf of the United States Navy and Marine Corps
The Office of Naval Research (ONR) sponsors NSAP for the U. S. Navy and Marine Corps. ONR coordinates, executes, and promotes science and technology programs of the Naval services through universities, government laboratories, and nonprofit and for-profit organizations. Fostering an academic interest in Naval-relevant science and engineering from junior high school through post-doctoral levels is of great importance to ONR.
The Potamkin Prize for Students
We launched the Potamkin Prize for Students to support the education of young researchers and future scientists. Established in 1988, the Potamkin Prize and has provided more than $3 million to over 70 researchers, resulting in a series of revolutionary advances in the field of brain science. By sponsoring continuous research, providing funding to multiple scientists over the course of decades and now supporting science education, we aim to turn innovative research into potential treatments.
Qorvo
Qorvo technology has been at the heart of systems that connect, protect and power the planet for more than 30 years. As a company, we promote multiple outreach activities to build a strong future workforce for science, technology, engineering, and math (STEM) careers. We foster inclusive thoughts and activities through diverse teams, innovative technology and science research projects with high impact to the global communities in which we live and serve.
Ricoh USA, Inc
Ricoh is proud to recognize students' outstanding efforts in addressing issues of environmental responsibility and sustainable development in their science and engineering projects. We are honored to help foster innovative ideas that carry the potential for a more sustainable future in students' communities as well as the world.
Serving Society Through Science
Serving Society Through Science seeks to recognize outstanding budding scientists as they represent the hope of humanity's future.
U.S. Agency for International Development
USAID participates in the Regeneron International Science and Engineering Fair (ISEF) to find young scientists like you who have the potential to change the lives of people around the world with your scientific inventions. Since 2014, USAID has provided $300,000 to pre-college students recognized with our USAID Science for Development Awards.
Wolfram Research, Inc.
As the education of our youth determines the shape of our future, Wolfram Research is proud to support Regeneron ISEF and similar events that recognize the talents of young people. By endowing these scholars with the world's most powerful and all-encompassing computational software, we hope that they will be able to eventually make possible what today seems implausible, and that their education and growth inspires those yet to come to also embrace the sciences.
YM American Academy
One of YMAA's mission is to stimulate and sustain the youth students' interest in science, technology, engineering and math (STEM). Many of the world's most significant engineering challenges will be met decades in the future by the next generation of engineers and scientists. We support the students rigorous, but fun, hands-on experiences with real-world scientific tools. We want to motivate and empower today's students to become tomorrow's scientists and innovators.