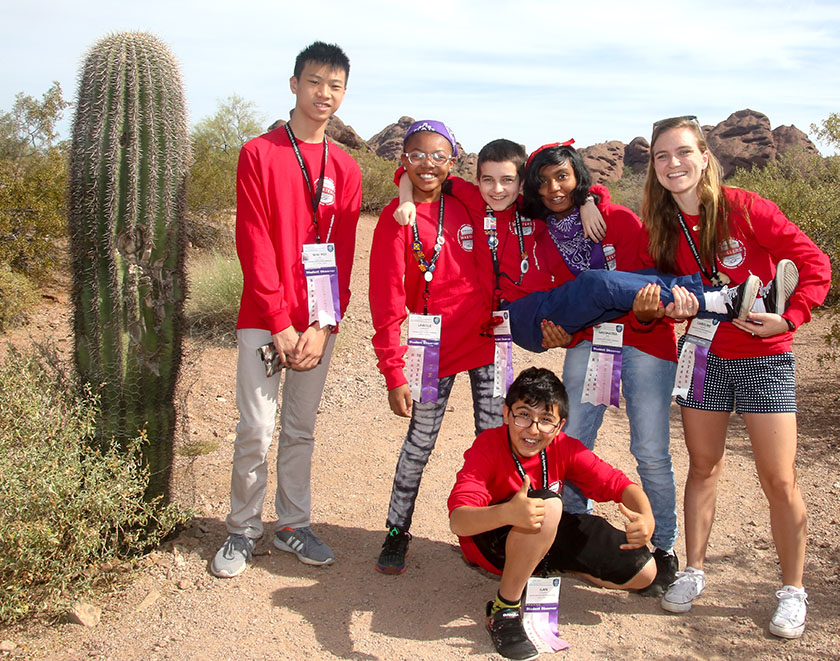 While exploring the Desert Botanical Garden in Phoenix, Arizona, several young scientists were intrigued by biomimicry — observing and emulating nature's adaptations to address and solve human obstacles.
These 25 middle school students were delegates of Broadcom MASTERS International, a weeklong program run by the Society for Science & the Public and the Broadcom Foundation to celebrate the STEM accomplishments of the brightest young minds from around the globe. Broadcom Math, Applied Science, Technology and Engineering Rising Stars' International program is a companion to the domestic Broadcom MASTERS competition, which takes place in the fall.
The delegates hailed from 17 countries over six continents. Several of the science projects that earned them a spot on this week-long science celebration in May were inspired by observing the natural world around them and emulating it. Like a drone that uses a fruit fly's visual capabilities.
At the Botanical Garden, the delegates studied the pleated trunk design unique to every saguaro cactus. They learned that the cactus, like many desert wildlife, works with harsh surrounding conditions to survive.
Guilherme Flach, a 13-year-old from Brazil, for example, explored the health benefits of the cassava root for individuals with Celiac disease. The cassava root is native to South America. By studying the root vegetable's properties, Guilherme assessed its advantages as a naturally gluten free option.
In China, 14-year-old Yuhan Xiao similarly looked to a local plant to cure stomach diseases. Yuhan researched the ability of the sap from the local Euphrates Poplar tree to inhibit bacteria that causes gastrointestinal discomfort. She hopes to continue her research and find a way to use the sap to diminish the symptoms of many types of stomach disorders.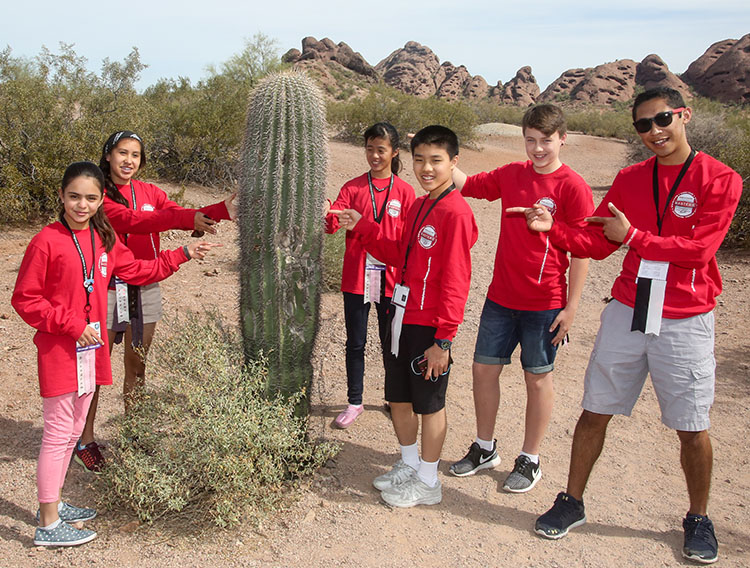 Two delegates from Israel collaborated on a science project that mimicked nature to solve a problem for their school. Tomer Segev and Ilan Yusupov, both 12, designed a robot called the Owlbat that scares away bats living around their school. The bats were spitting on the walls and frightening the students.
Tomer and Ilan wanted to keep the bats away without hurting them. Their inspiration came from studying owls, a natural bat predator. By observing the natural order of predator and prey, Tomer and Ilan successfully scared away the bothersome bats with their robot based on the habits of a real owl. The Owlbat emits an odor, flashes lights, and makes a high-pitched sound to frighten the bats away from the school building.
— by Laura Labovitz