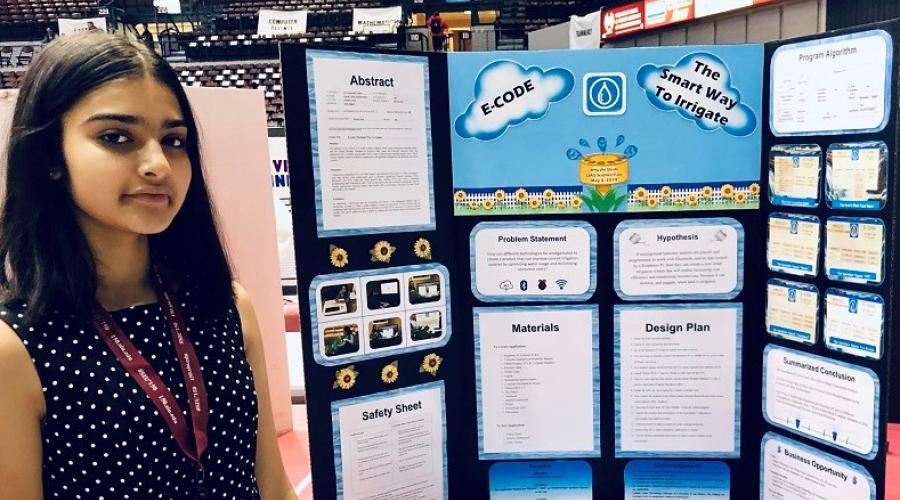 Annually for three years, The Lemelson Foundation will give $100 awards to outstanding inventors in up to 270 Society Affiliate Fairs with middle school participants around the country. The prize was specially created to reward young inventors whose projects exemplify the ideals of inventive thinking by identifying a challenge in their community and creating a solution that will improve lives.
According to National Geographic, about 18% of worldwide croplands are irrigated. Relying on rainfall alone is ineffective and devastating for farmers and gardeners and for this reason manmade devices, such as sprinklers and water from canals, are used to guarantee plant growth and stability of food supplies. Concerned about global water shortages and droughts throughout the world, Khushi Shah, an eighth-grader who attends the Dunlap Valley Middle School in Illinois, recognized a need for "smart" irrigation to conserve water. Her project, "E-Code: The Smart Way to Irrigate," earned the Lemelson Early Inventor Prize from her local science fair.
The inspiration for Khushi's project came during a family trip to India a few years ago. "While there, I was shocked to see so many people struggling for access to clean water," she recalled. "It was very different from the US, where clean water is something most people take for granted. Some even turn their sprinklers on when it's simultaneously raining outside!"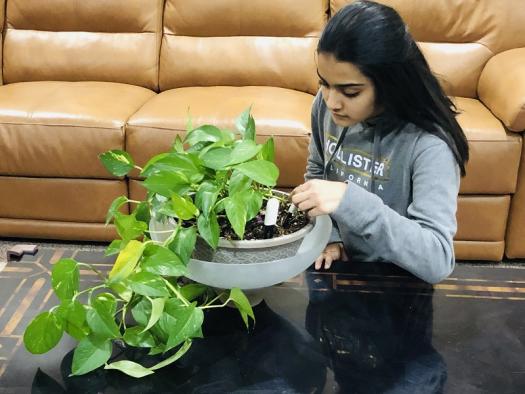 Khushi's smart irrigation system and accompanying smartphone app work in tandem to minimize costs while optimizing water usage. So, how does Khushi's smart irrigation system work?
First the user places a humidity sensor (an apparatus used to measure and report moisture and air temperature) to their desired plants. Then, the user selects their geographic location, which pulls the weather forecast for the next 48 hours. After that, the user renames the sensors so they can be easily differentiated and selects their plant types because the minimum humidity requirements differ according to plant variety. "As soon as all of the user inputs have been entered, the application will start calculating the data and will give the user one of three results," Khushi explained:
Ready – meaning the sprinklers need to be turned on
Off – meaning the sprinklers do not need to be turned on
Postponed – meaning the user needs to check back again later because there is a slight chance of precipitation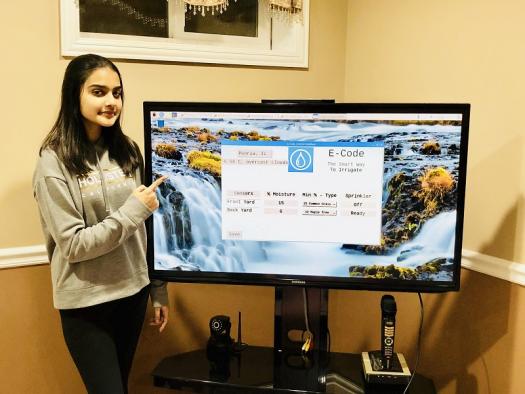 To perfect her project design, Khushi consulted with irrigation companies, farmers and experts in environmental sciences and computer programming. "Through this second round of research, I gained an abundance of new knowledge and feedback that helped me improve my project," Khushi said.
For Khushi, the beginning of the invention process was the most difficult part. "Once I began researching effective water conservation, so many ideas came to mind that I had absolutely no clue where to begin! Luckily, I received a great deal of constructive feedback from experts, my parents and teachers that helped guide me in the right direction," she noted.
Since winning the Lemelson Early Inventor Prize, Khushi's perception of the word 'inventor' has changed. "Before, I thought an inventor was just somebody who created a product and then sold it to earn money. Now, I understand that it's much more. This recognition means a lot to me because I am very interested in entrepreneurship," Khushi shared. "The award has fueled my fire and has made me even more passionate about inventing things that have the potential to change the world!"
Khushi is in the process of applying for a provisional patent. "The patent application process has been more complicated than I had originally anticipated, but going through the process to protect your intellectual property is definitely worth it." She also plans to pitch E-Code to investors at business contests, such as Shark Tank, a show she watches regularly. This will help Khushi to bring her invention to a world that could stand to benefit.