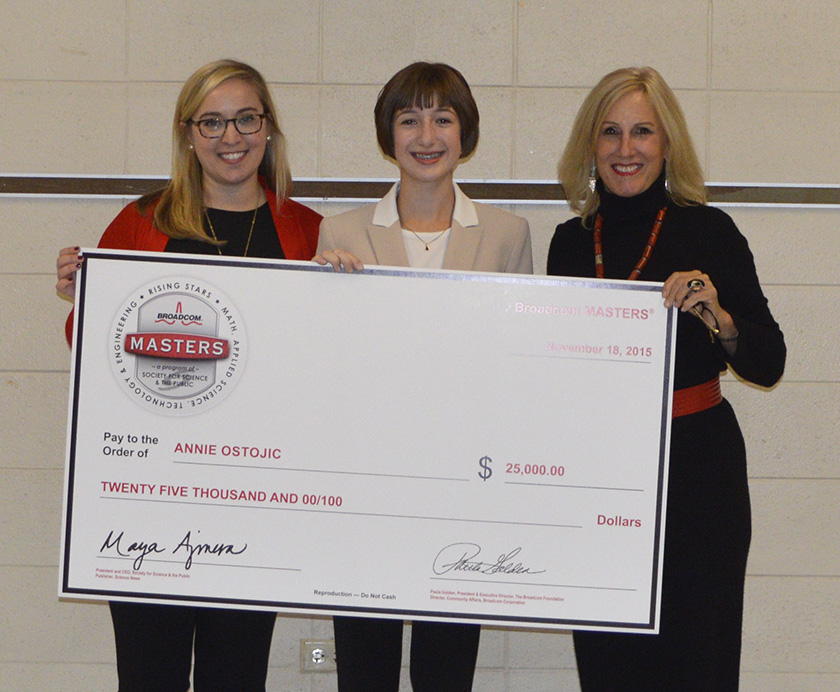 On Wednesday, November 18, Wilbur Wright Middle School of Munster, Indiana received a $1,000 check to use for STEM programming, supplies, or activities from the Broadcom Foundation at a school assembly honoring Annie Ostojic, top winner of the 2015 Broadcom MASTERS.
The eighth grade class (of approximately 300 students), as well as members of the school board, educators, school district administrators, members of the science fair community, and Annie's family were invited to attend the check presentation, which included remarks from Tim Sopko, principal of Wilbur Wright Middle School; Allie Stifel, Assistant Director of Science Education Programs and program manager of Broadcom MASTERS at Society for Science & the Public; Paula Golden, President and Executive Director, Broadcom Foundation and Director, Community Affairs, Broadcom Corporation; Valerie Zemaitis, Annie's seventh grade science teacher; and Annie Ostojic.
Annie was touted as a role model to her peers for her tenacity in setting and achieving her goals. Annie is a repeat Broadcom MASTERS finalist, having won the Rising Star award in 2014 and a trip to the Broadcom MASTERS International to serve as a U.S. delegate. She then returned to win the top award of $25,000 in 2015.
"It's a rare feat for a student to be selected in the top 30 within the country two years in a row," said Allie Stifel. "Annie had to start all over again — with her new project, she rose to the top from the pile of 70,000 middle school science projects nationwide who are eligible to be nominated for the Broadcom MASTERS. Annie is our youngest top winner, and we are very proud of her success."