Volunteering is a Family Affair at Intel ISEF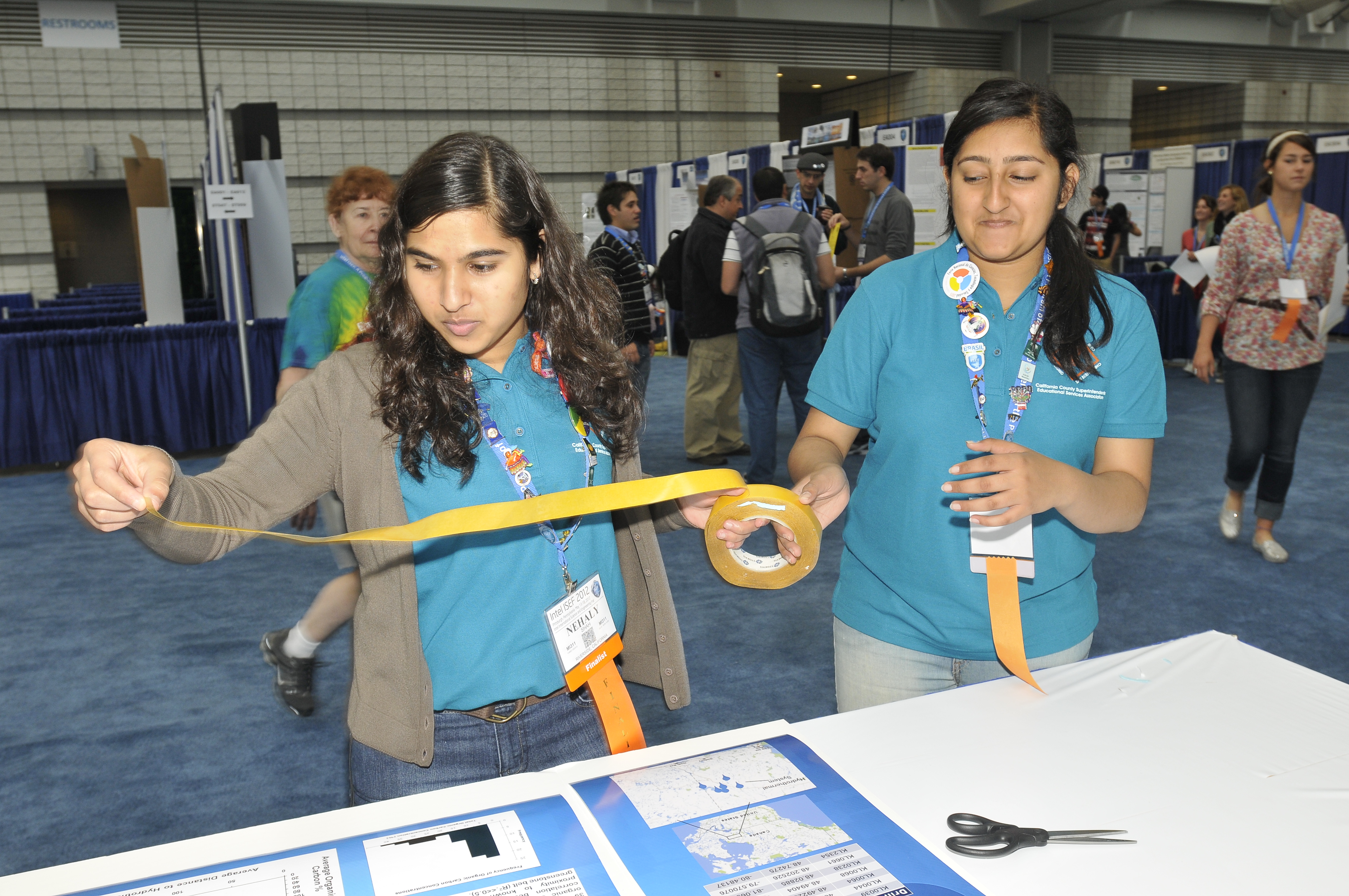 Sushil Madhogarhia volunteered, along with his daughter, at Intel International Science and Engineering Fair (Intel ISEF) 2013. More than 1,000 judges, 500 general volunteers, and 200 interpreters in a variety of languages are needed to make each Intel ISEF successful. No scientific background is needed for general volunteers or interpreters.
Interested? Register now to volunteer for Intel ISEF 2014 in Los Angeles.
---
The Intel International Science and Engineering Fair was the most amazing experience! Not only that, but I got to share it with my daughter, Rachel. I have been to hundreds of conferences but this was absolutely the best. You are surrounded by the brightest youngest minds, innovative projects, and such an enthusiastic atmosphere. You have to be at Intel ISEF to experience it; I just can't describe it fully in words. 
My daughter Rachel, in 8th grade at the time, flew with me to Phoenix in May 2013 to attend Intel ISEF. We met with Sharon [Sharon Snyder, Manager, International Fairs and Volunteer Recruitment] and her staff who helped us register within minutes. With the help of many other staff and volunteers like her, everything ran smoothly. 
During the next few days Rachel and I helped students register for Intel ISEF, took them to their assigned places, helped them organize their project displays and ensured they met display and safety standards by measuring the height of their display, verifying and pinning disclosure papers on to their display, making sure that projects were safely placed, and verifying that there wasn't anything electrical that might need the attention of an expert. [The Display and Safety inspection process ensures that projects follow display rules so that all projects are evaluated on an even playing field and to ensure that the projects do not present any safety hazards to participants and other visitors to Intel ISEF.]
Most important of all, we answered all and any questions that the students had. The most exciting part of volunteering at Intel ISEF was being exposed to so many different projects and meeting students from almost every part of the world. [Students from more than 70 countries, regions, and territories competed at Intel ISEF 2013.] There was so much excitement and work going on, yet the judging had not even begun yet.
I often found Rachel reading the poster and engaged in discussion with the contestant. We also helped check in/out laptops and other materials and helped unload project displays at the loading dock. There were so many ways to help out and questions to answer. Rachel and I really wanted to experience the variety of activities volunteers could be involved in, and there was plenty to do.  
Later, Rachel had the opportunity to go around and read about the projects being presented. She told me they were the coolest, most intellectual ideas she had ever been exposed to. I found this to be true when I started judging projects a few days later. [Judges are needed in 17 scientific disciplines and must have either a PhD, PhD equivalent, or a BS/MS degree and 6 years work experience in their specified field.] 
The students you will find at Intel ISEF are always highly devoted to science and engineering, and their projects are very impressive. If you get an opportunity to attend Intel ISEF, don't miss it – I promise you will not regret it, and you will have a wonderful learning experience. 
My experience last year made such an impact on me that it led me to devote more of my free time to Intel ISEF. I am currently busy recruiting volunteers and judges in the community for Intel ISEF 2014 this May. It's even more exciting that this year's fair will be held in Los Angeles. Please join us as a
volunteer
or a
judge
, we need enthusiastic individuals like you. You are bound to have a good time!