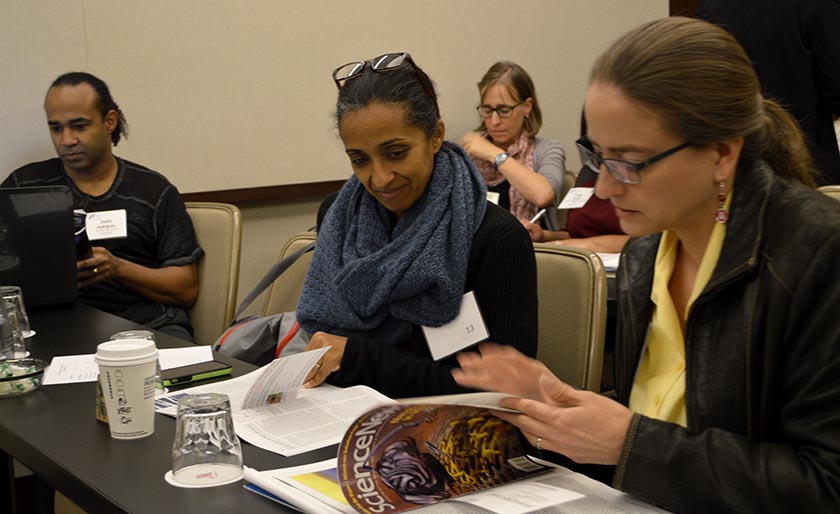 Sometimes the hardest thing for students to do is find a topic that interests them for a science research project, said Phyllis Serfaty, a teacher in New York.
Phyllis led a panel, along with Mike Charkiewicz, a teacher in Suffield, Connecticut, and Kim Failor, a teacher at Stanford Online High School, at the Research Teachers Conference, sponsored by Regeneron. The conference was held in Washington, D.C. on September 30 to October 1, 2016.
Phyllis tries to get her students interested in science topics by presenting science articles of various fields.
"I love Science News because it covers so many different STEM fields. It's all here," Phyllis said.
She asks her students to find three things in an article that they can possibly build research on. Students can use something from the article and build on it, such as plumbers who work with lead, wash their clothes, and lead residue remains in the washing machine.
"I use Science News as a way of generating ideas," Phyllis said. "It's a great publication for that reason."
The panelists turned their session into an interactive activity where about 30 teachers brainstormed ways to use Science News in their classrooms. They passed around several past issues of the magazine.
Kim Failor presents a graph of the week in her classroom, which she said is a great way to introduce them to science topics and think analytically. Teachers can find graphs in places like Science News, HHMI Bio Interactive, and open access journals like PLOS.
Kim also uses Science News for students to see how scientific topics are being applied in the real world. They can also realize that science topics aren't so set in stone. "Growing up, I thought there were only five kingdoms. And lo and behold, there's a whole other domain that wasn't known about when I was learning science in school," she said.
Teachers can use short articles in Science News to "synthesize what they learn in the textbook, with me, and with what an article presents," Kim said. "It helps to get them thinking beyond the textbook definition."
Mike Charkiewicz tries to bring in an article every single day to his classroom. "I bring in a variety of sources because I don't want my students to just rely on one source," he said.
In seventh grade, his science teacher made a solar system out of a record table and ping pong balls. He was hooked, and now tries to generate his students' imagination.