These Regeneron STS 2023 finalists are dedicated to social justice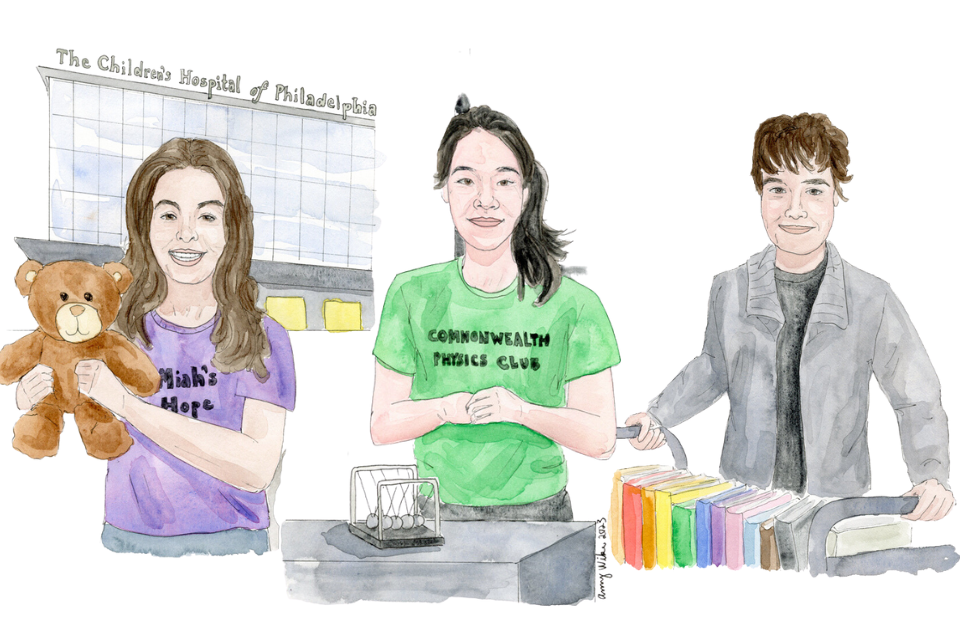 The 2023 Regeneron Science Talent Search finalists are committed to making the world a better place both through their scientific research, and as members of their communities who are passionate about challenging inequity. From spearheading initiatives, to volunteering their time, to raising funds for important social causes, see how this year's finalists are advocating for positive change.
Kamisi Adetunji
North Carolina School of Science and Mathematics (Durham, North Carolina)
With her investigation into possible treatments for sickle cell disease, Kamisi hopes her research will contribute to large-scale changes in the critical task of countering medical inequities:
"My findings will encourage the visibility of communities of color in medicine and can be utilized to advocate for their fair treatment, access to proper healthcare and health education. To achieve medical equity and improve the visibility of minorities in American medicine, it is imperative to normalize the discussion of issues that have gone unaddressed simply because of who they impact."
Hannah Guan
BASIS San Antonio Shavano Campus (San Antonio, Texas)
Believing that the biggest challenge facing young people today is a lack of equitable, high-quality education, Hannah decided to take action:
"San Antonio is my hometown, and is a place where minorities are the majority. At age eleven, I founded the first math organization called San Antonio Math Include and, in five years, it has grown into an international organization that provides greater access to STEM education—because all students, regardless of their race, gender or economic status, should have equal access to high-quality education."
Linda He
Commonwealth School (Newton, Massachusetts)
Passionate about the importance of overcoming gender stereotypes, while also conscious of the power of building community, Linda founded GirlsxMRO (Math Research Outreach). GirlsxMRO is a nonprofit organization that aims to combat the gender gap in mathematics by creating a platform for girls and nonbinary students who are advanced in math to connect with and support one another on a global scale.
Linden Chi James
North Carolina School of Science and Mathematics (Durham, North Carolina)
Linden is passionate about combatting social inequities and has a deep commitment to community service. They applied for and received an $8,000 grant from the City of Durham, North Carolina to establish an LGBTQ+ Library Initiative, which now reaches thousands of North Carolina families and expose underprivileged youth across the state to LGBTQ-positive fiction. Linden also interns with Kids Voting Durham, hosting summits for local youth to meet candidates and ask questions, while working broadly across the state to bring more North Carolinians into the electoral process.
Miah Margiano
Saint Anthony's High School (Syosset, New York)
To address the disparities many minority families encounter in the healthcare system, Miah is establishing a foundation called Miah's Hope: Inspiration for a Cure. The organization will provide support to underrepresented patients and their families, while also encouraging young people to enter research fields that frequently lack racial and ethnic minority representation. Through a partnership with Ronald McDonald House Charities, the foundation will donate toys and offer free meals to families during hospital stays.
Siddhu Pachipala
The Woodlands College Park High School (The Woodlands, Texas)
Siddhu is the founder of Embolden, an initiative dedicated to combatting political apathy through civic education seminars and grassroots organizing. With Embolden, Siddhu mobilized 2.8 million people, raised over $30,000 and collected 170,000 signatures against Bill 87(1) SB 3, a piece of legislation threatening to remove histories of Black, Indigenous and other People of Color from social studies curricula in Texas. You can view the petition here: https://www.change.org/txbipoceducation
Diego Emilio Suchenski Loustaunau
Massachusetts Academy of Math & Science (Worcester, Washington)
Diego believes that the biggest problem facing youth in our country is educational inequity, and that to solve the challenges of our time, we need diverse perspectives from all people. He works in his own community to address educational inequities by volunteering in STEM outreach programs in local schools as a tutor and mentor. With the goal of making computer science education more accessible, he and some of his friends also founded Program Adagrad, a 501(c)(3) nonprofit organization dedicated to providing quality education in computer science-related disciplines.