Kamisi Adetunji
North Carolina School of Science and Mathematics
Durham, North Carolina
About Kamisi Adetunji
Kamisi investigated a possible treatment for sickle cell disease, a group of genetic blood disorders that cause circular red blood cells to deform into a crescent shape. She modified antioxidants found in fruit and discovered that this may help preserve the original shape of the red blood cells. She hopes her work will one day lead to a treatment for this debilitating disease.
Modifying Naturally Sourced Flavonoids for Increased Antioxidant Capacity and Antisickling Activity
View Poster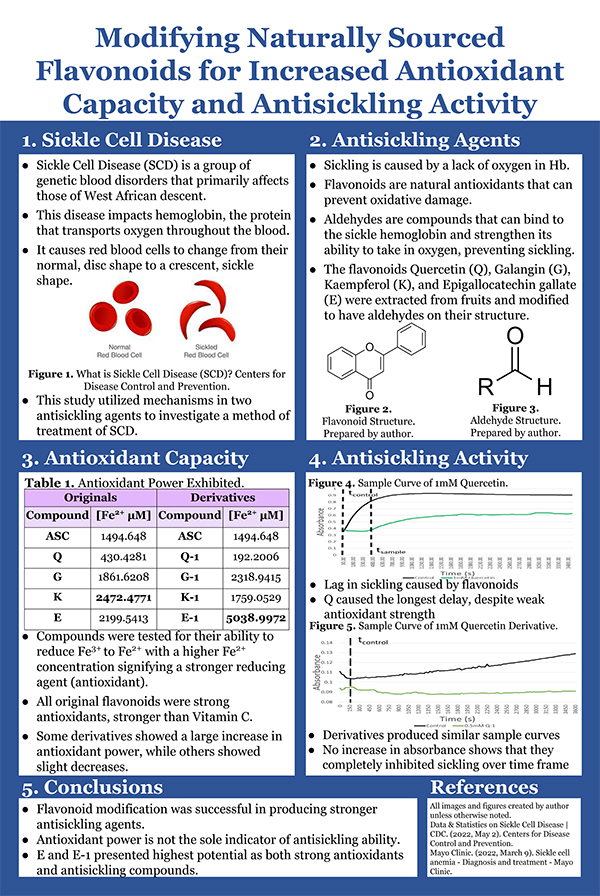 View Poster
Kamisi Adetunji, 17, of Holly Springs, investigated a possible treatment for sickle cell disease (SCD) for her Regeneron Science Talent Search biochemistry project. SCD is a common genetic blood disorder found mostly in Africans and those of African descent, in which red blood cells change from a disc shape to a crescent (sickle) shape and block blood flow. The main cause of this change is the removal of an oxygen atom from hemoglobin. Kamisi knew that aromatic aldehydes, which are chemical compounds that bind easily to oxygen, can prevent hemoglobin from losing oxygen. She further knew that flavonoids are natural antioxidants that neutralize oxygen-robbing free radicals. She therefore tried combining the two, extracting flavonoids from fruit and modifying their structures with aldehydes to increase their anti-sickling ability. She hopes her promising results might advance research on a treatment for SCD.
The daughter of Moyin and Gbolabo Adetunji, Kamisi attends the North Carolina School of Science and Mathematics in Durham, is a dorm monitor, tutors math and co-leads Girl Up, a group that combats gender inequity. As dance captain of a West African Dance troupe, Kamisi instructs, choreographs and performs.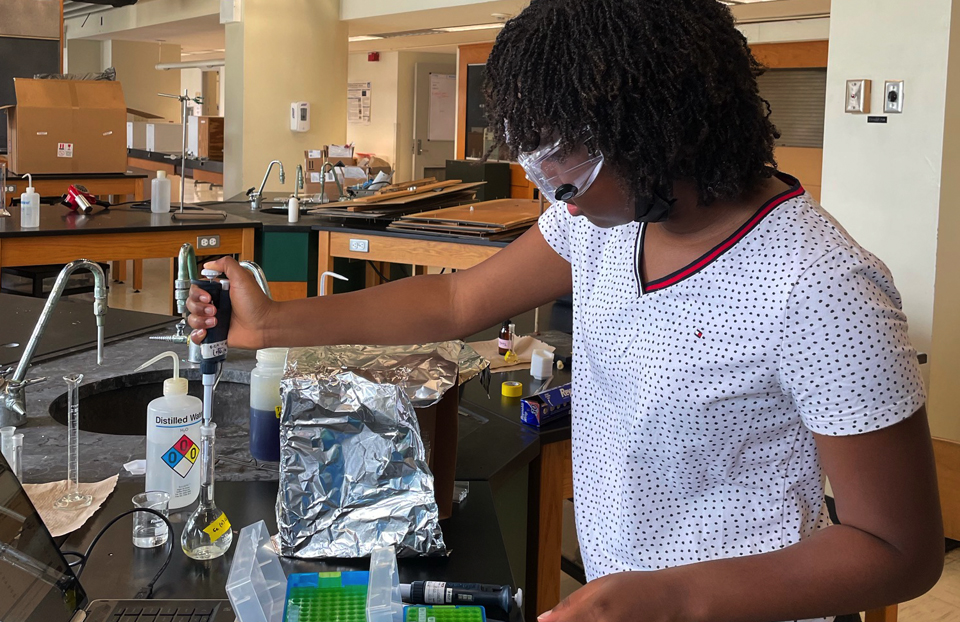 Beyond the Project
Kamisi is a dormitory monitor, a math tutor, a dance captain of a West African dance troupe and co-leads a group combatting gender inequity.
FUN FACTS: Kamisi established her state's first chapter of Letters for Rose, a nonprofit seeking to reduce loneliness among older adults during the COVID-19 pandemic. She also likes to crochet.