These girls are going "Full STEAM Ahead"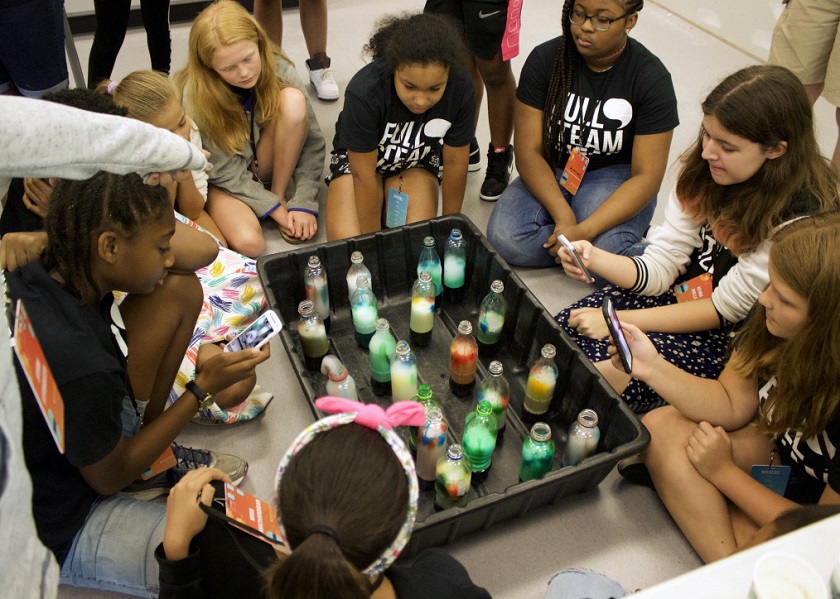 STEM fields are often considered to be separate from the arts and design, but a nonprofit organization in Virginia is challenging that notion. Full STEAM Ahead (FSA) is a conference run by CodeVA, dedicated to empowering young women interested in both STEM (science, technology, engineering and math) and the arts (i.e. STEAM). The day-long event is available to middle school girls in the Greater Richmond area with the goal of connecting them with female role models from both fields through a series of hands-on workshops. Speakers are also invited to share their experience as leaders in their respective industries, especially highlighting the importance of STEAM and the power of interdisciplinary collaboration.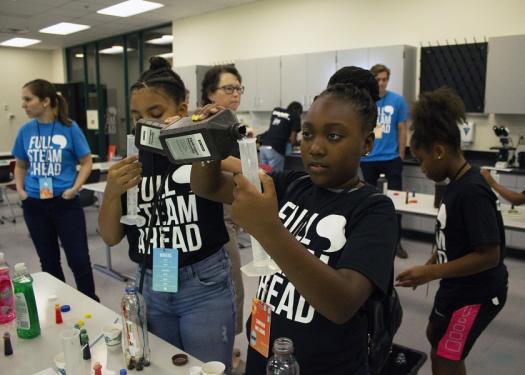 The students' concoctions include hydrogen peroxide, dish detergent and food coloring. Photo courtesy of Della Sigrest/CodeVA.
This year's workshop had a 27% increase in student participation from 2017, thanks to a $2,000 STEM Action Grant from the Society. With these funds, FSA was able to engage 151 students and feature over 40 workshop leaders. Need-based scholarships were also given to 39% of students. The Society's STEM Action grant program awards innovative non-profit organizations, like CodeVA, that inform, educate and inspire their communities through unique programming.
The workshops provided the girls with opportunities to explore a wide range of subjects and career paths within STEAM. "Let's Get Crispy," for instance, taught students about the gene editing technology, CRISPR. Students in "Water Treatment Purification" learned about environmental engineering and then built a drinking water column to clean water.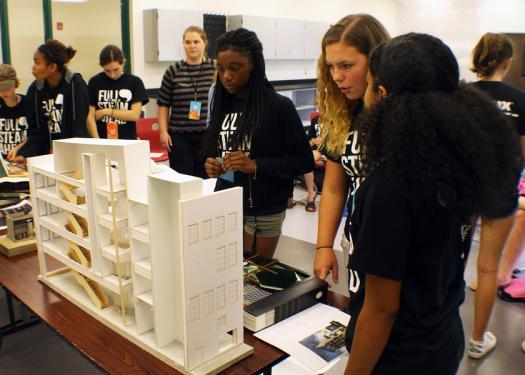 Students interact with an architectural model. Photo courtesy of Della Sigrest/CodeVA.
In "Design Thinking: Learning to Innovate Smart," students explored design and engineering by ideating, prototyping and pitching improvements to the common band-aid. "Designing Buildings is STEAMwork" invited students to explore the interdisciplinary world of architecture. Participants studied design problems from the perspective of different professions. For example, the arts were expressly applied to design new products and think creatively to solve engineering challenges. They even interacted with a mock-up model in virtual reality. The learning didn't stop with lunch—not a single minute of the day was wasted. Participants met an all-girls robotics team and drove their robot, screen-printed their own FSA gear, and learned about circuits while creating light-up cards with NPR Science Matters.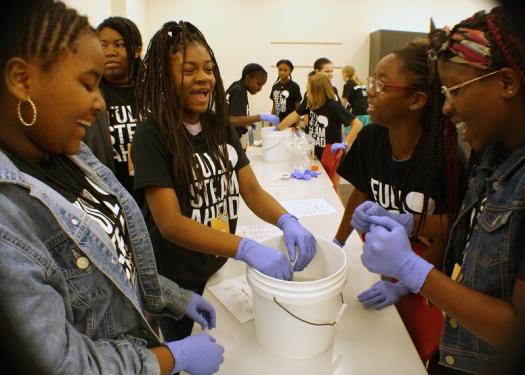 FSA offers a variety of workshops for participants. Photo courtesy of Della Sigrest/CodeVA.
By integrating the arts into STEM, FSA appeals to both girls already pursuing STEM and girls interested in creative fields often excluded from the conversation. "There's a misconception that STEM fields aren't creative, but our workshops are designed to show students otherwise," explains Della Sigrest, FSA's Program Manager.
When the day was over, the benefits of having so much exposure to so many new ideas and fields became abundantly clear. "Full STEAM Ahead made me change my mind about what I want my future career to be like. I took a class dedicated to explaining oral and more specifically, dental health. I LOVED that class. I think that dentistry is quite amazing, and I think I want to do something along that line when I get older," reflects one student. "FSA made me realize that I'm interested in some things that I never knew I was interested in," noted another participant.
Through Full STEAM Ahead, CodeVA hopes to not only create an inspiring STEAM environment for girls, but also foster a sense of community among female STEAM professionals. While the girls still have plenty of time before they have to definitively decide what to pursue, FSA has given them a sneak peek into the ever-expanding world of options.The STEM Action Grant application is NOW OPEN! Deadline: May 1, 2019