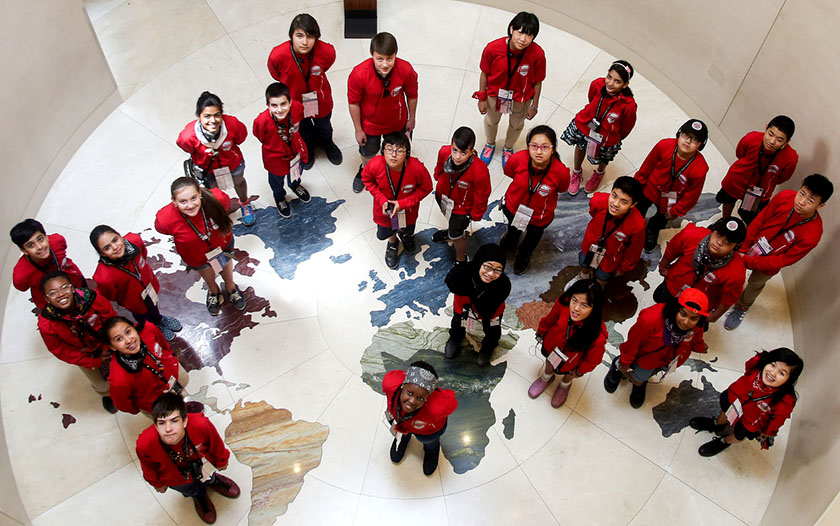 Get up and walk across the room. Some people don't even think about the task. But 14-year-old Charlie Hall learned not to take mobility for granted.
Mobility assistive technology
Charlie, a middle school student from Wales, United Kingdom, designed a sensor guidance system for wheelchairs after seeing a myriad of mobility issues two of his school teachers face every day.
He was a delegate of the 2016 Broadcom MASTERS International, a weeklong program to celebrate the STEM achievements of middle school students from around the world. The program, hosted by Society for Science & the Public and the Broadcom Foundation, included 25 delegates from 17 countries and six continents and was held in Phoenix in May.
Charlie turned his sympathy into action by creating a sensor-activated guidance system for wheelchairs. The system contains a reflected light intensity sensor with the ability to pick up different colored lines placed along the floor. These colored lines can mark easy-to-navigate paths throughout a building.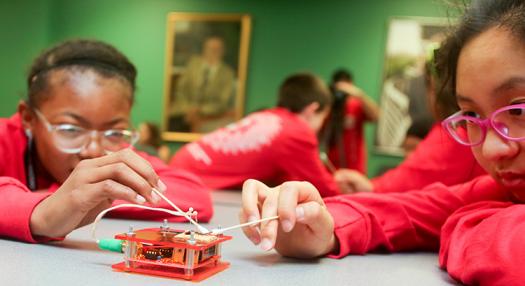 Combining a love for art, design, 3D modeling, and engineering, Charlie was able to develop a prototype "Smart Chair." He won the UK STEM competition for his design.
The Smart Chair works by creating preprogrammed and color-coded paths in places a wheelchair user frequents. The user can easily control their mobility device through an interface created to fit their needs.
Charlie wants his Smart Chair to be integrated in hospitals and large facilities like school buildings. His system offers those who use wheelchairs greater physical autonomy.
Across the pond, another young inventor experienced similar inspiration. After Anish Singhani, a 13-year-old California middle school student, observed a friend's paralyzed grandfather, he came up with an idea to improve wheelchairs for the severely impaired.
Anish's hardware allows disabled users to use brainwaves to control their wheelchair. The user wears a brainwave sensor and controls the wheelchair through eye movements and blinking. Anish built a free app that can interpret the eye movements picked up by the brainwave sensor.
The program Anish created can detect blinks and control a virtual keyboard. If implemented commercially, Anish hopes the program he designed will greatly improve the quality of life of paralyzed and otherwise wheelchair-bound people.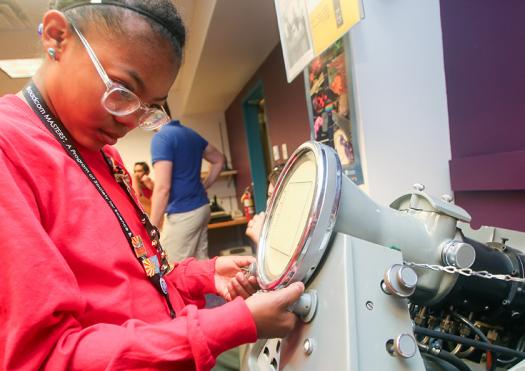 Organic solutions for disease-carrying mosquitoes and trash
These medical device inventors were in good company at Broadcom MASTERS International. Their peers create ways to help others and find solutions for society's trickier issues.
Lin Xin Tan, a 13-year-old from Malaysia, tackled an environmental and public health issue in her project — disease carrying mosquitoes. Lin Xin researched using natural mosquito larvicide as a substitute for chemical larvicide.
Dengue fever, a mosquito-spread viral disease, is a common problem in Malaysia. It's endemic in many Asian countries. The only way to prevent the spread of the virus is to stop mosquito bites. Much like Zika virus, it poses a plethora of health concerns.
Going organic for her cure, Lin Xin studied fruit and vegetable extracts as natural larvicide. She explored the effectiveness of papaya, garlic, guava, and red mangrove in warding off disease-carrying mosquitos.
While her results are still inconclusive, Lin Xin returned home after her week with Broadcom MASTERS International to continue her research.
Wai Hoi Lau, a 14-year-old from China, studied the use of banana peels as a sustainable energy source. Burning dried banana peels can be used as an alternative ethanol energy source. This earth-friendly alternative cuts down on natural gas toxins and uses up the inedible portion of the fruit. Other ethanol sources, like corn, burn up edible parts of the food chain.
Better than a string around your finger
While bananas are high in potassium, a mineral that supports the brain's memory functions, sometimes people need an extra reminder to take their medicine.
Lerato Faith Metsing, a14-year-old from South Africa, created a pillbox that alerts users to take their medication.
Lerato's pillbox vibrates, rings, and lights up when the user needs to take their daily medications. The alerts can be set for up to three times per day.
The first pillbox prototype was too heavy for regular use. So Lerato worked to make it more user-friendly. When creating her second prototype, Lerato kept needs of diverse and disabled people at the forefront of development. The pillbox beeps loudly, which can help the elderly and those who are hard-of-hearing. The box also vibrates and rings, which can help the blind, and lights up, which can help the deaf.
Whether through creating apps, medical devices, or environmentally-friendly ways to reuse trash, the Broadcom MASTERS International delegates are on a spirited quest to create ways to help others.
— by Laura Labovitz