'The perfect convening for space nerds like me'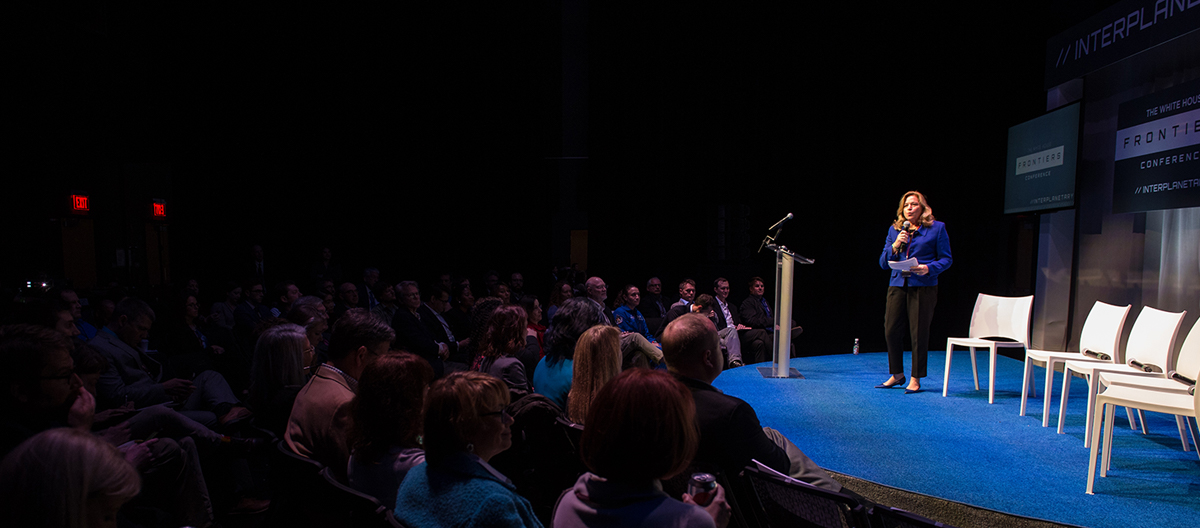 By Amber Yang
Senior, Trinity Preparatory School
Intel ISEF 2016 finalist
For the past three years, I have researched astrophysics topics. When I think back to what initially drew me to space, it was my desire to study the unknown.
So, naturally, I was elated when I found out that I had been invited to attend the White House Frontiers Conference's Interplanetary track, hosted by President Barack Obama.
What initially drew me to space was my desire to study the unknown.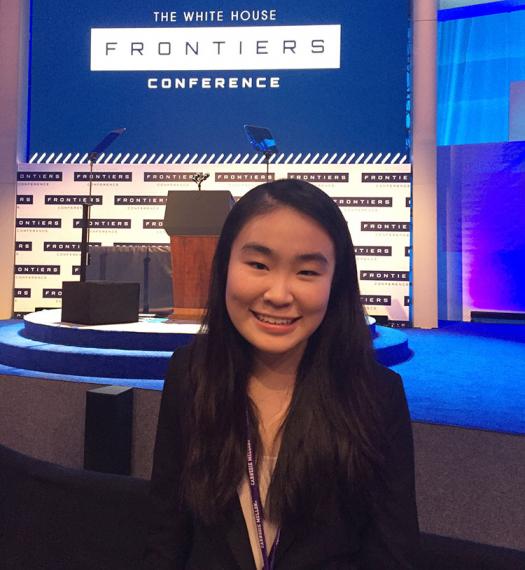 Just a few days before the conference, President Obama published an op-ed on the importance of exploring space and his desire for mankind to reach Mars by 2030. I was excited to learn about the latest and greatest research in astronomy and astrophysics, and more than anything, I was excited to hear President Obama speak at the conference.
But the conference was so much more than hearing about research. It was the perfect convening for space nerds like me.
That morning, as I listened to notable speakers such as CEO of Virgin Galactic George Whitesides and Director of the National Science Foundation France Cordova, I realized that the next big frontier in science is space.
A common theme that was emphasized throughout the conference was it is increasingly important for mankind to leave our home planet and explore what's beyond us. It was something that one scientist from Caltech described as "an intensely human curiosity."
What is coming is the democratization of space access where many will soon be able to experience a trip to space — this is incredibly important.
We are now in a new age where space travel and space exploration are increasingly accessible to civilians.
During Whitesides' keynote address, he spoke of something called the planetary perspective, which is the feeling that astronauts experience when they look down at our pale blue dot from their small white spaceship. It's an emotion that is so overpowering that it causes them to reevaluate life and humanity.
---
Now more than ever we need your support to help young scientists succeed. Join the Society today.
---
Whitesides challenged everyone to imagine what would happen if we all had an opportunity to experience that planetary perspective. Would human relationships change when we realized how small we were in comparison to the great big universe?
I left the interplanetary conference feeling completely blown away — it was the perfect convening for space nerds like me. The Interplanetary Track was the ultimate exchanging of research and innovative ideas, and it was with great reluctance that I left this, where so many great conversations were happening.
Listening to President Obama next was such a surreal experience — I cherished his every word. After hearing his speech, what stuck with me the most was when he asserted, "future scientists should not only be boys in hoodies" and "we need to teach our children that the stars of the world are not only football players." President Obama's determination and passion to make the world of science more inclusive and more respected in the eyes of the nation really touched me.
The next big frontier in science is space.
The White House Frontiers Conference really changed my views and my ideas on not only space but all areas of science. It gave me a chance to speak with people who I've looked up to my entire life, and it also gave me a chance to connect with other Intel ISEF alumni who I never had the pleasure of meeting before. Although the event only lasted for a few days, I left feeling revitalized.
I want to leave you with a quote that Rod Roddenberry, the son of the creator of Star Trek, said during the Interplanetary Track that has stuck with me to this day. He said, "If mankind cannot even overcome the struggles that we experience in our own differences, we have no right to go to space and explore foreign worlds and potentially extraterrestrial people." Roddenberry's words truly touch on the deeper implications of space travel and what it means for humanity.
The White House Frontiers Conference made me realize that the world is so much bigger than we could ever imagine and that humanity has only comprehended a tiny sliver of the great unknowns.