'The greatest collection of brain power in one place'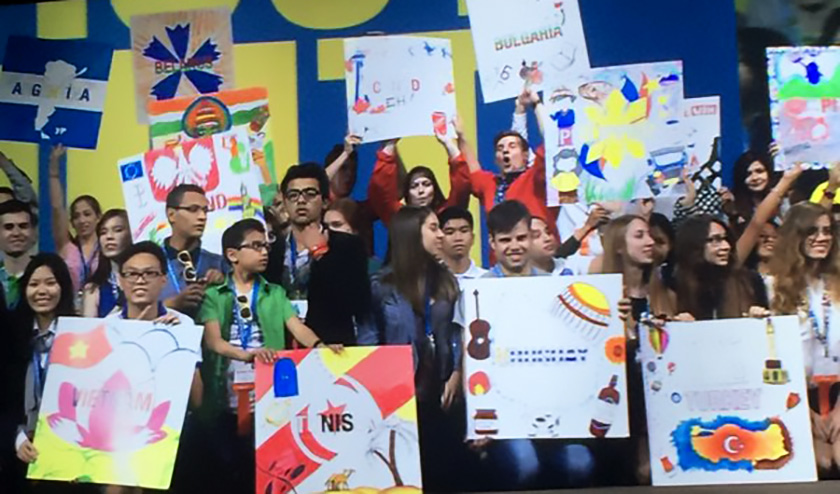 Amid the palpable electricity buzzing in the concert-sized hall full of Intel ISEF 2016 finalists, there were two towering Tesla coils and a member of Plasma Phonic wearing a special suit in between them. He pushed his face directly into the path of electricity, at one point sifting the current through his hands like a stream of water.
The Intel ISEF finalists enjoyed the opening ceremony Monday night, holding up colorful posters they decorated and sharing cheers for their country.
Representatives from Intel and the Society agreed that this week isn't necessarily about the competition and winning — it's a chance to meet people who can geek out together, who are as passionate about STEM as each other. At Intel ISEF, finalists will make friends with people they would never have met otherwise.
"To keep building on our legacy, it's imperative that we invest in the next generation — and that is all of you," said Roz Hudnell, Intel Corporation's Chief Diversity Officer.
At the Intel ISEF opening ceremony Monday night, Roz encouraged the finalists to internalize this year's theme of think beyond. "Think beyond barriers. Think beyond yourself. Listen and learn beyond your focus area. Step out of your comfort zone," she said.
Frank Sanders, Intel's vice president in the Technology and Manufacturing Group, echoed the sentiment, saying, "Think beyond what you see, what you know, what currently exists, and make the impossible possible."
Maya Ajmera, the President & CEO of Society for Science & the Public and publisher of Science Newswelcomed the finalists into the Intel ISEF and Society alumni community.
"This gathering represents the most amazing research and ideas in the world," she said. "Together, all of you are going to continue to change the world for the better."
"There's no greater collection of brain power in one place than right here tonight at Intel ISEF," Roz said.
The featured speaker was Tan Le, founder and CEO at EMOTIV. She works on brain wave technology.
She called EMOTIV a work in progress, but the company is democratizing access to brain research. The company is developing devices to translate thoughts into action and brain-controlled interfaces. This also has the ability to greatly increase computing power.
As a young girl, Tan escaped Vietnam with her mother. She immigrated to Australia. Being an outsider, she said, gave her strength and encouraged her to develop transformational technologies.
Tan Le explained that success is extremely personal and dependent on different environments. "There's not one way or particular steps to success," she said. 
But she mentioned three keys to be a successful innovator:
Having clarity of vision.
Being able to adapt over time.
Having courage and conviction in the face of uncertainty.
"Most innovation involves incremental improvements in what has come before. This kind of development is important. It's the bread and butter work that improves our lives little by little," she said.
The lightbulb moments that lead to new inventions aren't what Tan Le is interested in. She focuses on long-term processes of development that take a big idea and develop it to change the world over a period of decades.