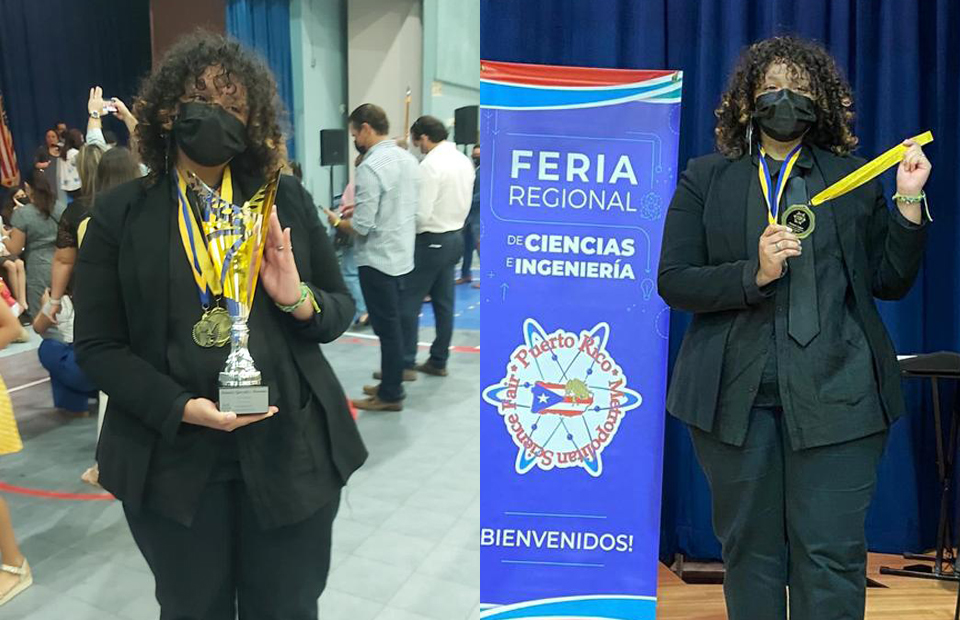 August is National Wellness Month — a month dedicated to self-care, stress release and the promotion of balance and healthy routines. Taking care of yourself both physically and mentally is a top priority now, more than ever. While the stigma around mental health and mental healthcare has lessened over the years, in many communities openly discussing depression and anxiety is still a taboo topic. In their community of San Juan, Puerto Rico, 17-year-old Dan Gonzalez discovered most people receive information about mental health from social media and other media outlets, which can be misleading and spread misinformation.
"When it comes to diagnosing individuals with any type of disorder teenagers have expressed how anxiety-producing the diagnosis process can be. This may cause people to be dishonest about how they feel, therefore affecting their diagnosis," Dan explained.
What if there was a way to make people more comfortable discussing their mental health? For Dan, the solution was simple and innovative: create a video game that a physician could prescribe, allowing people greater and easier access to a diagnosis, in a lower stress environment, while having fun.
Dan says their video game is a daily, life adventure game where you play as yourself and complete normal tasks like making your bed or petting an animal. Throughout the game, players will also encounter interactive challenges where they are asked questions related to different symptoms and types of depression in a way the player won't realize it's a diagnostic question. "The questions will have before and after dialogue, be asked by different characters in different situations and won't be asked in a specific order," says Dan. After answering each question, players will receive points based on their answers, which will translate to coins they can spend within the game.
Dan developed the questions from two depression rating scales: the Montgomery–Åsberg Depression Rating Scale (MADRS) and Hamilton scales. Each question has been reviewed and deemed reliable for diagnosis by mental health professionals. Once the player finishes playing the game, the results will be sent to their doctor for review, accompanied by a scale which determines the likelihood the patient has depression. "This video game will only be available to licensed professionals, not distributed as a product for the public. This way it won't be misused, and we can prevent self-diagnosis through the game," Dan says.
As an advocate for mental health, Dan hopes their video game creation allows more people to get the help and resources they need. "Places like Puerto Rico have a shortage of mental health professionals," Dan shares. "I hope to not only bring awareness to this issue, but create a solution, further helping my community become healthier."
Though it will be a long process, Dan is working to complete their video game design, working with mental health professionals to verify how well the questions will provide background for diagnosis, perfecting the dialogue, characters and storyline. Once the main portion of the video game is completed and verified, Dan hopes to make a second part to the game that could measure the severity of a player's depression. "The two stages would first confirm the diagnosis, then determine how severe a person's depression is, allowing the therapist to correctly treat the patient and cater to their specific needs," Dan explains. Dan also wants to create video games to help therapists diagnose other mental health disorders like anxiety, obsessive-compulsive disorder and bipolar disorder. They believe this would allow easier access for individuals struggling with these disorders to get help and support from professionals, while also raising awareness.
For their work at the Puerto Rico Metropolitan Science Fair, Dan received the Community Innovation Award, a $500 award given by the Society to high schoolers at 30 science fairs around the world. These students are seeking to help mankind through science and engineering and doing projects that will better humanity by improving conditions in their local communities.
"This award allowed me to see the product of my hard work. Working on this project hasn't been easy. From learning to code and program, to creating the designs, along with the dialogue and characters was exhausting to do by myself, yet this prize has helped me know my project could help people," Dan shares. "It's an inspiration that allows me to continue my journey and will help me provide individuals with new tools which are more accessible."
Dan is currently a freshman at the University of Puerto Rico in San Juan, Puerto Rico.
Interested in learning more about how Society for Science alumni are prioritizing mental health? Check out this blog, covering Regeneron ISEF projects focused on mental health.