Students Get an Opportunity for Q&A with Four Nobel Laureates at Intel ISEF 2013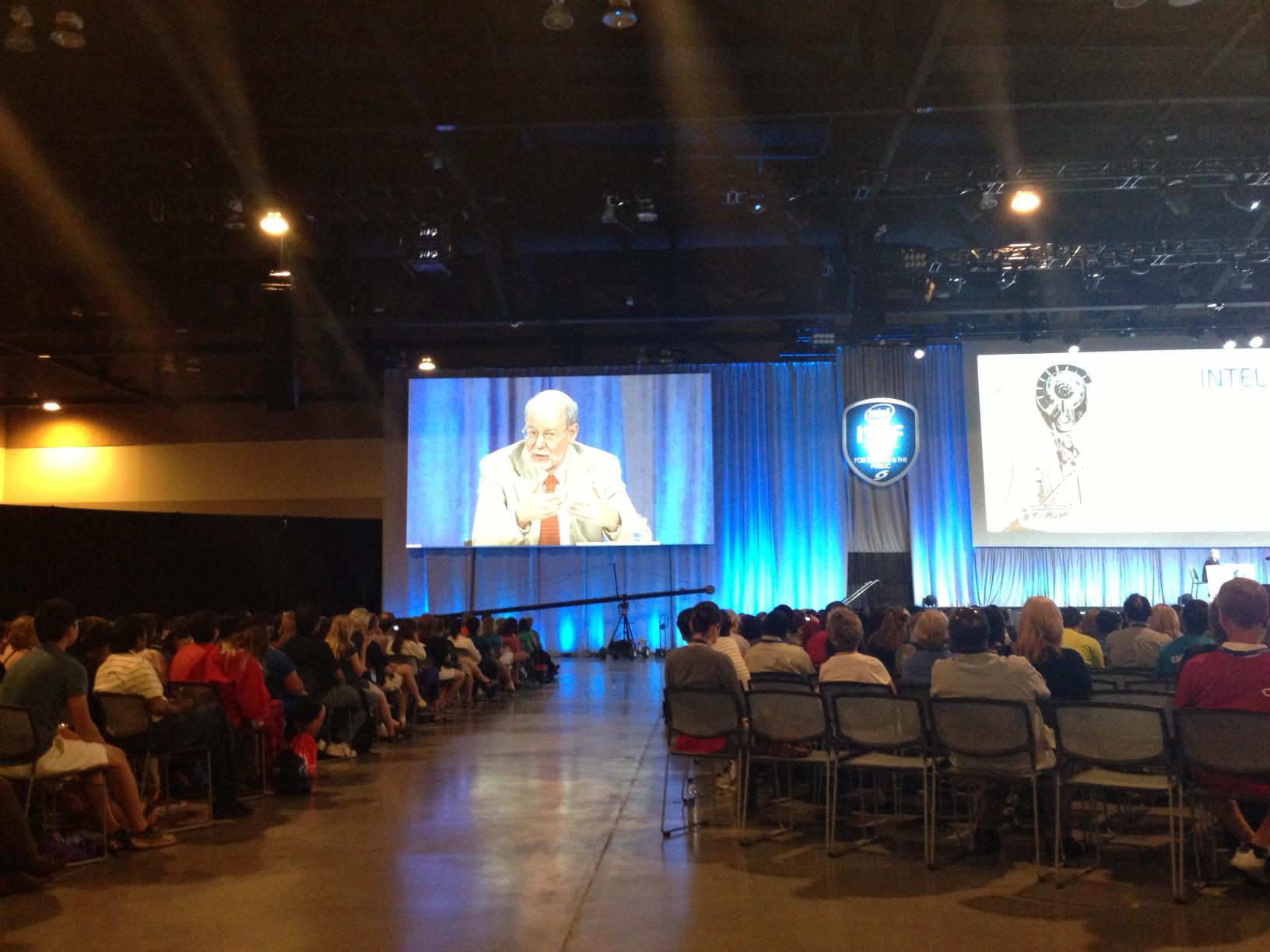 Every year since 1997, finalists at the Intel International Science and Engineering Fair (Intel ISEF) have had the opportunity to submit questions and attend a panel presentation by Nobel Laureates. Intel ISEF 2013 was no exception.
The panelists: J. Michael Bishop (Physiology/Medicine, 1989), H. Robert Horvitz (Chemistry, 2002), Harold Kroto (Chemistry, 1996), and Douglas Osheroff (Physics, 1996) spent several hours with the finalists answering questions and then participating in an autograph and photo session. The panel was moderated by Joe Palca, Science Correspondent at NPR.
---
The Nobel Laureates started things off by each providing a 60-second synopsis of their research careers and then jumped into a Q & A session with students whose questions had been pre-selected. Students had the opportunity to ask:
What one thing would you change about your research career?
Where did you go to college and how did you know it was the right choice for you?
What scientific problem do you find most personally intriguing and what do you predict will happen with research in the next 50 years?
What was the moment of greatest influence in your life?
What advice do you have for students and what was the best advice you have received?
How do you see high school student research impacting research in general?
What was an unexpected obstacle you encountered in your research?
How are the sequester and budget cuts impacting STEM research, now and in the future?
What bad or good research habits do you have?
What was your most illuminating experience outside of the lab?
What one question would you answer if you could?
How do you balance your personal and professional lives?
If you could do new research in a field different than your own, what field would you focus on?
Does your standing as a Nobel Prize-winning scientist impact your responsibility as a citizen?
Did you participate in science fairs when you were younger?
And finally-who would play you in a movie?
Harold Kroto spoke to finalists about his initial desire to be a graphic artist, the importance of having a teacher that understands you and can provide you with good advice, and advised students to work on topics they are passionate about, even if no one else thinks they are important. He also talked about how in his life he has felt he was surrounded with people that were smarter than him, but that "science is not about being the smartest guy on the block. It's about diving in and trying something, and if that doesn't work, diving in again."
Douglas Osheroff encouraged finalists to challenge themselves and recognize that the value of high school research is in giving yourself tools for the future, hopefully which will lead you to a career. Osheroff added that "brilliance is nice, but creativity is what solves problems." He said if he was starting out in research now, he would focus on environmental science and problems such as how to replace energy sources like fossil fuels.
J. Michael Bishop talked about the value of a liberal arts education, even if you are going to focus on and have a career in the sciences. He continues to work on his research into the causes of cancer, as he believes it is "much better to prevent disease than to have to treat and cure." Bishop urged students to "read outside their textbooks." He was inspired to go into molecular biology by an article he came across in a science magazine while in school.
H. Robert Horvitz went to MIT for undergraduate studies after a guidance counselor suggested he should apply to a school on the East Coast and he told them to pick one. He talked about how "those things we can't predict are often the most exciting," and mentioned his particular interest in the future of research into the brain. He encouraged students not to be afraid to switch to a different path from the one they are on if something interests them, as he decided to go to graduate school to study biology after receiving a degree in math and economics. He also urged students not to be afraid to fail.