On November 30, Society for Science & the Public launched our first fundraising drive through Kickstarter. Kickstarter is an all or nothing, limited-time funding platform that raises money to support a specific project. SSP was seeking support to fund reporting for a journalistic expedition to Antarctica that aims to educate and enlighten young people and adults about the research going on in one of the world's most fragile and remote ecosystems.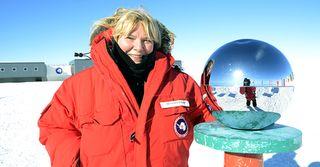 One of our best, most experienced staff members, Janet Raloff, traveled in December to Antarctica as part of a National Science Foundation program. Janet's articles will appear in both of our publications — Science News and Science News for Kids — and will focus on the scientific research underway in Antarctica. While the National Science Foundation covered the Antarctic portion of the trip's costs, SSP still had to pay for travel, lodging to and from New Zealand, protective gear, extensive medical tests, equipment and other expenses. This Kickstarter project was designed to help us cover these additional costs as well as provide for lots of original, in-depth reporting and editing of resulting stories.
During the 15 days that our Kickstarter campaign was live, we received pledges from 195 backers for $15,001. That means we successfully achieved our goal of $15,000!
"Raising funds, like we did through this Kickstarter campaign, enables SSP to continue providing high quality in-depth journalism on scientific topics," said Mike Miller, Chief Content Officer of Society for Science & the Public. "It also allows us to make scientific news available to the public free of charge through venues such as Science News for Kids. Without support from the community, SSP would not be able to fulfill its mission of educating, informing, and inspiring."
Read the transcript of Janet's Ask Me Anything on Reddit held in early January and be on the lookout for a host of articles about Antarctica that have already begun appearing in Science News and Science News for Kids.