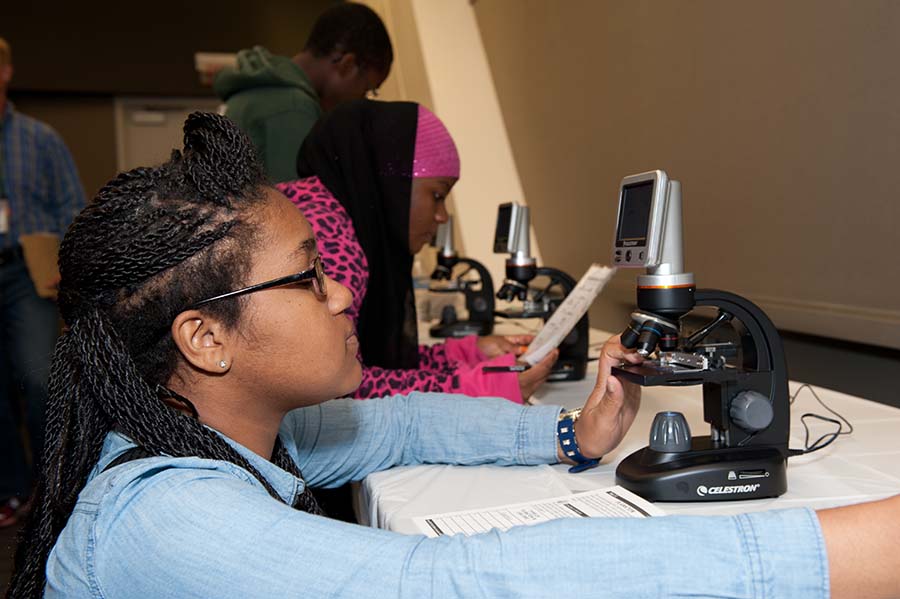 Each year, as part of the Intel International Science and Engineering Fair, more than 3,000 local students and teachers visit the finalists from around the world, learn about their research and participate in the Education Outreach program. In 2015, these students conducted a hands-on water laboratory, "When Invasives Attack," in which they explored plankton from local waterways using microscopes provided at a discount from Fisher Scientific.  
Because the Education Outreach program is funded largely by local sponsors, after Intel ISEF concluded, the Society provided the opportunity for those sponsors and members of the Local Arrangements Committee (a planning committee that helps host Intel ISEF by providing local on-the-ground support) to select local schools or nonprofit organizations in and around Pittsburgh to receive the remaining microscopes as a donation.
"The purpose of the Education Outreach program is to allow local students to be a part of Intel ISEF and inspire them to one day be a finalist. A large part of this experience is providing a hands-on activity that demonstrates many of the skills used in completing a research project," said Michele Glidden, Chief Program Office at Society for Science & the Public. "It was important to us that the microscopes we purchased for this one-day program be used throughout the year and continue to support science education in the local area."
More than 120 microscopes, valued at nearly $25,000, were distributed for the use of classrooms within the greater Pittsburgh area. Recipients were selected by local Education Outreach program sponsors, such as Alcoa, Bayer, Buhl Foundation, Expii, Grable Foundation, Hillman Family Foundation, Kennemetal, and PPG Industries Foundation.