Society Alum Rolf Barth Understands the Importance of Having Encouraging Parents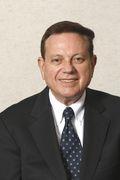 ​In the early 1940s in Jackson Heights, New York, a mother took her young son, who was about 5 or 6 years old, to the movies. They saw Dr. Ehrlich's Magic Bullet about Paul Ehrlich, a famous German doctor and Nobel Prize winner who found a treatment for syphilis and was the originator of the concept of antibodies.
Little did she know, that experience would change her son's life. Rolf Barth (STS 1955) says it was then, in that theater, that he decided his life's work. "That was it. I decided I wanted to be a doctor and a scientist." His mother continued to help him pursue his dreams and, years later, drove him to the main post office in New York City to make sure that his STS project on immunologic enhancement was sent off to the Westinghouse Science Talent Search (now the Intel STS). Several months later he remembers telling his Italian grandmother, who didn't speak English very well, "I'm expecting a very important telegram…so don't lose it!"
Rolf received the telegram (which he still has) letting him know that he was an STS finalist. He spent a "marvelous week" in Washington, DC, making friends that he still keeps in touch with, including fellow finalist and Nobel Laureate Roald Hoffmann. "Being a Westinghouse winner helped me tremendously," Rolf says. "That resulted in me getting a number of scholarship offers from universities." He decided to accept a full tuition scholarship from Cornell University, from which he graduated in 1959.
Parenthetically, Roald Hoffmann has been at Cornell since 1965 and he and Rolf still keep in touch.
Rolf went on to conduct research with Nobel Prize winner George Snell, and earned a medical degree from Columbia University. He has published over 335 papers and is still as active as ever as a Professor in the Department of Pathology at The Ohio State University.
At the end of his extended CV, Rolf lists another major achievement. Of the many people he has trained over the years, he notes, that his most important trainees have been his four children. His two sons and two daughters all have ventured into their own fields of science and now work as a rocket scientist, an anesthesiologist, a professor of molecular biology, and a transplant surgeon.