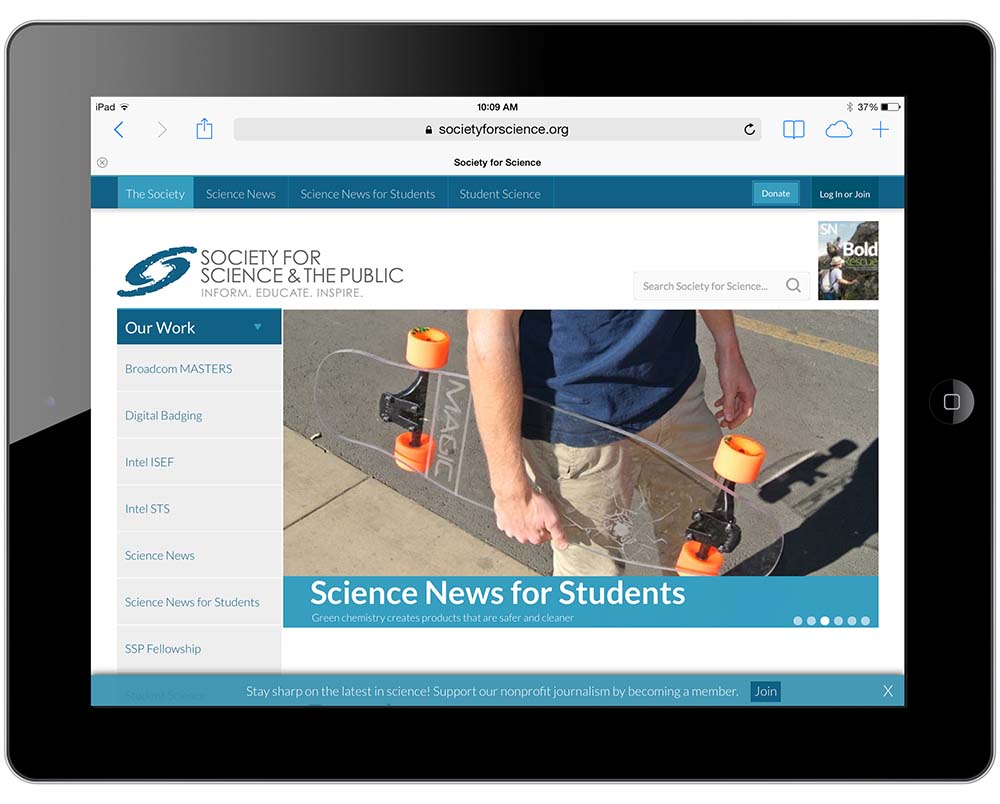 Last October, the Society officially launched Society 2.0, a new vision for the organization that included a web presence designed to better integrate our competitions and educational programming with our Science News family of media properties, the introduction of subscribing memberships, and additional features and resources.
Since the launch, we have tracked approximately 15 million viewers to our revamped website, and received positive feedback about our more frequent updates, stronger visuals, and new features, like our blog network with nine unique blogs on a variety of topics and our Science News archives, which allow access to magazine issues as far back as 1924—more than 100,000 articles!
The new sciencenews.org was chosen as one of ten Official Honorees in the Science category of the Webby awards for its updated design. There were 728,000 monthly unique visitors in September 2014, up 21 percent from 602,000 a year earlier. There were 5,267,170 unique visitors from Jan. 1-Sept. 30, 2014, a 13-percent increase from 4,675,154 in the same period a year earlier.
In addition, more than 160,000 individuals have signed up to receive additional news from the Society from one of our four regularly issued e-newsletters.
We've also had more than 4,000 new subscribing members join online since last October, and now have nearly 100,000 members. Subscribing members receive Science News in print, online, or tablet form and also help support Society's programs to inspire, train, and reward young scientists. We continue to offer Science News for Students and additional educational resources free of charge to students, parents, and educators.
Once again, your reviews have enabled Society to be named a Top Rated Nonprofit by GreatNonprofits and we received Charity Navigator's 4-star ranking for our financial health, accountability, and transparency.
With our new CEO, Maya Ajmera, now in place, we look forward to further enhancing the Society experience for alumni, subscribing members, and supporters. We welcome your feedback on Society 2.0 and suggestions for improvements and features you would be interested in seeing in the future. For additional information, please contact us at ssp@societyforscience.org.