So, You Want to Be an Astronaut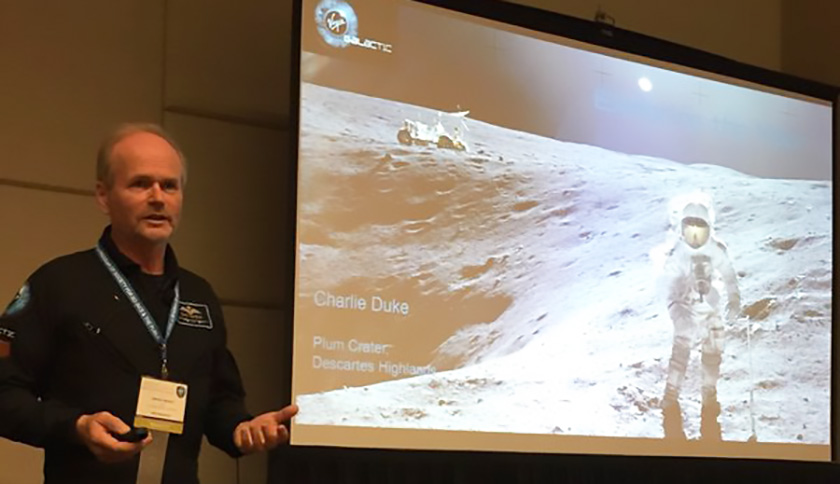 When David Mackay, Chief Astronaut Test Pilot with Virgin Galactic, asked how many people in the audience would want to go to space if it was affordable, commercialized, and safe, everyone raised their hands.
At the So, You Want to Be an Astronaut? symposia at Intel ISEF, this writer and everyone in attendance was ready to sign up.
Mackay attended the French test pilot school EPNER and became a military test pilot. He's flown in several aircrafts, including a historic one from 1910. Now he works as a test pilot for a private commercial space line.
"Only 553 people have gone into space in the entire history of humanity," Mackay said. To be one of the first select 1,000 into space, Mackay suggested buying a ticket with Virgin Galactic.
Virgin Galactic currently has seven test pilot astronauts. Mackay is one of them.
Virgin Galactic is working on its SpaceShipTwo, which is carried on a WhiteKnightTwo aircraft to an altitude of 50,000 feet when it is launched. During the ballistic flight, pilots or customers would be weightless for 3-4 minutes and experience 3G's.
To feel what accelerating in 3G's is like, Mackay suggested lying on the floor with books on your chest. As you breathe in, you'll have to work harder.
Mackay also said how humbled he was by the standard of the work and projects he saw at the finalist exhibit hall. Mackay spoke during the public exhibition of projects, where over 2,000 local students toured the finalist's research.
Mackay has climbed to 71,000 feet in the aircraft, where he said the views of the thin atmosphere and Earth are amazing.
When testing something that is so new and different, Mackay said it's important to have a broad experience to draw on. "If something goes wrong, that's why we use test pilots," he said.
At this point, Virgin Galactic has no plans to have customers wear pressure suits on the flights. That would require the customers to have training and would become more complex, he said. The cabin could also be configured to hold experiments from NASA instead of customers.
Virgin Galactic isn't preparing vehicles that can go to Mars. "I wish they were," Mackay said. "But you have to walk before you run. This is the first stage to greater things."
The aerospace industry requires a lot of coordination, teamwork, and communication among the ground crews, mission control, and test pilots, he said.