Signature Alumni Event brings together the Society's community of stakeholders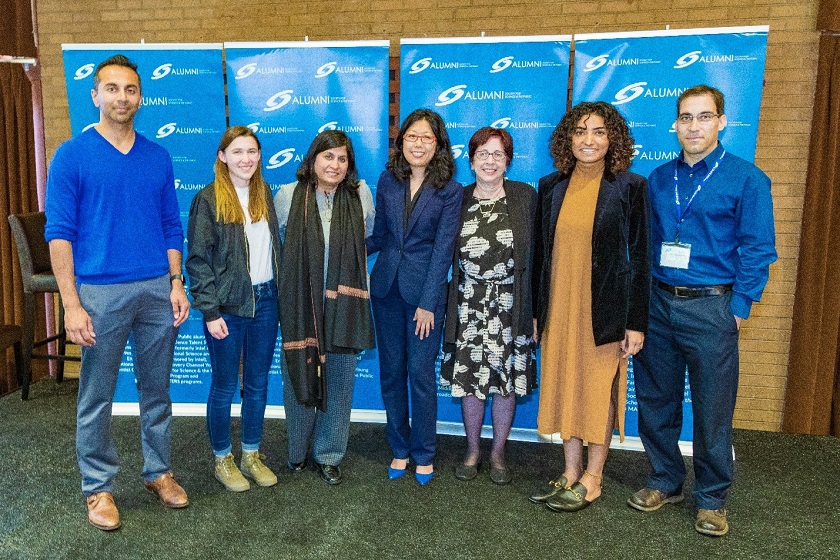 A multigenerational group of society alumni, teachers, donors and Science News subscribers attended the Signature Alumni and Friends Event on October 19 at the Stanford Faculty Club in Stanford, California. This is the fifth year of the annual event and the second time being held in the Bay Area—home to many society alumni. The afternoon featured an alumni panel, and a fireside chat moderated by the Society for Science & the Public's President and CEO, Maya Ajmera (STS 1985).
Meredith Lee (1999 ISEF), Executive Director of West Big Data Hub, and member of the National Leadership Council—the Society's special alumni advisory board, moderated the alumni discussion. The five-member panel included: Paige Brown, cofounder and CEO of Windborne Systems (STS 2016, ISEF 2016); Sue Klaphloz, Vice President, Nutrition and Health, Impossible Foods, Inc.(STS 1971); Anarghya Vardhana, Partner at Maveron (STS 2006, ISEF 2004-2006, DCYSC 2002) and Keith Winstein, Assistant Professor of Computer Science at Stanford University. The lively conversation covered a variety of topics ranging from the state of science today, the ethics in the fields of computer science and Artificial Intelligence, the fear of burnout culture and diversity in STEM.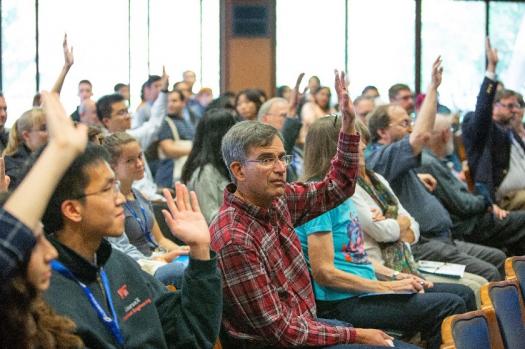 Anarghya encouraged the young alumni in the audience to appreciate the sheer joy and curiosity of learning rather than just the motive to turn ideas into a business. "I know it may seem odd for a venture capitalist to say this, but it feels like science is becoming more commercial, and there is pressure for young students to turn their ideas into companies almost instantly. There is this challenge and dichotomy between science for the sake of learning, curiosity, pleasure and joy of learning, versus how can this be something commercial and turn into a billion-dollar business."
Paige, the youngest of the panelists shared insights into her development as a young student growing up in a small community in Maine. She admitted that there was a time she didn't believe climate change was real. She credits her science teachers and science fair experiences with helping her to find her voice and passions within STEM fields. She also shared experiences of feeling burnt out and overwhelmed by all her different activities and interests. Her advice was focusing on a few interests and doing them well instead of many and doing them mediocre.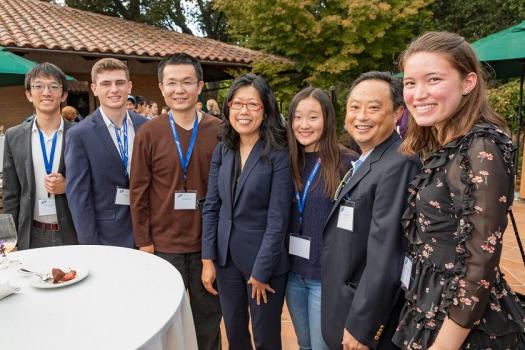 Sue shared her personal story and professional journey as a woman in science in the 1970's. "I didn't have a road map from my family. When I was in high school, I would hear women are not suited for science. When I got my Ph.D., there weren't as many opportunities as men. Science fair gave me the sense that I can do this! I tried and succeeded; that always stayed with me." She advised the group to find balance, nurture their relationships and explore other interests outside of work. 
Keith discussed his experience working as a professor, science advocate and being a successful scientist. "As a tenure track professor, the parts of my job that are most like the science fair, are only about .01% of what I actually get to do—so rarely."
He also described the courses he teaches, and topics covered. In his Computers, Ethics, Public Policy course, he covers concerns such as risk, privacy and surveillance and the ethical implications of decisions.
At the end of the event, Meredith asked the panelists to share their thoughts about the areas of science that call for more intentional advocacy and leadership. Ethics, diversity and inclusion, climate change and fake science news were just a few mentioned. All the speakers agreed that science has value for our community beyond the lab and having a science-literate society is something we should strive to achieve.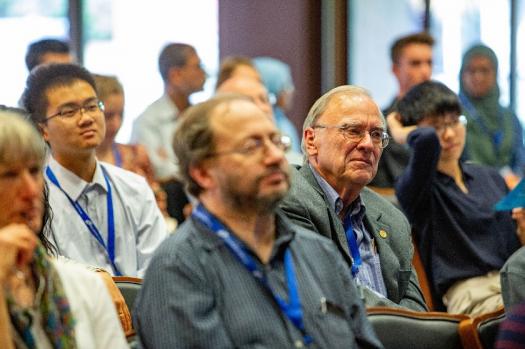 Following the alumni panel Maya Ajmera and Ramji Srinivasan (ISEF 1999), former CEO and cofounder of Counsyl, a genetic testing company, held a fireside chat, where Ramji shared his leadership philosophy and his entrepreneurial journey. His advice to individuals wanting to start a company was simple: Identify a pain point, an explicit problem that potential customers of are experiencing and find a solution. He said, "If you meet customer needs, good things will follow." 
Ramji also addressed some of the challenges of being an entrepreneur and supervisor. He shared the experience of dissolving a partnership with one of his cofounders. Ramji stressed that having a solid team and being humble is very important to being successful and creating value overall.
Several themes emerged from both the alumni panel and fireside chat—be passionate about your ideas, stay true to yourself, relationships are important and find balance outside of work.