Science News wins Best Feature from ONA for "Martian Diaries"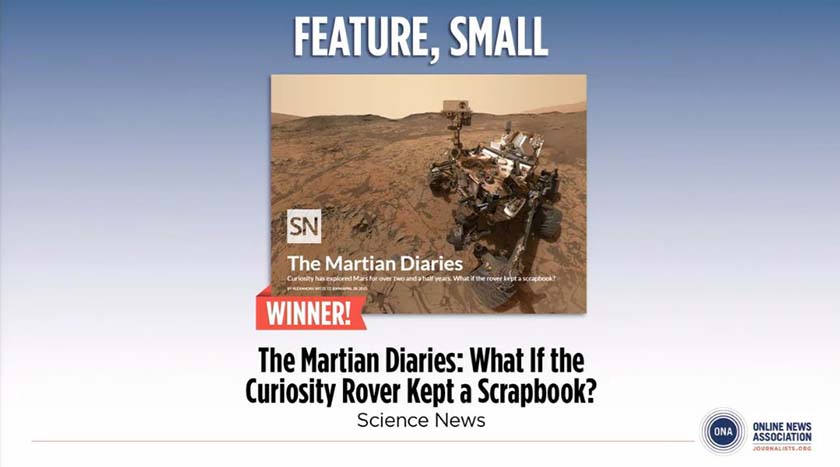 Science News was the recipient of Best Feature for a Small Organization for "The Martian Diaries: What if the Curiosity rover kept a scrapbook?" at the recent Online New
s Association's awards dinner. Judges said it was "an out-of-this-world idea perfectly executed."
Congratulations to our talented staff: Alexandra Witze, Cori Vanchieri, Federico Castaneda, Stephen Egts, Erin Otwell, and Kate Travis
More about the Martian Diaries:
The six-wheeled Curiosity rover is NASA's rock star. Since August 2012, when it landed in Gale Crater on Mars, it has been spending its days (or "sols" on Mars) hunting for environments where past life might have thrived. It has traveled about 10 kilometers, drilled into six rocks, analyzed three scoops of dirt and revealed the watery history of its landing site. As Curiosity begins to climb a mountain for some vertical geologizing, Science News imagined key entries from the rover's personal diary, logged as the 1-ton machine made its way across the Martian landscape. Each excerpt opens with a tweet actually posted by NASA on Curiosity's behalf at the Twitter name @MarsCuriosity.
More about ONA Awards:
A group of 60 industry-leading journalists and new media professionals teamed up to screen entrants and select finalists. Fifteen judges, representing a diverse cross-section of the industry, then conferred to determine winners from independent, community, nonprofit, major media, start-up and international news sites.
Launched in 2000, these awards are the only comprehensive set of journalism prizes honoring excellence in digital journalism, focusing on independent, community, nonprofit, major media and international news sites.