Science News went out of this world to ring in 2019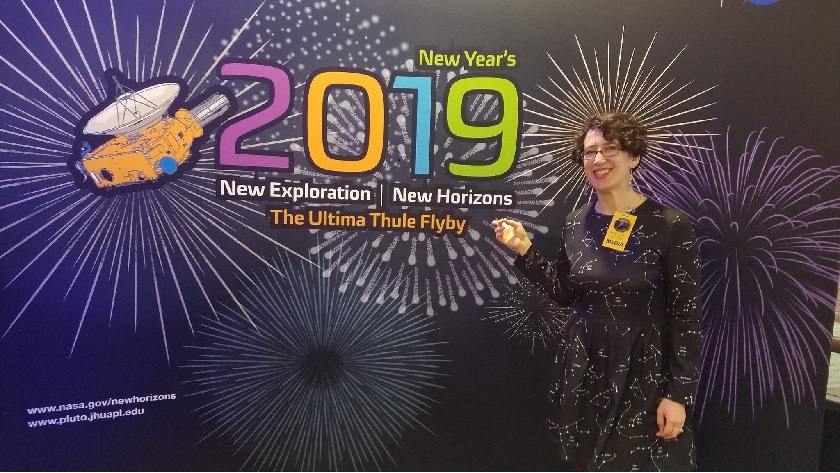 While most of us were busy celebrating or snoozing in anticipation of 2019, intrepid Science News journalists were hard at work providing live coverage of discoveries 4 billion miles from the sun.
The New Horizons spacecraft has been headed for the outer reaches of our solar system since it launched in 2006. After surveying Jupiter and Pluto, its next task was to investigate the mysterious space rock 2014 MU69, also called Ultima Thule. The flyby was inconveniently scheduled for the early hours of New Year's Day.
So how does one prepare for such a celestial feat? Astronomy writer Lisa Grossman and digital director Kate Travis spent weeks developing a coverage plan for multiple platforms, including the Science News website, Twitter and Instagram. Lisa pre-wrote background material so it could be fact checked and edited in advance. On December 31, she traveled from holiday celebrations with family in Minneapolis to Mission Control at the Johns Hopkins Applied Physics Laboratory in Laurel, Maryland.
The countdown that counts. @NASANewHorizons (almost definitely) just flew past #UltimaThule! pic.twitter.com/HavH3rkZKU

— Lisa Grossman (@astrolisa) January 1, 2019
Project scientist Hal Weaver says MU69 is elongated and spinning like a propellar blade. "It's a pixelated blob, but it's a better pixelated blob!" #UltimaFlyby pic.twitter.com/3uCevNNDuB

— Lisa Grossman (@astrolisa) January 1, 2019
Talking about how cool and important 3D images are, @DrBrianMay pulls a pair of stereoscopic glasses out of his pocket like he always has them on him ???? pic.twitter.com/36qTRCjoYJ

— Lisa Grossman (@astrolisa) December 31, 2018
Lisa started reporting at 2pm on New Year's Eve with live updates on Twitter and Instagram, including photos and video. You could feel the tension while the scientists waited for a signal, and the euphoria when New Horizons phoned home at 10:30 am EST on New Year's Day. "News junkie that I am, I think my favorite moment was when they got the signal back from the spacecraft on the morning of the first and knew everything had gone well," Lisa says. "Followed closely by seeing that blurry bowling pin picture and learning that their speculation about how MU69 was spinning (demonstrated in the Instagram story by John Spencer spinning a pen) was probably correct."
Lengthier reports were sent to Kate, who edited them for the Science News website, with support from Macon Morehouse. Lisa also spoke to Brian May, guitarist for the band Queen and Ph.D. astrophysicist, who wrote a song in honor of the expedition. After 24 hours on the beat (with a snooze break of course), Lisa and Kate wrapped up their live coverage at 2pm January 1 and went out for tacos.
The carefully thought out coverage plan, including meticulous attention to SEO-friendly headlines and social media management, paid off. While most stories typically lose readers the longer they've been online, coverage of New Horizons' journey continued to build traffic. That's especially remarkable, given that it was during a holiday, when news is not most people's priority. This is a testament to the professionalism, dedication and high-level journalism that Science News embodies.
As more data arrives from very far away, you can continue to follow the story on Science News.org, on Twitter at @sciencenews and @astrolisa and on Instagram at @sciencenewsmagazine.