Science News releases special issue on time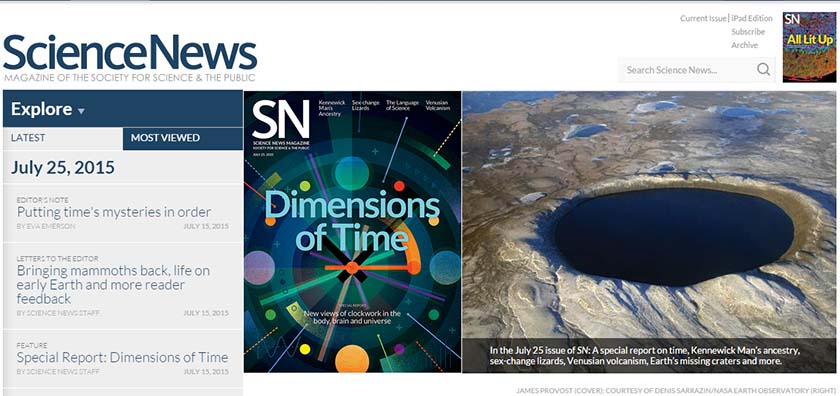 Science News is releasing a special magazine issue (Vol. 188, No. 2, July 25, 2015) devoted to the study of time and our understanding of it in the physical, biological and mental worlds. This is one of three special issues planned for this year – a special issue on general relativity is planned for the October 17 issue and the magazine will have its annual Top 25 Stories of the Year in the December 25 issue.
Read an excerpt from Eva Emerson's editor's note about the features available in the special report on time:
Investigating both the orderly and disorderly dimensions of time provides the focus for this special issue, aimed at offering new perspectives on something most of us take for granted. For instance, Andrew Grant explores a fresh idea to explain the one-way direction of time's flow, a conundrum that has perplexed physicists for over a century. The new proposal suggests that the universe actually does run backward as well as forward in time (as our brains would perceive it).
As it turns out, our brains' perception of time is quite complex, as Laura Sanders reports. She describes the presence of multiple timekeepers in the brain and explores some of the troubles scientists face in studying how the mind pieces together data from its many timepieces.
Tina Hesman Saey's feature on biological clocks takes an evolutionary perspective, updating readers on new efforts to explain how and why circadian rhythms might have evolved in living things to begin with. Minimizing exposure to threats in the environment such as ultraviolet light and oxygen may have fueled the development of internal clocks. So too might have the cell's search for efficiency — saving energy by doing things in bursts, instead of continuously.
As our timeline of timepieces illustrates, the human ability to track time grows ever more precise, as does our understanding of how time's nature influences our world, brains and bodies. But many mysteries endure. And probably will for a long time.
See the collection of stories in the Special issue: Time editor's pick.
In addition, there will be online-only features associated with this issue, including an expanded version of the timeline of timepieces; a roundup of weird biological clocks in nature; and blog posts on shift work and social jetlag from Bethany Brookshire in Scicurious and kids' perception of time from Laura Sanders in Growth Curve.
Interested in receiving Science News? Become a subscribing member and get a year's subscription in print and digital formats, access to our online archives back to 1924, and help support the Society's mission to inform, educate, and inspire the public about science.