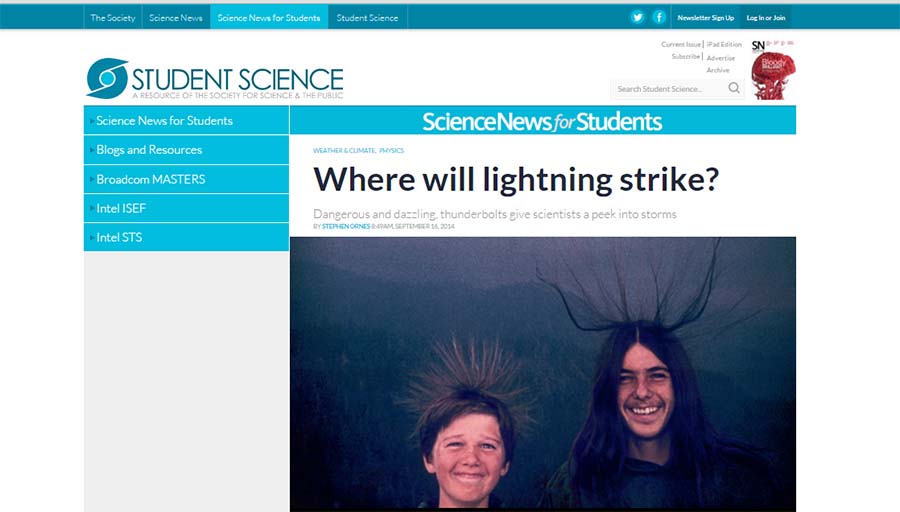 Two contributing writers for the Science News media group were recently announced as recipients of the 2015 AAAS Kavli Science Journalism Awards. The awards, administered by the American Association for the Advancement of Science (AAAS), go to professional journalists for distinguished reporting for a general audience.
Alexandra Witze, Contributing Correspondent for Science News, won a Gold award in the Magazine category for her work in both Nature and Science News:"The Quake Hunters" (in Nature) from July 9, 2015; "The Pluto Siblings" (in Nature) from Feb. 26, 2015; and "Let the River Run" (in Science News) from Jan. 10, 2015.
From the press release: Alexandra Witze introduced her readers to the seismologists who work around the clock to pinpoint major earthquakes around the globe; to a brother and sister who have spent their lives studying Pluto; and to scientists and engineers involved in the removal of two dams on the Elwha River in Washington's Olympic Peninsula and the restoration of the environment behind the dams. The judges praised Witze's command of diverse topics, each story illuminated through on-the-scene reporting.
Stephen Ornes received a Gold award in Children's Science News for his Science News for Students article, "Where will lightning strike?" from Sept. 16, 2014.
From the press release: Stephen Ornes told his youthful readers about the natural events that unfold in clouds to produce the visible bolts and roaring thunder that produce one of nature's most dazzling displays– and also one of its most dangerous. Starting with a harrowing story about hikers caught in a thunderstorm atop a mountain in California's Sequoia National Park, Ornes describes what scientists have learned about the behavior of lightning and what they are still struggling to understand. The judges praised Ornes for his comprehensive review of lightning research.
Other awards the Science News media group has received in 2015 include:
Ohio Society of Professional Journalists
Best Medical/Science story– for the September 27, 2014 article "Recycling the Dead" in Science News for Students
2015 Eddie and Ozzie Awards
Best Consumer Single Article, Science– for "The Martian Diaries: What if the Curiosity rover kept a scrapbook?"
Honorable Mention– Best consumer column/blog, Growth Curve
Honorable Mention– Best Association/Nonprofit cover design and Best Association/Nonprofit use of illustration for the "A Rocky Road to Mars" issue from August 23, 2014
Honorable Mention– Association/Nonprofit overall design for the April 18, 2015 issue
2015 Online News Association Awards
Best Feature for a Small Organization–for "The Martian Diaries: What if the Curiosity rover kept a scrapbook?"
2015 American Institute of Physics Science Communications Award
Andrew Grant for his May 16, 2014 article "The mysterious boundary"
2015 Newsbrief Awards of the DC Science Writers Association
Honorable Mention- Beth Mole, for her story "Kangaroo gut microbes make eco-friendly farts"