Science News celebrates 100th anniversary of general relativity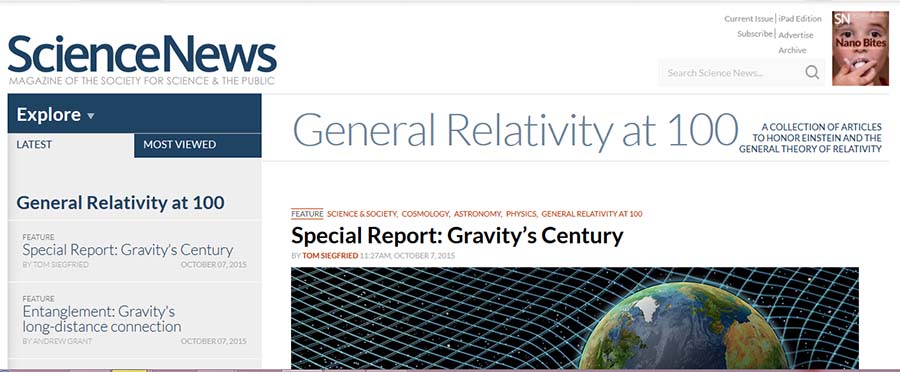 Science News is honoring the 100th anniversary of Einstein's general theory of relativity this November with a special issue centered on that theme. The feature package, published in the October 17 issue of Science News, as well as select stories from our archives are available free of charge on our website. It includes:
In "Getting a grip on gravity," Managing editor Tom Siegfried describes the challenges that Einstein faced in developing the general theory of relativity, which reimagined gravity as a warping of spacetime. Einstein struggled for years to solve the puzzle, and the pieces all fell into place in November 1915.
Chris Crockett, astronomy writer at Science News, focuses in his feature on gravitational lensing and how we can see farther and deeper into space. "General relativity isn't some stodgy theory; it's a launching pad to look deeper into the universe than ever before," Crockett says. The feature focuses on technology we are using now, and how that is aiding our search for ripples in the fabric of space and time.
Andrew Grant, physics writer at Science News, describes his feature as a wild mix of topics including wormholes and holograms that are usually reserved for science fiction. Yet scientists are taking them seriously to resolve deep mysteries about the universe. Unlike many Einstein stories that focus on whether the brilliant physicist was right or wrong, Grant's story reveals how cutting-edge researchers are building on Einstein's incredibly successful theory.
Additional Einstein coverage available in the Science News archives