Science News a finalist at ONA for "Martian Diaries"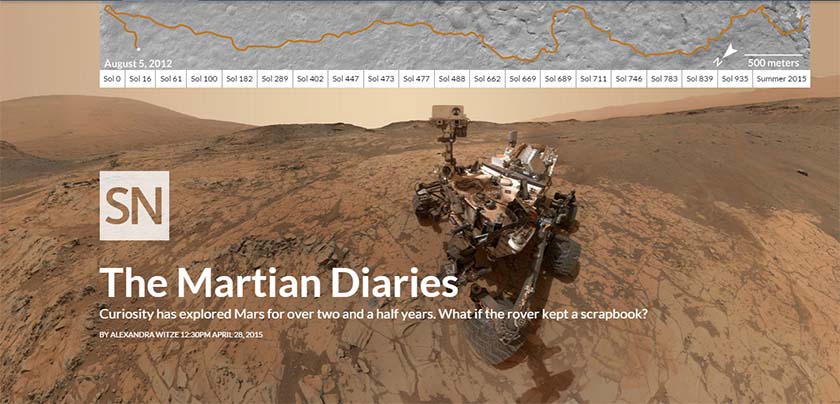 The Martian Diaries has been named a finalist in the feature category of the Online News Association's Online Journalism Awards.
More about the Martian Diaries:
The six-wheeled Curiosity rover is NASA's rock star. Since August 2012, when it landed in Gale Crater on Mars, it has been spending its days (or "sols" on Mars) hunting for environments where past life might have thrived. It has traveled about 10 kilometers, drilled into six rocks, analyzed three scoops of dirt and revealed the watery history of its landing site. As Curiosity begins to climb a mountain for some vertical geologizing, Science News imagined key entries from the rover's personal diary, logged as the 1-ton machine made its way across the Martian landscape. Each excerpt opens with a tweet actually posted by NASA on Curiosity's behalf at the Twitter name @MarsCuriosity.
From the press release announcing the finalist status:
"This year, judges were swayed less by bells and whistles that didn't add to the content, and instead zeroed in on high-quality journalism that was able to take flight on digital platforms," said Joshua Hatch, ONA Board member and Online Journalism Awards Committee Chair. "It goes to show what a democratic force technology has become to journalists around the world."
A group of 134 industry-leading journalists and new media professionals teamed up to screen 994 entries and select semi-finalists. Fifteen judges representing a diverse cross-section of the industry then conferred to determine finalists and winners.
The winners will be announced at the 2015 ONA Conference and Online Journalism Awards Banquet on Saturday, Sept. 26, in Los Angeles.