'Science is not an exclusive club': Behind the scenes with a Society intern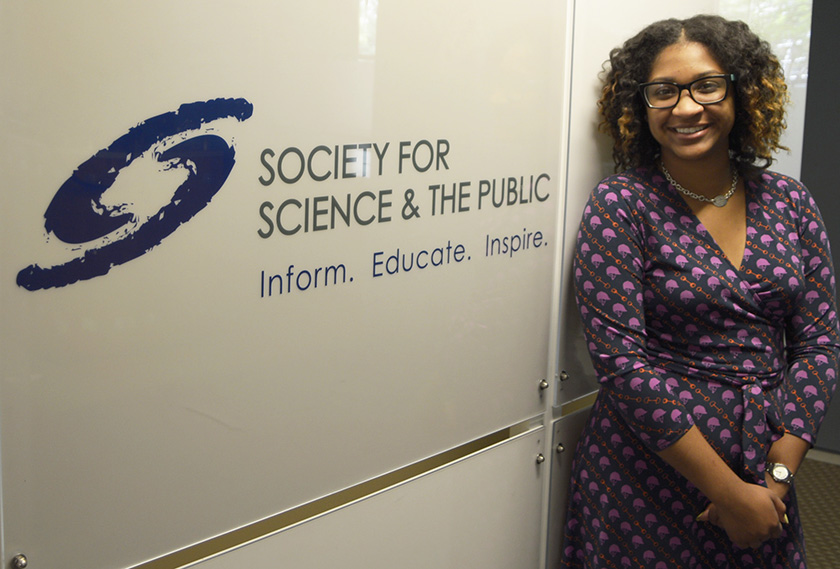 Dedrain Davis was such a good intern, we extended her time with the Society for Science & the Public. For several months, she's been working with the marketing team, cooking up media relations plans, and putting them into action.
Dedrain is currently pursuing a Master's in public relations and corporate communications at Georgetown University. She plans to complete her coursework in December 2017 and graduate in May 2017.
Read our interview with Dedrain below to learn more about how she helped at the Society and her plans to use communications to promote organizations that make a difference.
MOST EXCITING PART OF INTERNING AT THE SOCIETY: The most exciting part of this internship was doing media relations for the 2016 Intel Science Talent Search (now Regeneron STS). I wrote media pitches and personalized them for every finalist's project. Numerous journalists from all over the country picked up the stories I wrote.
I know how rewarding it is to inspire kids to change the world through science.
HOW DID YOU BECOME INTERESTED IN SCIENCE: I and the Society know how rewarding it is to inspire kids to change the world through science.
I previously worked at the Science Museum of Minnesota, where I was part of a group that researched climate change through a social justice perspective. I learned that low-income communities and communities of color are often located near environmental hazards, including highways, factories, industrial waste sites, and more. These communities are also often far away from affordable fresh food, which is called a food desert.
---
You can intern with the Society too! Apply to one of our internships today.
---
At the museum, we engaged youth in these communities by making science connect to their everyday life. A highlight of this work was the creation of a curriculum that taught youth urban farming and clean energy concepts. They grew ingredients for pizza and made solar ovens out of shoe boxes (s'more's are great this way).
Science is not an exclusive club.
The museum partnered with recreation centers and the Saint Paul Public School District, which continues to use this curriculum almost six years after we created it. We won several awards and I was even invited to the White House!
Visiting the White House was an experience I will never forget. I felt cool going through extensive security checks, roaming the hallways, and dining at the cafeteria. I kept thinking, wow, presidents have stood where I'm standing right this second. Unfortunately President Obama was out of town that day. 
At the White House, I was invited to a panel on educational exellence, where several scientists and STEM educators discussed ways to improve STEM education. I expected people who worked at the White House to be very formal and official. But everyone was nice and normal. People casually chatted with colleagues in the halls and grabbed lunch like any office at noon.
WHAT'S NEXT: I am currently preparing for my final semester where I will be doing pro-bono work for Dreaming Out Loud, a  food access and economic empowerment non-profit in D.C.
Long term, I hope to use communications to support and promote organizations that make a difference. This could mean directing communications at a large non-profit or starting my own consulting firm that promotes causes, non-profits, and small businesses.
ADVICE FOR YOUNG PEOPLE INTERESTED IN STEM: Science is not an exclusive club. You do not have to be a "scientist" to do science. The lack of women and people of color in STEM can be discouraging, but that means there is space for someone like me to blaze the trail.
Find your passion (music, sports, dance, etc.), explore the science behind it, and let it take you to amazing places.
HOW DOES WASHINGTON, D.C. COMPARE TO MINNESOTA: D.C. has cooler landmarks, but could use some advice on handling snow.