Science in the Emerald Isle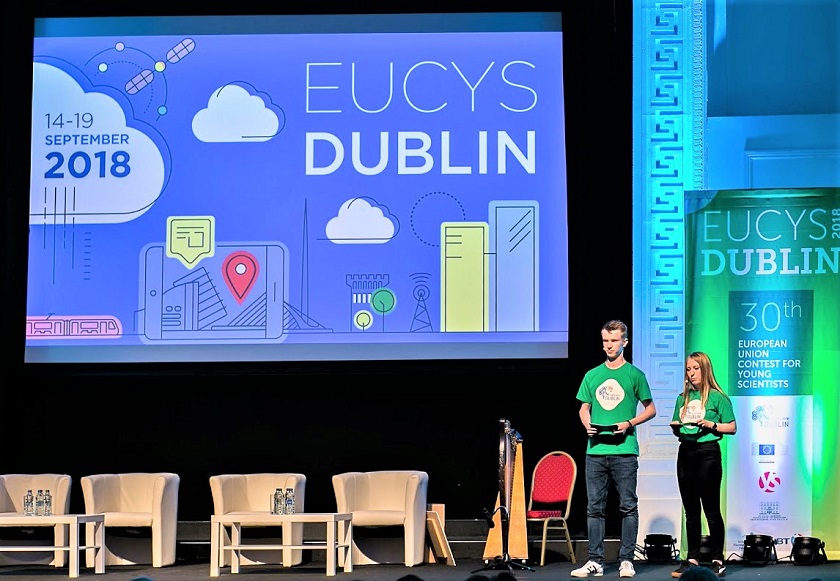 You've put together the perfect science experiment. You've met mentors and secured funding. Now, your work finally culminates in a giant showcase overseas! Words can hardly describe the excitement of going to a new place for the first time, but when that excitement is compounded with the thrill of showing off what you've worked so hard on for months, the feeling is indescribable.
That was the feeling Intel ISEF 2018 competitors, Daniel Kang and Rhea Malhotra, got to experience this past fall when they travelled to Dublin to compete in the European Union Contest for Young Scientists (EUCYS). Rhea, a student at Moravian Academy in PA won Best of Category Award in Biochemistry while Daniel, a student at John F. Kennedy High School in Guam won Best of Category in Materials Science. As winners, the pair were also awarded the European Union Contest for Young Scientists Award—an all-expenses paid, five-day trip to the rolling emerald hills of Dublin, Ireland!
While there, the students shared their research at the EUCYS competition, an impressive jamboree of young scientists from more than 30 different countries. Daniel's project used graphene nanoplatelets, an electrically conductive powder to make artists' paint while Rhea developed a 3D noninvasive model for cheap, rapid drug testing in fruit flies. Over the course of the five-day competition, Daniel and Rhea relished in the rich intellectual experience with peer scientists from all over the world, broadening their understanding of the scientific community.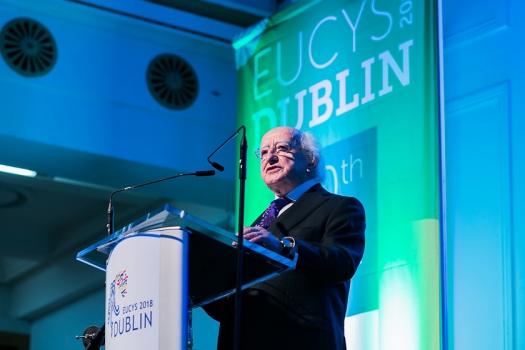 "When you step into a room of researchers from all over the world, it's impossible to not gain new perspectives for your own research or the world at large," said Daniel.
The students met one particularly prominent person on the trip. "I had the honor of meeting the President of Ireland, Michael D. Higgins! He stressed the importance of technological advance and tackling ideas of 'startling originality.'" The President delivered the introductory speech at EUCYS—an annual tradition to open the proceedings.
"Winning Best of Category in Materials Science and the EUCYS experiential award at Intel ISEF 2018 was undoubtedly my most important moment," said Daniel. "I have in the past felt that certain research topics were too 'niche' for people to connect with, but having my work validated showed me that research has absolutely no boundaries—my project combined art, science, fashion and even computing!"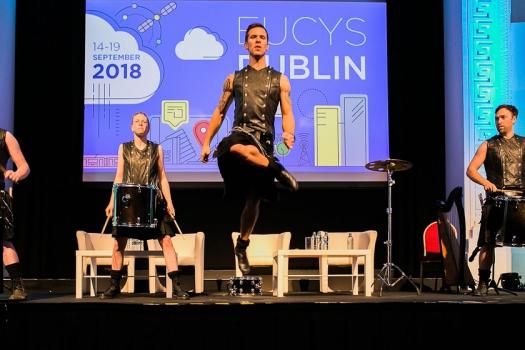 Over the course of the trip, Daniel and Rhea went sightseeing through Dublin, riding tour buses and exploring what the local culture had to offer.  From taking in traditional Irish step dancing to exploring museums such as the EPIC Museum, the students experienced the deep cultural roots of this country and learned more about immigration patterns and history of the Irish diaspora. When asked whether or not the pair would take the trip again, the answer was a resounding yes!
"Definitely!" said Daniel, "At EUCYS, I lost track of time talking to the brilliant and kind people that I met and just being exposed to a completely different part of the planet thousands of miles from home and experiencing all that the city of Dublin had to offer along with like-minded researchers, was an experience I will cherish and would relive without hesitation."
"I would definitely participate in this trip again. I want to expand my knowledge and experience to new parts of the world and science within the international community," said Rhea, "Traveling to Ireland this past September was definitely a life-changing experience for me."