Science fair is fun – judge at Intel ISEF 2015!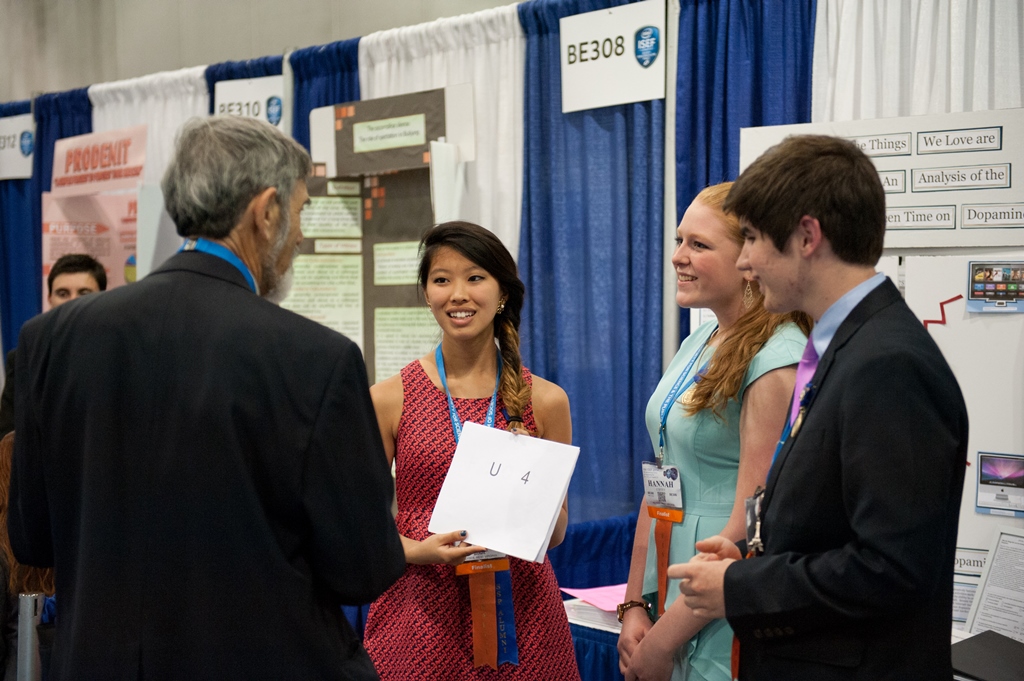 Chuck Vukotich is the judging chair for Intel International Science and Engineering Fair (Intel ISEF) 2015 being held in Pittsburgh, Pennsylvania. His role is to recruit, train, and supervise approximately 1,000 volunteer judges across all fields of science, math, technology, and engineering. These judges will interview more than 1,700 finalists in May 2015.
---
Science fair is fun. It's fun for participants because they get to talk about work which is important to them with judges who actually care and understand this work. They get to meet guys/girls who are like them – smart, talented, sometimes nerdy – people who understand what is like to be #1 in your class, or who get excited about stuff like cytoblasts, specific impulse, or Skolem's paradox. They get to practice any language they want with people from all over the world.
At Intel ISEF 2015, they will also get to do fun stuff, like go to the Carnegie Science Center, a concert and a Pirates' baseball game. Competitors get to be their serious self, and their fun self; their mature self and their teenager self. Our students get to show even to themselves that they are not one dimensional.
Science fair is fun. Being a judge, volunteer, or interpreter at Intel ISEF gets you the opportunity to meet these talented students. Just when you were about to despair that young people are unmotivated and self-centered, you find these kids at Intel ISEF, and your faith is restored. You get a chance to meet other people, both young and old, that are interested in science like you, from all over the place. I met a man from Ramallah, who, upon seeing Pittsburgh on my badge, went on about how excited he was to be returning to Pittsburgh in 2015 to watch the beautiful river running by the convention center. He extolled the lush green landscape – Pittsburgh is the greenest urban area in the world. There's no river in Ramallah, or Phoenix or Los Angeles [the other two locations in the three-city Intel ISEF rotation], but we've got 3 big ones in Pittsburgh!
Science fair is fun.The Education Outreach Program held on Thursday, May 14 will bring up to 5,000 people, including many local students, into the convention center to meet the competitors and exhibitors, and to participate in science activities.
Science fair is fun, but it takes a network. The goal for Intel ISEF 2015 in Pittsburgh is to have 1,000 judges. Judge recruitment started April 1, 2014 at the Pittsburgh Regional Science and Engineering Fair, the second oldest fair in the Intel ISEF system. I have networked relentlessly ever since, and will continue to do so right up to the fair.
On a personal note, I have been involved with the Pittsburgh fair for more than 20 years and Intel ISEF for 10 years. I had a vision about STEM education before it was called STEM. I've encouraged people in STEM my whole life. Nurturing the students at Intel ISEF is important to the future of our world. Not only does it inspire the finalists, but Intel ISEF also encourages the students who visit the fair, the students who read about their projects, and the students who participate in Intel ISEF affiliated fairs around the world. That adds up to a lot of young people.
Science fair is fun because it's important. It's fun to meet the students. It's fun to meet the people from all over the world. It's fun to work with the dedicated staff of Society for Science & the Public, who runs Intel ISEF, and with all the volunteers involved in Pittsburgh, Phoenix and Los Angeles. It's great being part of a team. Last May, as we arrived in Los Angeles from Pittsburgh and started seeing our colleagues from SSP, Phoenix and Los Angeles, someone remarked, "This is like a family reunion." And indeed it is.
---
You can join the fun. Become a judge. It's easy.
---
You need a B.A., B.S. or a master's degree with a minimum of six years related professional experience OR a Ph.D., M.D., or equivalent. Judges are expected to be available from Tuesday afternoon, May 12 through Wednesday evening, May 13, 2015 to complete their judging assignments. Training, parking and meals are provided.
Don't want to judge? Volunteer to help. There are many other things volunteers are needed for, including serving as an interpreter in any of 20 languages.