'Science connects researchers from different countries'
Science is an international language. And three Intel ISEF 2016 finalists witnessed this first-hand when they traveled across the world to India last month to visit the country's national science fair. Natalie Bush, Jiwoo Lee, and Edward Kim Sanyoong met their international science fair peers, visited universities and laboratories, and enjoyed a "life-changing trip."
Read on to hear more about their experience.
It would be an understatement to say that it was a life-changing trip.
JIWOO: When we got to India, I was thrown into culture shock. The world was so different: there was chaos in the street with rickshaws and motorcycles, beautiful and vibrant clothing, and unique and colorful structures and buildings — I was enchanted. Visiting India and seeing this different society was very eye-opening, and I definitely think I became more open-minded.
It would be an understatement to say that it was a life-changing trip. I definitely departed India as a different person that I arrived. I am so grateful and blessed to have been invited to India.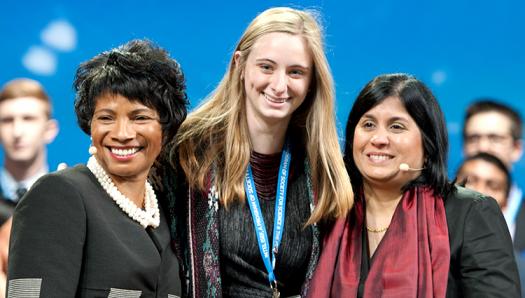 NATALIE: I grew up in Baton Rouge, Louisiana and traveled within the states for all my family vacations and science fair trips. This cultural and educational trip to India allowed me to trace the roots of history to the present day and reflect on how science influences cultural development.
Science is such a central part of my American life, but it is also crucial to lives all around the world. And the journey to India proved that science connects researchers from different countries.
These participants do represent the future, so interacting with such a group is scientifically enriching and personally rewarding.
This trip to India allowed me to reflect on how science influences cultural development.
EDWARD: On our first day in India, we visited the Institute of Bioinformatics & Biotechnology at the University of Pune. The students showed us the facility and various labs ranging from horticulture to proteomics. I was very impressed by the wide range of research each student was exposed to at the institution.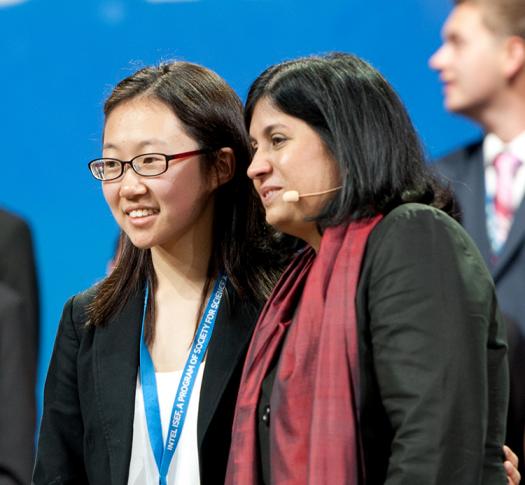 JIWOO: It was very interesting to see all of the laboratories, because they were very different from American laboratories. For example, in America you're required to wear closed-toed shoes in the lab, but in India you're required to take off your shoes.
EDWARD: We met IRIS National Science Fair (IRIS) participants and participated in various activities with them, including kite flying and making light-up T-shirts. We also participated in the IRIS opening ceremony, where we answered a question from the audience. For dinner, we went to a hotel rooftop restaurant where we met all the Intel ISEF alumni from India. At the final IRIS ceremony, we saw twenty projects become the 2017 Team India for Intel ISEF.
On our second day, we visited the National Chemical Laboratory and met several researchers. We learned about malaria treatment studies, NMR assays, and molecular dynamics studies. I was particularly interested in their simulation of pores in the cell membrane due to a molecule from a bee sting. Afterwards, we attended a light show at the Mastani Mahal. One of the Intel ISEF alumni who understood Marathi kindly translated the show for me.
We saw twenty projects become the 2017 Team India for Intel ISEF.
The trip was an unforgettable cultural experience. Surrounded by vibrant colors, unique spices, and many people of all ages, I had a taste of India that has humbled me and connected me to another culture of the world. It was truly an honor to meet such accomplished people at the science fair and other places, including government directors, researchers, and accomplished students of the Institute of Biotechnology and IRIS. I greatly appreciate the hospitality and attention toward making our experience memorable and exciting. Now, I have many stories to share with my Indian friends here in America.