Science changes people's lives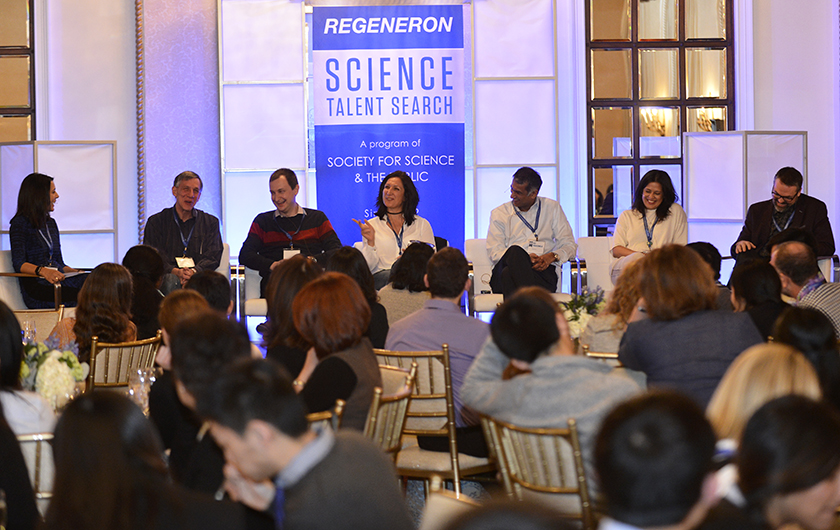 Regeneron, the sponsor of the Science Talent Search, presented several of their inventions and offered advice to the 2017 Regeneron STS finalists last Monday night. Finalists wandered a room of innovations, trying on virtual reality headsets, learning about genetically modified mice born with human immune systems to speed up the drug research stage, and taking photos in front of green screens that placed them in labs and white coats.
At the panel, Phillip, one of Regeneron's clinical trial participants, spoke about being born with atopic dermatitis, eczema. By the time he was in high school, it was severe and covered 90 percent of his body. Phillip experienced profound social anxiety and was living miserably with his condition. In college, he realized "I couldn't manage college and my disease at the same time," so he dropped out. He joined the military, but was dismissed with a medical discharge.
Phillip was left feeling there were no options. He'd tried countless medications, treatments, lotions, and nothing worked for long. Then he learned about a study for Regeneron's DUPIXENT and knew there would be a 50/50 chance that he'd receive the drug versus the placebo, but he decided to try. After two weeks of injections, his skin began to clear up. After two months, his skin was completely clear.
Now, Phillip is a junior in college, with friends and a normal life. He wants to work on bionics for amputees as a way to help others the way Regeneron helped him.
George Yancopoulos, the Chief Scientific Officer at Regeneron, called Phillip brave and his story humbling. "This is why so many of us went into science," he said. "We have the honor of bringing these patients back. We can use science to change people's lives."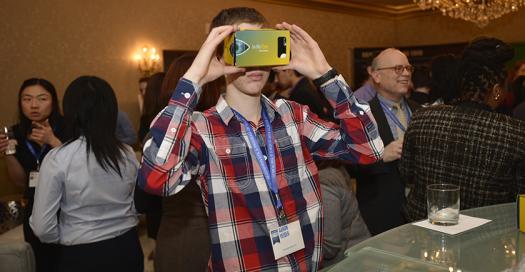 Success doesn't always come easily or quickly
"Regeneron worked to develop drugs for 20 years without producing any, all the while investing in developing their propriety breakthrough platform technologies," George said.
Several Regeneron scientists explained their STEM journeys and how to use failure to reinvent yourself on the way to success.
"I grew up the daughter of poor immigrants and spent my time playing in the streets and reading fairytales as a way to escape," said Aynur Hermann, a Senior Staff Scientist. "One day I saw Carl Sagan's Cosmos and was frozen, as if there was another fairytale that's actually the real world." Carl Sagan became a beacon for her.
Jazz Tobaccowalla, Vice President of Information Technology and Chief Information Officer, originally wanted to be a writer. He taught himself programming but realized there were too many smart kids doing the same for there to be much opportunity in India. His father bought him a round-trip ticket to the U.S., saying "If it doesn't work out, you can come home."
Jeffrey Reid, Executive Director of Genome Informatics, worked at the genome center at Baylor College of Medicine, where researchers were trying to find the genetic basis of a rare disease. Their study was successful in the sense that causative mutation was found, identifying a new condition which was named after two of his collaborators. Unfortunately, there was no effective treatment and the kids who had it still died. Jeffrey thought, "maybe at a drug company I can do more than publish another paper or help discover a new disease. Maybe I can really make a difference in patient outcomes."
"Science is science — you can do it in academia or at Regeneron," said Christos Kyratsous, Associate Director of Infectious Diseases and Viral Vector Technologies. "But you can do more applied stuff at a company."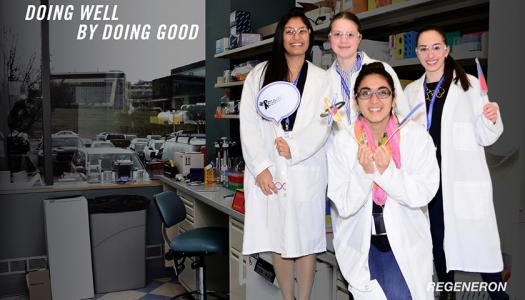 How to give back in science
"It's a privilege to take the work of everyone and see it directly impact patients, seeing patients conquer their vision loss and telling them, 'you're going to see again,'" said Namrata Saroj, Executive Director of Ophthalmology, Medical Affairs. She used to overhear conversations in the waiting room about how to cope with blindness; now they say, "I can see my grandchild."
"I am motivated by being part of the team that lets people become independent again," Namrata said. "For example, people can continue to drive because we have a treatment for them."
All the panelists agreed that important qualities for success include curiosity, persistence, enjoying the journey (and not necessarily sticking to a strict schedule or grand plan), and luck.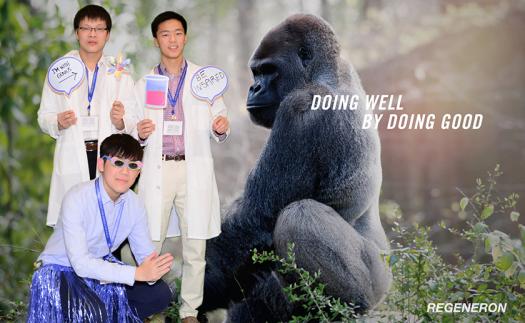 Learning from failure
Even scientists with big successes experience failure. Jeffreysubmitted a paper describing a novel algorithm to a journal. They didn't just reject the paper; they also sent him three other papers with better solutions to the same problem and suggested he review them.
Drew Murphy, Senior Vice President of Research, worked at a small company that essentially got sued out of existence for infringing on a patent that was later ruled invalid. But part of that experience led him to Regeneron.
Aynur has learned to ask "did you try this yourself?" and embrace failure as an opportunity to learn.
At the conclusion of the panel discussion, the scientists described the future of Regeneron as unpredictable. "It's a collective that finds new ideas; not the 'one thing'" that can trap other companies, Christos said. Jeffrey agreed, saying, "Regeneron's lifeblood is trying new things — it doesn't happen accidentally."
"George likes to say that in 25 years we want to be known for things we haven't even thought of yet," said Hala Mirza, Vice President of Corporate Communications and Citizenship.
"Our CEO has famously said organizations don't make drugs, people do," Drew told the finalists. "You can see the future of science by looking in the mirror back there."