When the COVID-19 pandemic stopped Rosie Riveters, a non-profit organization focused on engaging and inspiring girls in preschool through middle school in STEM, from conducting in-person programming, the organization didn't miss a beat. They switched their focus swiftly, launching a digital STEM content initiative aimed at reaching their audience. According to the organization, the STEM Action Grant they received from the Society was "crucial to our ability to offer such a robust slate of digital content."
The organization's digital content revolves around three core video concepts available on YouTube:
(1) Snack Time Science, which explores STEM concepts
(2) Rosie Reads, which features a story read out loud that focuses on STEM or a strong female protagonist
(3) Rosie Makes, which highlights STEM projects led by former Rosie Riveters participants that viewers can make, largely with materials found at home.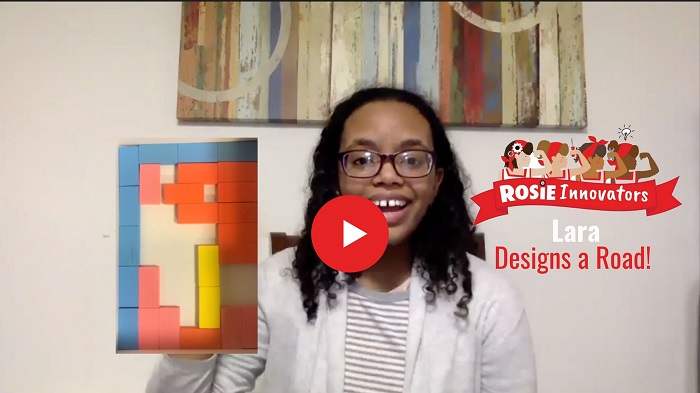 Rosie Riveters focuses their programming on themes. For instance, in December all the programming focused on snow! In Snack Time Science, the girls explored chemical reactions of snow. Rosie Reads put a STEM spin on the Ezra Jack Keats' classic children's book The Snowy Day and Rosie Makes tied it all together with a program featuring past participants using chemical reactions to make their own snow.
When the weather got warmer during the summer, Rosie Riveters headed outside, crafting an outdoor Summer STEM series abiding by social distancing guidelines, hosted on social media platforms Facebook and Instagram. They also launched Rosie Talks, a YouTube series featuring girls asking women in the workforce about their STEM careers and educational journeys. Together, Snack Time Science, Rosie Reads, Rosie Makes, Rosie Talks and the Summer STEM series seek to approximate Rosie Riveters' in-person programming.
The silver lining in this switch to online content is that Rosie Riveters is growing its audience and impact. Since June 2020, Rosie Riveters has seen a 26% growth in subscribers on YouTube, a 9% growth in followers on Facebook, a 31% growth in followers on Instagram and an 8% growth in followers on Twitter. The group only expects these numbers to grow!