Regeneron Founded by Two STS Alumni
Leonard S. Schleifer, M.D., Ph.D.
Founder, President, and Chief Executive Officer, Regeneron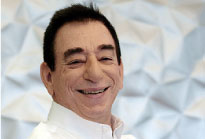 Len grew up in Queens, New York, in a middle-class family, with parents and teachers who inspired his passion for science and entrepreneurship. Len's high school math teacher encouraged him to submit a project to the 1970 Westinghouse Science Talent Search, helping to launch him on the path to his current position. He earned his M.D. and Ph.D. in Pharmacology from the University of Virginia and became a licensed physician certified in neurology. While working as a practicing neurologist and professor at Cornell Medical School, Len became frustrated with the lack of effective treatments for his patients with serious neurodegenerative diseases like Parkinson's and Alzheimer's. He wondered if new "biotechnology" could be harnessed to potentially make an impact for these patients, and many others.
Len founded Regeneron in 1988, with the vision of creating a company built entirely on science, where scientists are the heroes and everyone works towards the common goal of helping patients. He knew he needed a top-notch team and immediately recruited three Nobel Laureates to the Board and recruited George Yancopoulos, M.D., Ph.D., a top scientist from Columbia University, to serve as the company's Founding Scientist. Thirty years later, Len's dream is a reality, and the Regeneron team is using their scientific prowess to consistently and repeatedly bring new medicines to people in need.
Len has always aimed to "pay it forward" by creating a legacy of scientific mentorship and empowerment. Regeneron has a long-standing and deep commitment to STEM (Science, Technology, Engineering and Math) education and fostering the future of biomedicine. Through immersive programs, Regeneron strives to support the next generation of groundbreaking minds that will continue to change the world through scientific discovery.
Len is so proud that the world's preeminent science competition for high school students will now be known as the Regeneron Science Talent Search.
George D. Yancopoulos, M.D., Ph.D.
Founding Scientist and Chief Scientific Officer, Regeneron
President, Regeneron Laboratories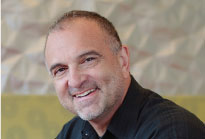 George joined Regeneron as the company's Founding Scientist and now serves as the Chief Scientific Officer and President of Regeneron Laboratories. His interest in science started with the stars —specifically with the Russian-American-Space Race that was headlining the news during his childhood. The son of Greek immigrants in New York City, George attended the Bronx High School of Science, where he wanted to be like the heroes at school and compete in the Westinghouse Science Talent Search. With the help of his teacher-mentor, Mrs. Strom, George would arrive to school at 5:30 each morning to work on his project, a top winner in the 1976 Science Talent Search. This was a life-changing experience that confirmed he would commit to a career in the sciences.
After graduating as valedictorian at Bronx High and at Columbia University, George received M.D. and Ph.D. degrees from Columbia University's College of Physicians & Surgeons. At Columbia, he served as legendary geneticist Dr. Fred Alt's first postdoctorate student, working in molecular immunology. In 1989, Len Schleifer, M.D., Ph.D., recruited George to Regeneron. Before taking the job, George's dad insisted on interviewing Len to ensure that his brilliant son was making the right decision in joining the then-fledgling biotech company. At the time, many of his academic peers counseled him against going to "the business side" of science — fearing his promising start in academia would be all for naught. George says he never forgets those well-intentioned words, and they are part of what's motivated him to work so hard to keep that from happening.
As it turned out, George has received more than 100 patents, including several relating to Regeneron's four FDA-approved drugs and its foundational technologies, including VelociGene® and VelocImmune®. In 2004, he was elected to the National Academy of Sciences, which is virtually unheard of for an industry scientist, and was the 11th most highly cited scientist in the world in the 1990s.
George wants to bring his success in the sciences full circle and is deeply committed to inspiring excitement about scientific careers through STEM (Science, Technology, Engineering and Math) education programs. George plays an active role in Regeneron's STEM commitments and lends his name to the George D. Yancopoulos Young Scientist Award given at the Westchester Science & Engineering Fair for student researchers whose passion for science may lead to the development of novel technologies or biological insights. He hopes that the Regeneron Science Talent Search will positively influence young scientists, just as it did for him when it was called the Westinghouse.
---
Related Links: