Reading list: summer 2022 reads to spark your imagination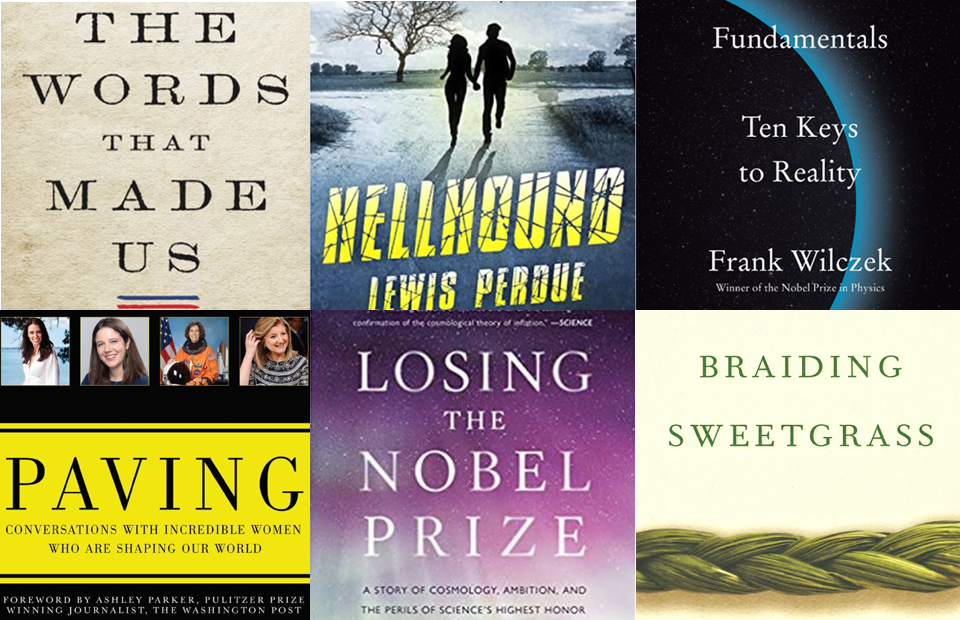 Whether you've already finished your summer reading list, need inspiration to start one, or just want to add a few more books to the list, we have several thought-provoking reads to consider. Here are a few books written by Society for Science research competition alumni and some recommendations from alumni to help keep you thinking about worthwhile additions throughout the summer.
The Alignment Problem
By Brian Christian, W.W. Norton & Company
Nonfiction | Maggie Graseck, an STS 2022 alum recommends "The Alignment Problem" by Brian Christian. "If you're interested in artificial intelligence," Maggie says this book "is a beginner-friendly exploration of the biases behind machine learning." The author explores the influence algorithms and artificial intelligence have on human life and what that means for the future.
Braiding Sweetgrass: Indigenous Wisdom, Scientific Knowledge and the Teachings of Plants
By Robin Wall Kimmerer, Milkweed Editions
Nonfiction, Philosophy | Chinmayi Balusu, a 2019 ISEF alum, is reading "Braiding Sweetgrass: Indigenous Wisdom, Scientific Knowledge and the Teachings of Plants" by Robin Wall Kimmerer. "It's an eye-opening reflection on heritage's influence on scientists' identities and redefining science from a cultural perspective," Chinmayi says. In this New York Times Best Seller, Robin, a member of the Citizen Potawatomi Nation, embraces the idea that "plants and animals are our oldest teachers" offering us lessons and gifts.
Fundamentals: Ten Keys to Reality
By Frank Wilczek, Penguin Publishing Group
Nonfiction, Physics | Frank Wilczek, an STS 1967 alum, is the author of "Fundamentals: Ten Keys to Reality," published in January of 2022. The Nobel Laureate guides readers through essential concepts that help us understand the world and how it works, investigating the ideas of time, space, matter and energy. A review by The Washington Post states, "In this age of rising skepticism, he wants his readers — whom he imagines to be lawyers, doctors, artists, parents or simply curious people — to be 'born again, in the way of science.'"
Hellhound
By Lewis Perdue, Independently Published
Thriller | Lewis Perdue, an ISEF 1966 alum, is the author of the recently published science fiction thriller, "Hellhound." Lewis explains, "The book delves into theories of the quantum basis of consciousness, such as that espoused by Nobel Laureate Roger Penrose and the possible connection with the origins of good and evil." Lewis explores government documents that deal with an alleged secret military drug, designed to "deprive soldiers of empathy and fear, turning them into merciless killers."
The Last Question
By Isaac Asimov, Columbia Publications
Science Fiction | Flora Freer, a Broadcom MASTERS 2020 and 2021 alum, recommends the short story "The Last Question" by Isaac Asimov. A much-loved favorite of science fans worldwide, Flora says, "It was a really good short story involving the universe being overtaken by entropy." The author questions the fate of the universe and, ultimately, what will become of the human race.
Losing the Nobel Prize
By Brian Keating, W. W. Norton & Company
Nonfiction | Maximilian Dorzweiler, an ISEF 2022 alum, recommends "Losing the Nobel Prize" by Brian Keating. Maximilian says it is "a book worth reading for scientists, especially ambitious ones. After reading this book, you truly feel like you have grown as a scientist, with a healthier perspective and the right guidance in the toolkit." A review from Science News says, "Losing the Nobel Prize dissects the error-prone humanity of science but cuts the ugly details with beauty… Charming and clever, Losing the Nobel Prize bounces between clear explanations of nitty-gritty science, accounts of personal relationships and historical lessons."
Paving
By Maya Sharma, Olympia Publishers
Nonfiction, Biography | Maya Sharma, an STS 2022 alum, is the author of "Paving," published in 2021. She interviewed 25 women leaders around the globe, including New Zealand Prime Minister Jacinda Ardern and Nobel Laureate, Ada Yonath. "Paving" discusses difficulties women face in the modern world and draws valuable knowledge from their remarkable minds.
To Mock a Mockingbird
By Raymond Smullyan, Oxford University Press
Logic Puzzle | Jonathan Shafter, an STS 1993 alum, is reading "To Mock a Mockingbird" by Raymond Smullyan. "A really fun book of logic puzzles where you end up constructing and exploring combinator logic," shares Jonathan. With a goal of attracting readers of all ages, the author combines a collection of puzzles with a choose-your-own-adventure style storyline, introducing readers to puzzles commonly presented in computer science and artificial intelligence.
The Words That Made Us
By Akhil Reed Amar, Basic Books
History | Ethan Chiu, an STS 2022 alum, is reading "The Words That Made Us" by Akhil Reed Amar. "It's a fascinating dive into the U.S. Constitution and the people and ideas that built the United States," shares Ethan. Published in 2021, the author assesses early Constitutional questions Americans confronted during the formation of the U.S. and the answers they offered in a vivid narrative combining history and law.
Are you one of the Society's alumni? Do you think you should be on a reading list? Reach out and let us know!