Reading list: noteworthy books from Society alumni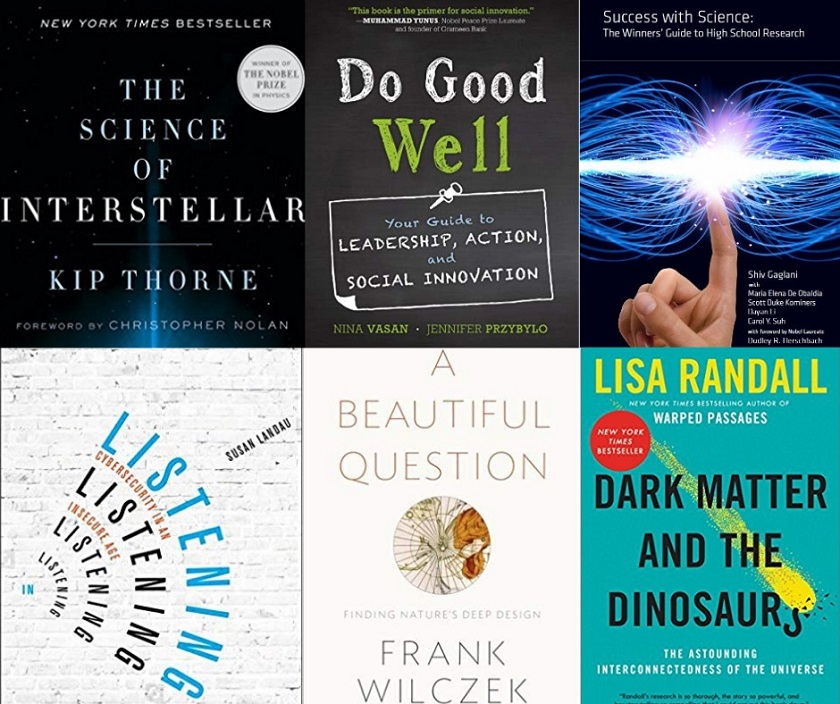 Having "scientist" associated with your name would normally be impressive on its own, but the following Society alumni have "published author" under their credentials as well. Two of them are also Nobel Prize winners. Read on scholars!
It is often said that beauty is in the eye of the beholder, but, in this book, Nobel Prize winner Frank Wilczek (STS 1967) discusses a deeper logic of aesthetics that exists in nature. While quantum physics may be enigmatic to non-experts, the basic principles underlying the field—ideas like symmetry, balance and proportion—can be understood by everyone.
Did you know that 85 percent of the matter in the universe consists of dark matter? While it's an unseen material, a disk of it in the Milky Way crashed into Earth 66 million years ago and may be responsible for killing off all the dinosaurs. Lisa Randall (STS 1980), a renowned particle physicist, explores the different relationships between the visible and the hidden in the world surrounding us.
It's never too late to start making a difference and this leadership manual can set you on that path. Solving the world's most intractable problems, like poverty and climate change, will require creativity and innovation. Nina Vasan's (STS 2002; ISEF 2002) guide can be a resource to fuel and maximize your impact.
Listening In: Cybersecurity in an Insecure Age
Technology has made many things more convenient. However, it has also been a source of new threats. Susan Landau (STS 1972) explains the importance of maintaining cybersecurity in an insecure age.
Success with Science: The Winners' Guide to High School Research
Author(s): Shiv Gaglani (ISEF 2004-2006), Scott Kominers (STS 2005; ISEF 2005), Carol Suh (STS 2007; ISEF 2005-2007; DCYSC 2003), Dayan Li (STS 2007; ISEF 2007), Maria Elena De Obaldia (ISEF 2001-2003)
With testimonials from a number of Society alumni, this books offers advice on formulating research project ideas, finding people who can help and presenting to different audiences. Beyond winning, the guide encourages more students to pursue science and technology.
Sci-fi movies are usually more fantastical than scientific. Not Interstellar—events and visuals in the movie were very much grounded in real science, thanks to Nobel Prize winner Kip Thorne (STS 1958), who worked on the film as the science adviser. Kip's book chronicles his experience and delves into awe-inspiring phenomenon like black holes and space travel.
Are you one of the Society's alumni? Do you think you should be on this list? Reach out and let us know!
This list contains links to Amazon.com. The Society is a participant in the Amazon Services LLC Associates Program. Please see our FAQ for more details.