Prime Time: Most promising scientists meet with USAID, NOAA, NASA, NSA & Science News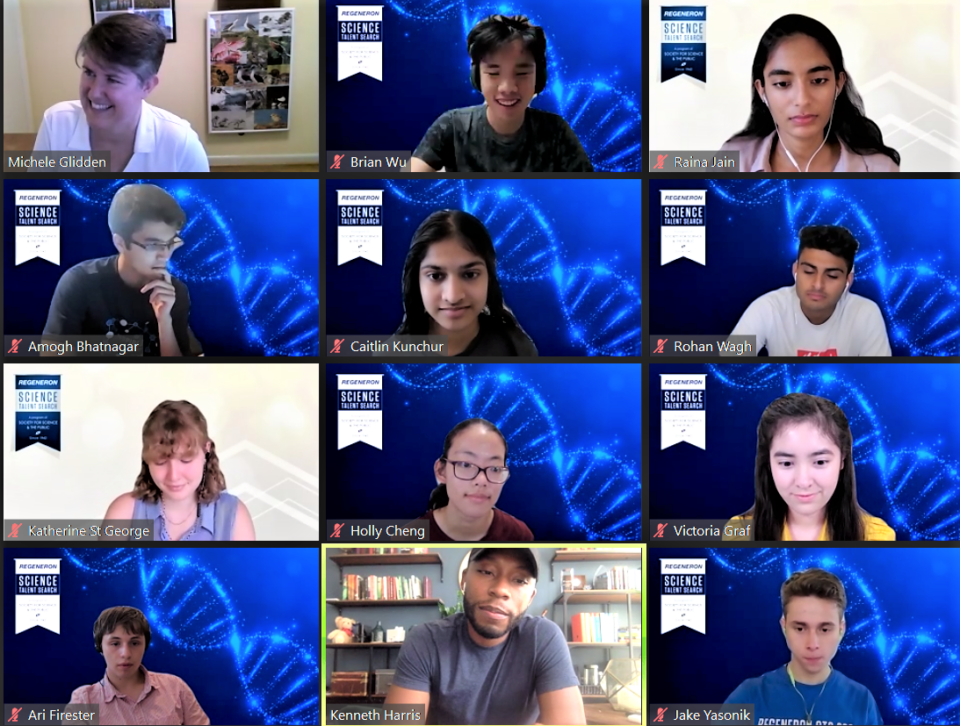 Dreams and aspirations often seed at a young age. For this reason, the Society made it a point to give this year's STS finalists the amazing opportunity to attend what were called Prime Time field trips, where representatives from five esteemed organizations shared their work and paths in a variety of STEM careers.
Each trip included a VIP speaker or panel, built-in time for questions and answers, as well as the potential for connection to seasoned STEM professionals beyond the trips. There was something for every young scientist and favorite trips varied according to what resonated for each.
Science News
Students intrigued by the prospect of a career in science journalism and the translation of the latest research for the public, had the opportunity to hear from beat journalists at the nearly century-old Science News. Journalists, Bethany Brookshire, Sujata Gupta and Sarah Zielinski shared how they choose stories to report on and their career trajectories.
"We learned about the publishing process. I found the explanations by Science News on how journalists write about controversial topics enlightening." – Ari Firester
National Security Agency
Other finalists interested in how science, emerging technologies and big data might apply in work at the national-level of intelligence heard from Acting Director of the National Security Agency (NSA), Mark E. Segal. He shared that the finalists at his session gave him hope. "It was an honor to meet and chat with the finalists in the Regeneron Science Talent Search. To see these bright, young minds so passionate about scientific research makes me hopeful and excited for the future they will pave in their fields, and for the contributions they will make for the betterment of humanity. I was incredibly impressed and wish them all success as they begin the next phase of their education."
"I thought meeting with the NSA was the most interesting Prime Time session. I found it really interesting to see not just how the NSA collects intelligence, but also how they responded to questions about data privacy. I learned many things from the session about what the NSA really does that I did not know before."- Arjun Neervanan
NASA
NASA Satellite Engineer, Kenneth F. Harris II, joined the STS finalists from the Goddard Space Flight Center, disclosing that he's worked on NASA projects from the age of 16. And though the students were blown away by Kenneth's impressive career, knowledge and passion for space and engineering, he was just as awe-struck by them saying, "This year's Science Talent Search finalists are amongst some of the most talented and impressive group of high school students I've ever had the pleasure of speaking with. I can confidently say that this is only the beginning and they will change the world." Kenneth even attended the Awards Ceremony to cheer on the star-studded group and expressed gratitude for having shared time with them.
Mr. Kenneth Harris was a great speaker and inspired us with his experience working at the forefront of satellite engineering, especially at such a young age. One important lesson that I took from his stories and this Prime Time was that you are never too young to accomplish important things, and that hard work transcends age." – Cynthia Chen
United States Agency for International Development
Finalists also met with Ticora Jones, Director of the Center for Development Research at The United States Agency for International Development (USAID), an independent agency of the United States federal government that is responsible for administering civilian foreign aid and development assistance. Formed in 1961 by President John F. Kennedy, meeting a representative from this agency was a treat for students who are excited by the prospect of a humanistic career in international and public health.
"Dr. Ticora Jones from USAID was hilarious and gave us some grade-A advice. Talking with her was extremely interesting." – Jake Yasonik
National Oceanic Atmospheric Administration
Finally students, many of whom are disheartened by the detrimental and fast-moving impacts of climate change, had the rare chance to meet Frank Niepold from the National Oceanic Atmospheric Administration or NOAA. Frank spoke about how climate change has been exacerbated by the pandemic, how the coast line will be deeply impacted by the rise of sea levels by 2021 and how climate action will have to start at the grassroots level.
While STS requires that submitted research projects are done solo, Frank and all the speakers also emphasized the weight of having good working relationships and teamwork. He told the students that any work in climate change is not done alone. His division at NOAA grew from him alone in 2005 and expanded into the largest division at the agency. He told the students that, "Relationships are really important. I hope that you guys find in your work, that partnerships play a critical role. Everything done in climate change is "we" ─ nobody does it all."
"I enjoyed hearing about the hot takes on the climate issue from NOAA; It was very enlightening to hear that we have the technology to solve climate issues, but we just need to use business to implement the technologies." – Ankush Dhawan
"Really fun talk and showed us unique paths in science. It was really shocking and daunting to see the environmental challenges that are coming soon but also exciting to see the future of renewable energy. I may be biased as I do research in energy/environmental engineering."- Rohan Wagh