Nobel Laureates respond to student questions at Intel ISEF 2014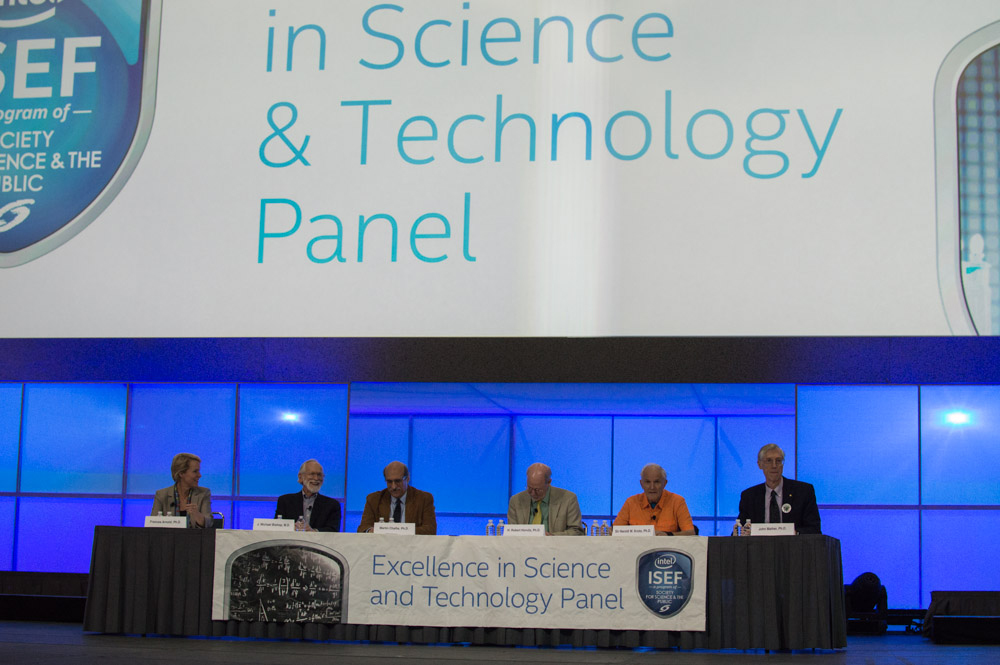 Attendees of the Intel International Science and Engineering Fair (Intel ISEF) had the opportunity to ask questions to a panel of esteemed scientists on Tuesday, including Nobel Laureates J. Michael Bishop, Martin Chalfie, H. Robert Horvitz, Harold Kroto, John Mather, and Draper Prize award winner Frances Arnold.
Joe Palca, moderator and NPR science correspondent, kicked off the event by asking each of the panelists to describe their life and work in 60 seconds.
Arnold got a degree in engineering, which she didn't like; got another degree in engineering, which she didn't like; then became a molecular biologist and chemist. She now breeds molecules in the lab.
Bishop went to medical school at Harvard, before which he knew nothing about cancer. Then later, with Harold Varmus, he went on to work out that cancer is a malfunction of the genes, which has led to many advancements in cancer research and treatment.
Chalfie talked about how when he was in college he spent the whole summer doing research, which failed miserably, causing him to get discouraged and leave the field for several years. He later returned and won the Nobel Prize with his research, however says "what I really like doing is tickling worms and understanding the science of touch."
Horvitz, who went to the same high school as Chalfie, won his Nobel Prize for working on programmed cell death, basic research which leads to implications for human health.
Kroto's background is in both graphic arts and chemistry. According to him, he conducted "the most mundane and unimportant experiment and ended up with the Nobel Prize…so that's how you do it."
Mather talked about how he read every science book he could get from the bookmobile that traveled throughout rural New Jersey, where he grew up. He had several failed experiments, including his thesis project, but then ended up submitting proposals to NASA, where he has been working since.
Q & A with the Panelists:
What struggles did you go through growing up?
As a freshman in high school, Horvitz created an insect collection, one that his high school actually ended up keeping and exhibiting for several years. He collected these insects at Humboldt Park outside Chicago, where two larger kids cornered him one day and stole his butterfly net and a total of 42 cents.
Teachers told Kroto's parents that they weren't happy with him, because he was very fond of play. To this day, he says he's still playing and that the best discoveries come about by someone saying "I was just playing around with this."
What were you like at our age?
Arnold said at 18, she knew everything, and now she thinks she knows nothing at all. She encouraged students to hang on to that wonderful confidence, because it will lead you to try many creative things.
Kroto talked about how he was still learning about himself, and how going to college was a great way to explore multiple avenues, not just through classes, but through the social aspect. He told students not to limit themselves, and to strive to have interests outside of science.
Chalfie set rules for himself about how to go through life. He told students "forget all that nonsense. Go out and interact with the world as much as you can."
Bishop was the only student in his neighborhood absorbed with school, and said it set him apart in rural Pennsylvania, and that originally bothered him a lot. He told students to "be yourself, do what you are good at, and don't worry about fitting in." Fitting in isn't how you make discoveries in science.
What principles do you live by?
Arnold: "Strive to leave the world better than you found it and to take care of the people around you."
Kroto: "Never do anything second rate."
What would you be if you weren't a scientist?
Bishop: "There was no choice. I said I was either going to do it or die. And I didn't die."
Kroto: A graphic artist or designer. "With science, the universe is in charge but with art, you are in charge."
What was the hardest problem you solved in high school?
Arnold: "In 1972, I was one of the first women to drive for the Yellow Cab Company in Pittsburgh … in the days before GPS my biggest problem was figuring out how to get from here to there." She added that this was both a literal and metaphorical problem.
Bishop had a hard time relating to and feeling comradeship with many of the other students at his school, but by the time he graduated he had made friends and joined the relay team. He said this taught him how to deal with people with different motivations and interests, something he has carried with him throughout life.
What are your favorite and least favorite parts of your work?
Chalfie likes collaborating with people in the lab, talking things out, and teaching; dislikes regulations and administrative duties.
Kroto dislikes email, because he feels like he has to respond, and does, which takes a lot of time.
Mather likes the imaginative and creative part of his work; dislikes the details of making things happen and all the little steps between the sketch and making it reality.
Horvitz likes students; dislikes writing grants for funding.
Students also asked the panelists about their favorite and most influential book; how they connect scientific findings, which can be complicated, to the everyday; what quote most inspires them; their greatest failure and how they overcame it; what personality trait most led to their success; how they deal with nasty or critical colleagues when presenting their research; what they see as the new industries and job of the future; what question they would ask Einstein; what teachers can do better in regards to science; when does the search for knowledge become dangerous; and more.