Native American students experience the power of science at Education Outreach Day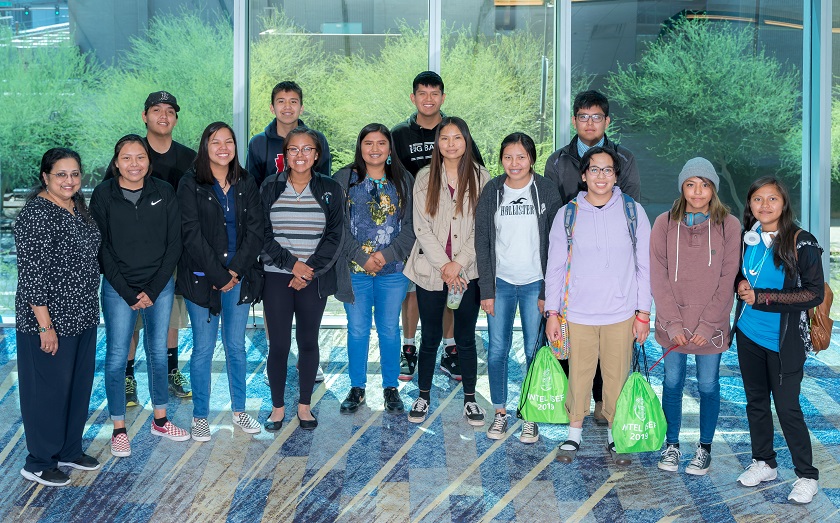 As the Intel ISEF Finalist Hall filled for the 2019 public exhibition of projects on Thurs., May 16th, another activity bubbled simultaneously: Education Outreach Day. Public and charter schools were invited to attend, but funding priority went to schools from underserved communities. Attendees participated in a variety of hands-on activities, including classroom programming and mobile labs from local Phoenix museums and organizations. They also had an opportunity to meet finalists and learn more about their projects.
This year, the generosity of anonymous donors covered housing, transportation and meal costs for a group of approximately 25 Native American students from, including 12 from Greyhills Academy High School in Tuba City, Arizona. Reny Mathew has taught high school biology, botany and an honors research science class at Greyhills for the past 11 years. In 2018, she was named a Society Advocate and in 2019, she received a STEM Research Grant to help fund equipment in her classroom.
The Society recently caught up with Reny to learn more about her work and her students' experiences at Education Outreach Day.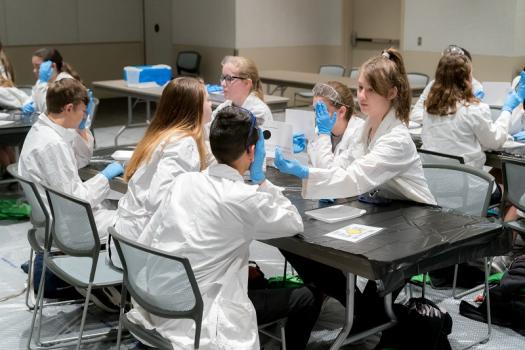 Can you tell us about your work with the Native American community?
It has been a pleasure working with Navajo and Hopi students for over a decade. My students and their parents have always treated me with love and respect. The work I do with my students in STEM is appreciated by the school administration and community.
I work with teenagers who are mostly visual and kinesthetic learners. So it helps them to take part in STEM-related activities such as science research. Provided with appropriate resources, support and guidance, I have experienced that students come out in flying colors. This includes both general education and special need students. Of late, students and parents are well aware of the fact that participating in science research and fairs are crucial steps toward successful college and professional careers.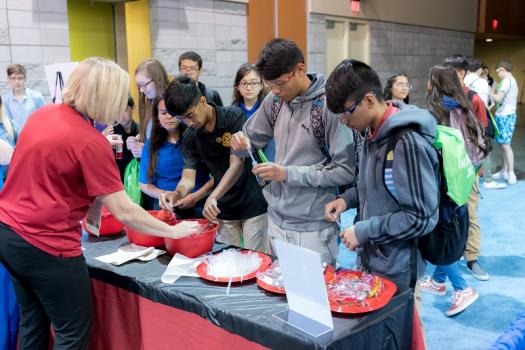 What do you think are the unique challenges that these Native American students face?
Our students face a lot of unique challenges which are mostly out of their control. These challenges are tied to various factors including their unique financial situations. For example, during the summer, my students find it challenging to make a choice between taking a summer internship or a job.
Lack of internet and, in some cases—lack of electricity at home, are major challenges for my native students. For some, resources at school will be their only access to technology and information, especially when it comes to completing research projects. Hence, I am so excited about the STEM Research Grant provided by the Society. This will help my students move forward.
Culturally, our students are also very quiet and not very outspoken. This is another major challenge our students face at science fairs and competitions, where they have to confidently explain their projects.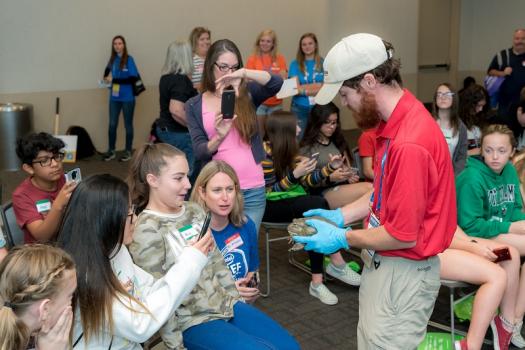 What are the benefits of attending an event like Intel ISEF for your students?
This is the first time my Native American students and I had an opportunity to be at the event and meet the finalists. I think it was a great occasion for my students and has motivated them to dream big. I am certain that my students were encouraged by observing and interacting with the ISEF finalists, who travelled from different parts of the world to share their brilliant projects.
Did your students enjoy the trip?
Yes, they enjoyed the entire trip! One of my students mentioned something she learned and found interesting during her interaction with finalists: "Arizona is the leading state in the US in copper production." She was unaware of this information even though she was born and raised as a Native American in Arizona.
The transportation, stay and meals were incredible and magnificent. My students mentioned how grateful they were to the sponsors who made the trip a reality for them. They also found the projects in the Finalist Hall "mind-blowing" and the hands-on activities were a lot of fun!
We also had a chance to hear from Marina Rodriguez, one of Reny's students, about her time in Phoenix.
Something memorable about Education Outreach Day was the opportunity to meet people from so many places around the world who shared my interest in learning about the science around us. I also learned how to present a science project and enjoyed seeing the finalists so excited about their projects, which made me want to learn more. I also liked the activities where I learned about different aspects of science.
One of my favorite projects was about ocean wave power and acoustic metamaterial. I learned that ocean waves can make power! The presenter was very nice and answered all our questions about the project. I am glad I got to experience ISEF as a visitor and will add it to my life as an enjoyable memory.