Meet the Regeneron ISEF 2022 sponsors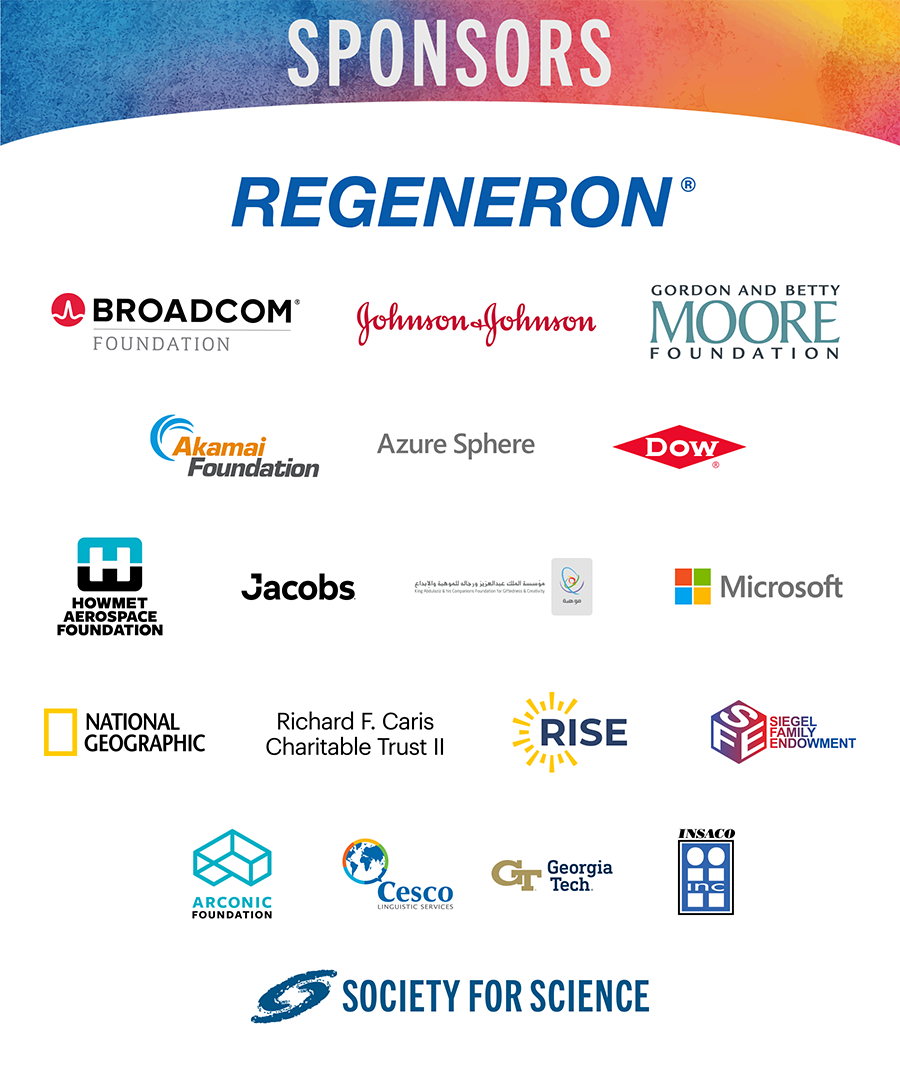 For the first time since 2019, Regeneron ISEF is being held in person this year in Atlanta, with finalists participating live at the Georgia World Congress Center, and others competing virtually from around the world. As we welcome over 1,750 finalists to this year's competition, we're proud to recognize the sponsors who make Regeneron ISEF possible.
In 2020, Regeneron became the title sponsor of ISEF, celebrating the best and brightest young minds globally and encourage them to pursue careers in STEM as a way to positively impact the world. Regeneron is joined by a community of additional sponsors, all working together to build the world's most powerful STEM research talent pipeline:
ISEF's 21 different judging categories are sponsored by a variety of organizations including the Society for Science, Akamai Foundation, Dow, Howmet Aerospace Foundation, Jacobs, Johnson & Johnson, King Abdulaziz & his Companions Foundation for Giftedness and Creativity, Microsoft, Microsoft Azure Sphere, National Geographic Society, Regeneron, Richard F. Caris Charitable Trust II and Siegel Family Endowment.
Sponsors will also be supporting several elements of this year's programming at Regeneron ISEF. Johnson & Johnson is sponsoring the Women in STEM Panel, and Rise is sponsoring the Innovation, Entrepreneurship, and Impact Panel. Both events will take place live on Wednesday, May 11, and will be available for livestreaming and on-demand viewing.
The Broadcom Foundation is sponsoring Education Outreach Day, which will welcome students from across the state of Georgia to take part in a day of interactive STEM activities, the Fair Directors Breakfast and the California Science & Engineering Fair delegation. Cesco Linguistic Services is sponsoring our interpreters. The Gordon and Betty Moore Foundation is sponsoring a $50,000 award in honor of Gordon E. Moore, as well as the Equitable Access Fund for Affiliated Science Fairs, which has supported local and regional science fairs in the United States and internationally in 2022.
The Georgia Institute of Technology is sponsoring our volunteers this year and Insaco is sponsoring the Hub. Our technology sponsor is the Akamai Foundation. In addition to being a Special Award Organization, Arconic Foundation is a general ISEF sponsor.
The Society is delighted to see such a wide range of companies and organizations unite behind the goal of elevating the next generation of scientists and engineers. We are grateful to these organizations and applaud their support of the global community of young researchers and innovators.