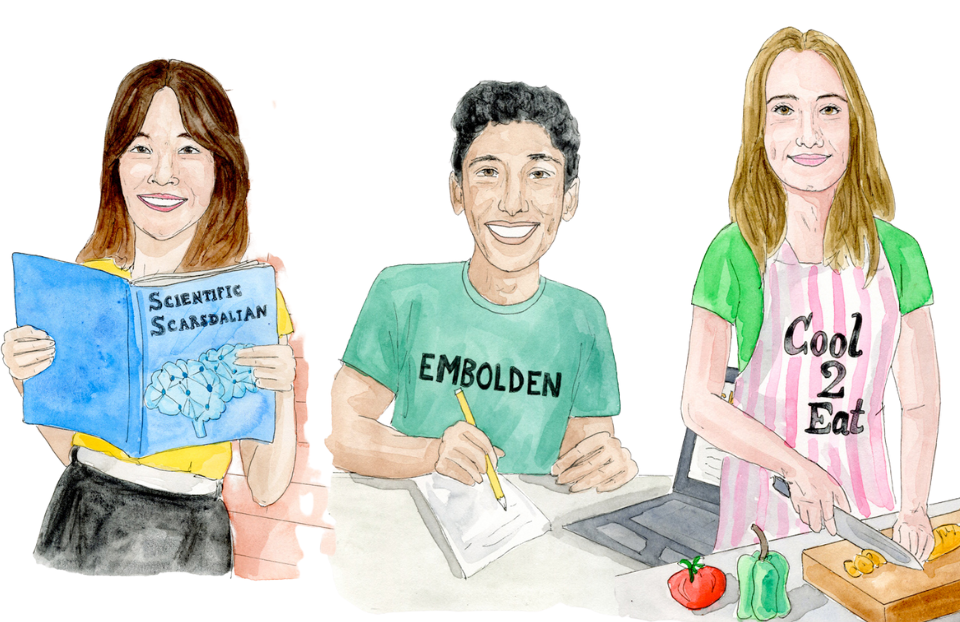 The 2023 Regeneron Science Talent Search finalists are all accomplished researchers, but did you know that many are also creating and innovating outside of the lab? Several of this year's finalists have founded organizations dedicated to sharing their passion for STEM, advancing social justice and giving back to their communities. Here are just a few of the exciting initiatives spearheaded by this year's cohort:
Kamisi Adetunji
North Carolina School of Science and Mathematics (Durham, North Carolina)
Kamisi founded Snail Mail for Seniors (SMS), a group which distributes volunteer-created letters and artwork to local seniors. SMS gives volunteers across the Durham community a chance to be creative while creating new connections and turning the tide against the sense of loneliness and isolation many seniors have reported feeling since the beginning of the pandemic.
Ariella Blackman
Harrison High School (Purchase, New York)
Passionate about promoting gender equality in STEM, Ariella developed her Women in STEM program to inspire young girls to explore scientific fields. Through the program, she creates content, delivers presentations and designs hands-on activities that teach local Girl Scouts both about STEM fields and the history of women trailblazers in the sciences. "I can't change the discrimination of the past," said Ariella, "But by educating future generations, I can motivate them to persist."
Corona Chen
The University of Chicago Laboratory High School (Chicago, Illinois)
Upon completing her first full science research project in the tenth grade, Corona was shocked to discover that students at her school did not have a way to participate in local science fairs—so she decided to do something about it. She founded her school's Science Fair and Research Club, then worked with officials to create an avenue to allow her and her peers to participate in a local fair. On this work, Corona says, "I am proud to make the Science Fair and Research Club a sustainable platform at my school to spark students' interest in STEM research and promote ideas of the future."
Madeleine de Belloy
Lycée Français de San Francisco (Tiburon, California)
Madeleine created a platform, called Cool2Eat, on which she shares resources for adopting more climate-friendly diets. She also designed a game that teaches people the benefits of entomophagy (the practice of eating bugs) and other sustainable eating methods.
Cindy DeDianous
Scarsdale High School (Scarsdale, New York)
Cindy cofounded and is Editor-in-Chief of the Scientific Scarsdalian, her high school's STEM magazine. She launched the publication as a way to communicate scientific information to her peers, as well as create a community for students interested in the intersection of STEM, the humanities and design. She also founded the Social Issues Book Group at her local library, where members read books considering important social issues, then design projects to work toward solutions.
Ambika Grover
Greenwich High School (Riverside, Connecticut)
Ambika founded The Code Initiative, an organization with a twofold mission of teaching local students the foundations of programming and giving back to the Greenwich community. They achieve these goals by designing and delivering engaging classes, while donating 100% of proceeds from student tuition to local nonprofit organizations.
Hannah Guan
BASIS San Antonio Shavano Campus (San Antonio, Texas)
Inspired by the long two-hour drives she made to Austin in order to attend Math Circle activities, Hannah was determined to create more opportunities in mathematics closer to home. "A student's educational opportunities shouldn't depend on where they were born," said Hannah, so she founded San Antonio Math Include to provide greater access to STEM education in her hometown.
Ishika Nag
Oviedo High School (Oviedo, Florida)
Ishika founded an engineering club for underrepresented minorities called 'Gear Up!' to inspire young people to share her passion for STEM. Based within her local Boys & Girls Club, the group works to help young people realize their potential while having fun building aluminum-foil boats, paper-cup zip lines, popsicle stick catapults, spaghetti towers and much more.
Diego Emilio Suchenski Loustaunau
Massachusetts Academy of Math & Science (Worcester, Washington)
Along with some of his friends, Diego cofounded Program Adagrad, a 501(c)(3) nonprofit organization dedicated to providing quality education in computer science-related disciplines, including computer programming, machine learning and electrical engineering. With a goal of making computer science education more accessible (and less dependent on rote memorization), Program Adagrad is rooted in project-based problem solving.
You can learn more about the 2023 Regeneron Science Talent Search finalists by visiting the Virtual Public Exhibition of Projects. Stay tuned for the Regeneron Science Talent Search winners' announcement tonight, March 14.  Bookmark the link to watch the awards ceremony live where American broadcaster, Soledad O'Brien, will announce the winner of the $250,000 top award.