Join the Society in Los Angeles for Intel ISEF 2014!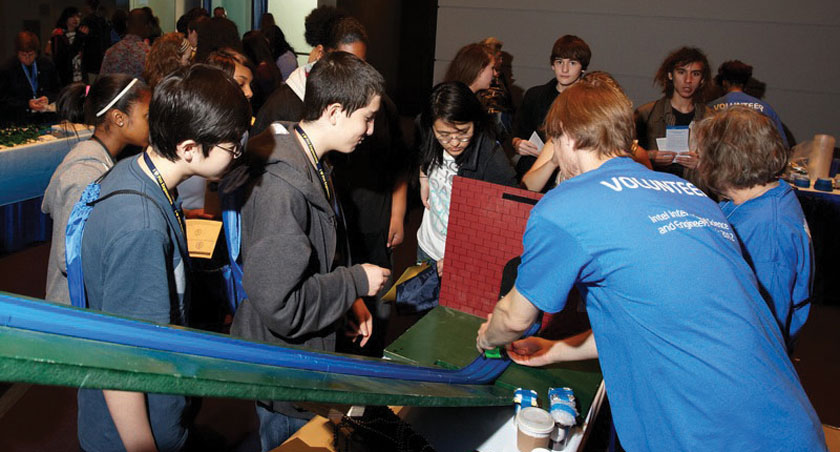 Volunteers are wanted for this year's Intel ISEF competition in Los Angeles, California!
Between judging, interpreting, or helping out as a general event volunteer, there is always something to do to support science, technology, engineering, and math students during this week-long event.
More than 1,000 volunteers are needed to judge projects in 17 scientific disciplines. Grand Award Judges commit to volunteer for two days (Tuesday, May 13 and Wednesday, May 14) and training is provided. Prerequisites include a Ph.D. or a Bachelors and/or Master's degree and at least six years of professional scientific experience within their field.
Students and volunteers alike rave about the experiences they have had while competing in, and judging Intel ISEF. "Once I had the chance to experience Intel ISEF, I was hooked. I was mostly impressed by the students' enthusiasm and passion and their projects were so much better than I had expected. It has always been a renewing and inspiring experience to attend this fair, and it is well worth volunteering a day and a half of your time," said William Glaunsinger, Judge Co-Chair for Intel ISEF 2013. As a judge, each volunteer has the opportunity to discuss scientific topics with the participants on a personal level.
Volunteers can also donate their time as an interpreter. Intel ISEF draws students from more than 70 countries, regions and territories. Approximately 200 interpreters are needed to help students present their projects. Languages with the highest demands for interpreters are Spanish, Russian and Mandarin Chinese. More than a dozen additional languages are represented at Intel ISEF as well. Interpreters do not need to have a scientific or technological background. "I expected to just interpret, but I left inspired by the students and their enthusiasm. It's great to watch their reactions," said SSP staff member Alan Gordon. Gordon was a Russian Interpreter at Intel ISEF 2013.
General volunteers are crucial in making Intel ISEF possible. These dedicated volunteers help navigate each participant throughout the entire whirlwind week. "The science learning opportunities I've had throughout my educational career (resulting in a Masters in Biology – so far) and my science education work experience has led me to believe that it is essential for students to practice hands-on science for themselves, whether or not they go on to a career in science. I also believe that it is incredibly important to encourage and support students throughout the process of becoming scientists and engineers," said Gwen Noda, an Intel ISEF 2012 volunteer. General volunteer opportunities are also available in local or regional SSP-affiliated science fairs.
Interested in volunteering at Intel ISEF 2014 in Los Angeles, California? Visit our Volunteer page or contact us for more information.