Introducing our 2021 Regeneron ISEF sponsors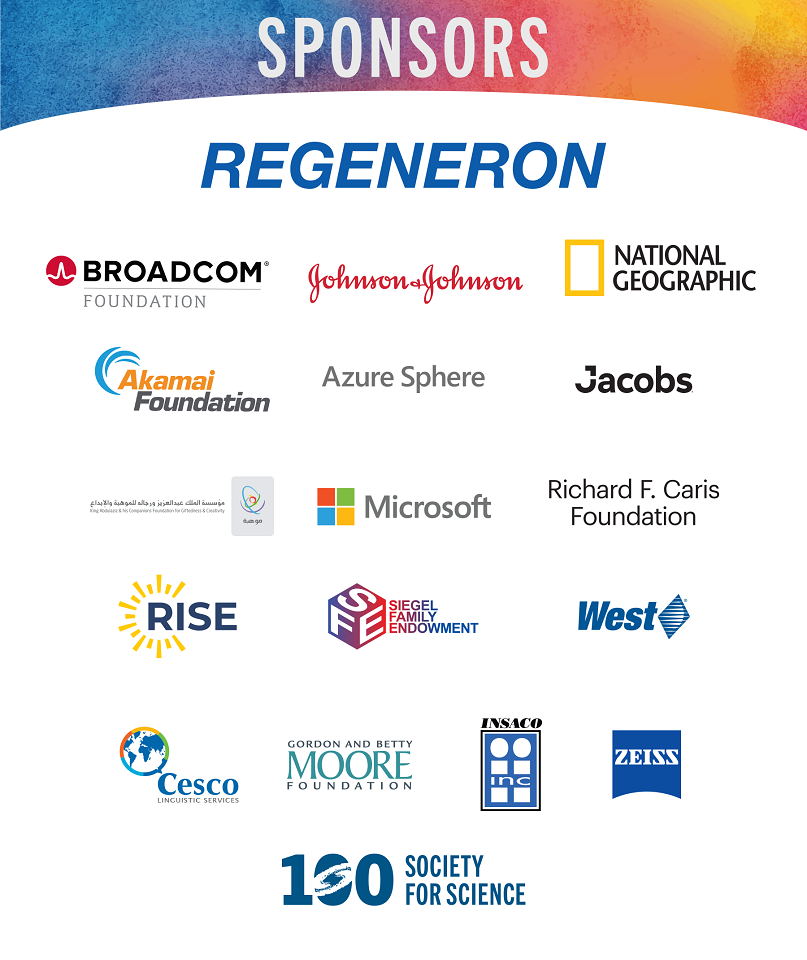 Beyond the virtual nature of the 2021 Regeneron International Science and Engineering Fair (ISEF), visitors to this year's fair who are familiar with the competition will notice some other changes as well.
Regeneron is in its second year as ISEF's title sponsor, but because last year's event was a project showcase rather than a competition, due to the pandemic, this is the first year the company will distribute awards as part of its sponsorship. In December 2019, the Society for Science and Regeneron announced the company would be ISEF's new title sponsor, building on Regeneron's commitment to advance STEM education. Regeneron is part of a new community of sponsors that are all working together to support ISEF—the world's most powerful STEM research talent pipeline.
Many of ISEF's 21 different judging categories also have sponsors including: Akamai Foundation, Jacobs, Johnson & Johnson, King Abdulaziz & his Companions Foundation for Giftedness & Creativity, Microsoft, Microsoft Azure Sphere, National Geographic Society, Regeneron, Richard F. Caris Foundation, Siegel Family Endowment and West Pharmaceutical Services.
Elements of this year's Regeneron ISEF programming are also being supported by sponsors. Johnson & Johnson is sponsoring the Women in STEM panel and Rise is sponsoring the new Social Innovation panel. The Pin Exchange, which for years has been the highlight of ISEF for most finalists, is being sponsored by National Geographic Society. (Yes, the Society will be hosting a virtual pin exchange!)
Education Outreach is being sponsored by the Broadcom Foundation while the judges' portal is being sponsored by Zeiss and the Virtual Hub is being sponsored by Insaco. Cesco Linguistic Services is sponsoring our interpreters. The Gordon and Betty Moore Foundation is sponsoring a new $50,000 award in honor of Gordon E. Moore.
The Society is thrilled to see such varied companies come together for the same goal: to support the next generation of scientists and engineers. We are grateful to these organizations and applaud their commitment to the future.