Advocate Program, Outreach & Equity
In the face of shifting learning environments, the Society for Science awards $214,000 to 66 educators tasked with guiding students in scientific research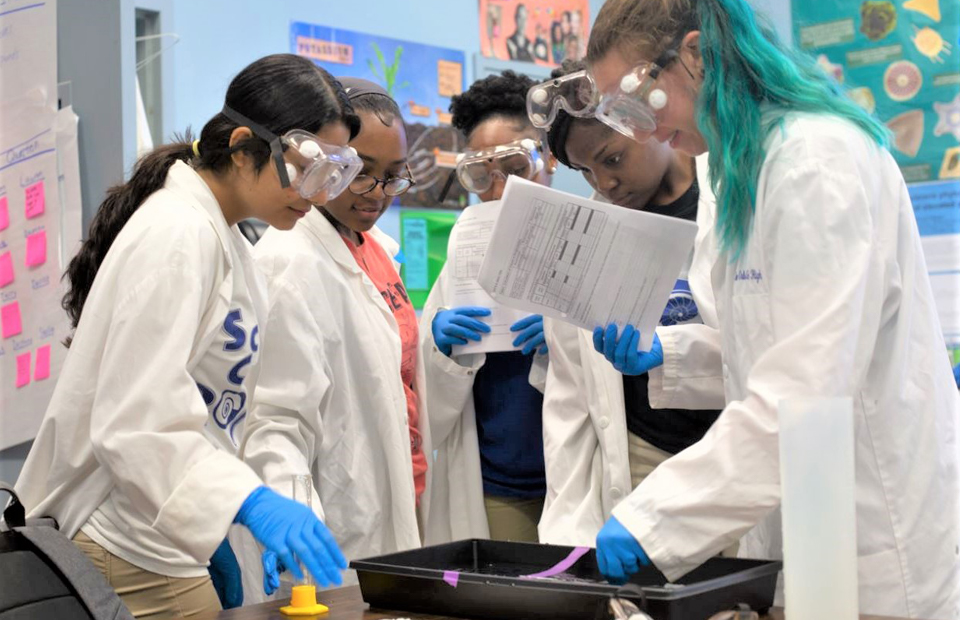 Today, the Society for Science is proud to release the names of 66 stellar educators who will serve in the organization's Advocate Program in the 2021-2022 school year. Fifty-eight Advocates will each receive a $3,000 stipend while eight Lead Advocates will receive $5,000 each. Throughout their one-year terms, these dedicated Advocates will encourage at least three to five students — who identify as a race or ethnicity historically underrepresented in STEM — in science and engineering research and help them enter those projects into competitions.
Now in its seventh year, the Advocate Program strives to educate and inspire the next generation of scientists, engineers and innovators through hands-on research and competition, and supports full representation of all identities in STEM fields. Advocates will break down barriers to competition participation by providing support for selecting competitions, gathering materials, meeting deadlines, preparing for competition and ensuring inclusivity.
"In the coming school year, students and teachers will have to remain flexible during a fluctuating public health emergency," said Maya Ajmera, President and CEO of the Society for Science and Publisher of Science News. "Through the Advocate Program, we hope students continue to participate in meaningful and transformative science research experiences. We hope this program continues to be a catalyst for underrepresented students to consider future STEM careers. The 66 Advocates are a truly amazing group of mentors for the next generation of scientists and engineers."
Twenty-seven returning Advocates have shared that the program kept students engaged in scientific research and competition despite the pandemic last year. In the last month, just as the U.S. population saw COVID-19 restrictions lift, infection rates decline and vaccination rates soar, and the educational community was shifting back to some form of normal, the delta variant began to spread. In the upcoming school year, we can expect a changing roadmap to dictate student learning in a variety of environments (i.e. in-person, remote or hybrid) and that schools will vary their safety protocols across the nation. Throughout this flux, returning and new Advocates will seek to keep their mentees engaged.
The Advocate Program uses a tiered mentorship model, where educators are not only mentoring their students and raising future generations of scientists and engineers, but they are also mentoring, learning from and evolving supportive relationships with each another. Advocates will further develop their science research programs in another unusual year, connect with professionals in the science community and meet like-minded educators who value authentic student research and the educational opportunities that science competitions offer.
To date, Advocates have supported more than 4,000 students during their participation in the program, of which, 3,076 students have successfully competed in at least one science research competition. During the 2020-2021 cycle, approximately 80 percent of student mentees participated in science competitions at the local and/or national level. Moreover, students of Advocates are responsible for over 5,000 unique competition entries, with many students entering more than one competition. Ninety percent of those students are from low-income households and 70 percent are of a race or ethnicity underrepresented in STEM.
This year, the Advocates are from 31 states, the District of Columbia and Puerto Rico, and include 23 middle school teachers, three who work with both middle and high school students, 29 high school teachers, six affiliated with universities and five out-of-school educators.
The following are 2021-2022 Lead Advocates, who will oversee groups of Advocates:
McKenzie Baecker, Two Rivers Public Charter School (Washington, DC)
Scotti Benton, Jasper County Middle School (Monticello, GA)
Elizabeth Bieri, Holy Family Cristo Rey Catholic High School (Birmingham, AL)
Robin Driver, Eisenhower High School (Yakima, WA)
Reshawndra Hutchins-Trapp, Elite Scholars Academy (Jonesboro, GA)
Jeremy Jonas, Tucson High Magnet School (Tucson, AZ)
Sam Loftus, Shasta Middle School (Eugene, OR)
Yajaira Torres-De Jesús, Colegio Rosa Bell (Guaynabo, PR)
The following are 2021-2022 Advocates:
Adenike Akinyode, Eastside High School (Gainesville, FL) 
Laura Alberici da Barbiano, Blanson CTE High School (Houston, TX) 
Ramon Benavides, Del Valle High School (El Paso, TX) 
Dallas Bergstrom, Miller Career & Technology Center (Katy, TX) 
Caitlin Bonham, Kenwood Academy High School (Chicago, IL) 
Humberto Bracho, Frick United Academy of Language (Oakland, CA) 
Justin Brown, Kealakehe High School (Kailua-Kona, HI) 
Leslie Cannon, The ATLAS Academy at Tennyson Middle School (Waco, TX) 
Philip Clarke, Centennial School District (Gresham, OR) 
Cameron Cooley, Memphis Academy of Science and Engineering (Memphis, TN) 
Sarah Cooper, Southeast Career and Technical Academy (Las Vegas, NV) 
Renee Cordes, Flathead High School (Kalispell, MT) 
Christine Danger, University of Florida & Hillsborough Public Schools (Tampa, FL) 
Lakshmi Darbha, Aavanee (Frederick, MD) 
Dannielle Davis, Circle of Excellence Network (St. Louis, MO) 
Michelle Denson, Atlanta Public Schools (Atlanta, GA) 
Jessica Doiron, Freedom High School (Woodbridge, VA) 
Martrice Donaldson, School District of Philadelphia (Philadelphia, PA) 
Lauren Dudley, Chapman University (Orange, CA) 
Mark Eastburn, Princeton High School (Princeton, NJ) 
Kathleen Galau, Thunder Mountain High School (Juneau, AK) 
Jennifer Gentry, Vanderbilt Collaborative for STEM Education and Outreach (Nashville, TN) 
Christine Girtain, Toms River High School South & Toms River High School North (Toms River, NJ) 
Angela Groves-Price, WP McLean Middle School (Fort Worth, TX) 
Todd Ireland, 100 Black Men of Douglasville, Inc. (Douglasville, GA) 
Sunday Iwalaiye, Prince George's County Public Schools (Laurel, MD) 
Karen Johnson, Evanston Township High School (Evanston, IL) 
Edwina Kinchington, Pittsburgh Science and Technology Academy (Pittsburgh, PA) 
Andrea LaRosa, Westside Middle School Academy (Danbury, CT) 
Debra Las, John Adams Middle School (Rochester, MN) 
Gaurang Limachia, GoSTEM (Chicago, IL) 
Amy Mallozzi, Oregon State University (Corvallis, OR) 
, Homer Hanna Early College High School (Brownsville, TX) 
Margarette Marturano, Seminole Ridge High School (Wellington, FL) 
Erin Mayer, Casey Middle School (Boulder, CO) 
Allyson McFalls, Blowing Rock Elementary School (Blowing Rock, NC) 
Amy Melby, Yuma High School (Yuma, CO) 
Ryan Melton, Grenada Career and Technical Center (Grenada, MS) 
Jessica Menchaca, Del Valle ISD (Del Valle, TX) 
Raquel Miranda, Project Youth 4 Youth International (El Paso, TX) 
Lalitha Murali, Glen Hills Middle School (Glendale, WI) 
Jacqueline Nichols, Sunnyside Unified School District (Tucson, AZ) 
Bree Oatman, South Dakota Discovery Center (Pierre, SD) 
Susana Oliu, John Muir High School Early College Magnet (Pasadena, CA) 
Yolanda Pender-Bey, Mount Vernon Elementary School (Chicago, IL) 
Macy Pickman, USD 409 (Atchison, KS) 
Eileen Poserio, Wolf Point High School (Wolf Point, MT) 
Cecilie Prine, Lander Middle School (Lander, WY) 
Mary-Elizabeth Quan, Ontario-Montclair School District (Ontario, CA) 
Nate Rayor, Mescalero Apache School (Mescalero, NM) 
Carter Shank, Kings Science and Technology Magnet Center (Omaha, NE) 
Bradley Spencer, Weber School District (Roy, UT) 
Scott Troy, Westminster High School (Westminster, CO) 
Joshua Truitt, Hilsman Middle School (Athens, GA) 
Kiara T. Vann, Stratford STEM High School (Nashville, TN) 
John Wiley, Challenge School (Denver, CO) 
Sara Yeh, Ray Wiltsey Middle School (Ontario, CA) 
Jean Yoo, Almeria Middle School (Fontana, CA)
The Advocate Program is made possible by the Arconic Foundation, Jack Kent Cooke Foundation and Regeneron. In addition to receiving stipends, each Lead Advocate will supervise six to eight new Advocates with whom they host monthly calls, facilitating monthly reports on how their students are doing in their research endeavors and offering helpful guidance and support. Lead Advocates are returning educators who hold additional responsibilities; each hosts a session at an Advocate Training Institute and creates a webinar providing guidance to any educator seeking to bolster STEM research programs in their schools.
This past June, this year's cohort attended a virtual Advocate Training Institute, where sessions covered topics such as research in hybrid learning environments, designing and implementation of a STEM research course, strategies to level up student research and using public resources to support student projects.