In Memory of Randy C. Williams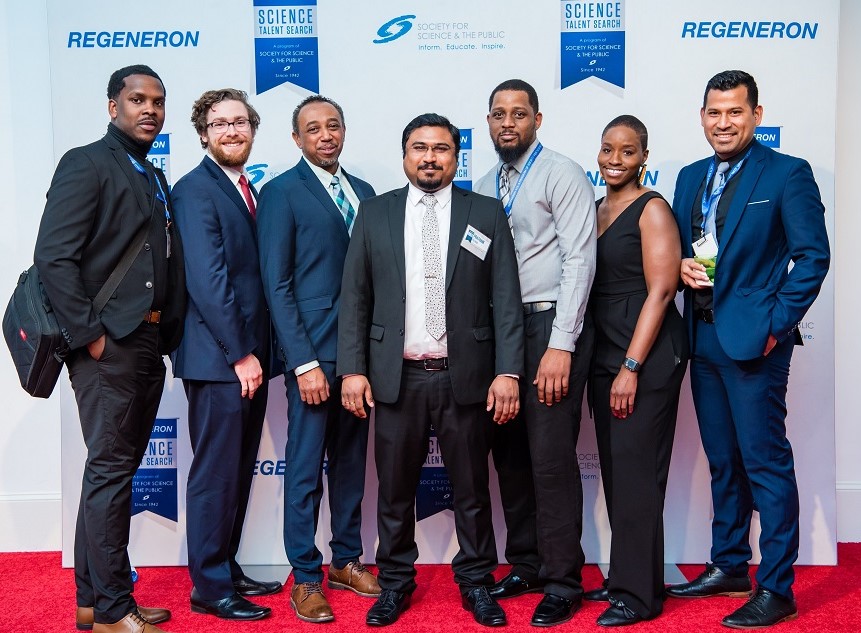 This Thanksgiving, as we take time to reflect on this past year, we mourn the loss and give thanks for the life of an integral member of Society for Science staff — Randy C. Williams (June 28, 1989 – July 9, 2022). Randy worked at the century-old nonprofit in Washington D.C. for 14 years. We are immensely grateful for his years of dedication, service, friendship and for his uplifting, collegial spirit. He will be deeply missed by so many.
Randy was a lifelong Washingtonian. Born and bred in the southeast quadrant of the nation's capital, Randy attended the District of Columbia primary and secondary schools and built his career here. He got his start at the Society for Science as a mail technician at just 19-years-old and worked his way up to the role of Operations Specialist on the Events and Operations team. Some of Randy's key job responsibilities encompassed daily management of mailroom activities, warehouse management; managing large mailings; and making sure all program materials were successfully packed, delivered, set and struck, and returned safely to all 50+ meetings and events that the department produces and/or facilitates annually.
More than carrying out his job duties, colleagues across his career knew that Randy was someone they could depend on and turn to when things needed to get done. At events, such as the Society's world-class STEM research competitions — the Science Talent Search and the International Science and Engineering Fair — he played a large role in the oversight of proper setup and tear down in addition to being a key player behind the scenes.
Described by colleagues, friends and family as a humble spirit, a man of few words and a hard worker, he will be sorely missed at the Society for Science and beyond. Randy brought his sense of humor to every person he touched in his life, making them laugh and being a supportive friend and colleague. He loved basketball, poetry, and music and he was involved in his church. He was a fighter and a never-give-up kind of person.
He leaves behind his mother, Diane Williams; father, Ronald Williams and five siblings: Ronald, Rhonda, Ryan, Renardo and Robin. He is proceeded in death by his brother Rachon Williams. He also leaves behind his brother-in-law, John; sister-in-law, Andrea; close cousin Sean; countless nieces and nephews and numerous cousins; his two best friends Mynikka and Ivan; loving and devoted friend Tamika and countless friends.
Below, read some heartfelt tributes and reflections from Society staff, past colleagues and friends.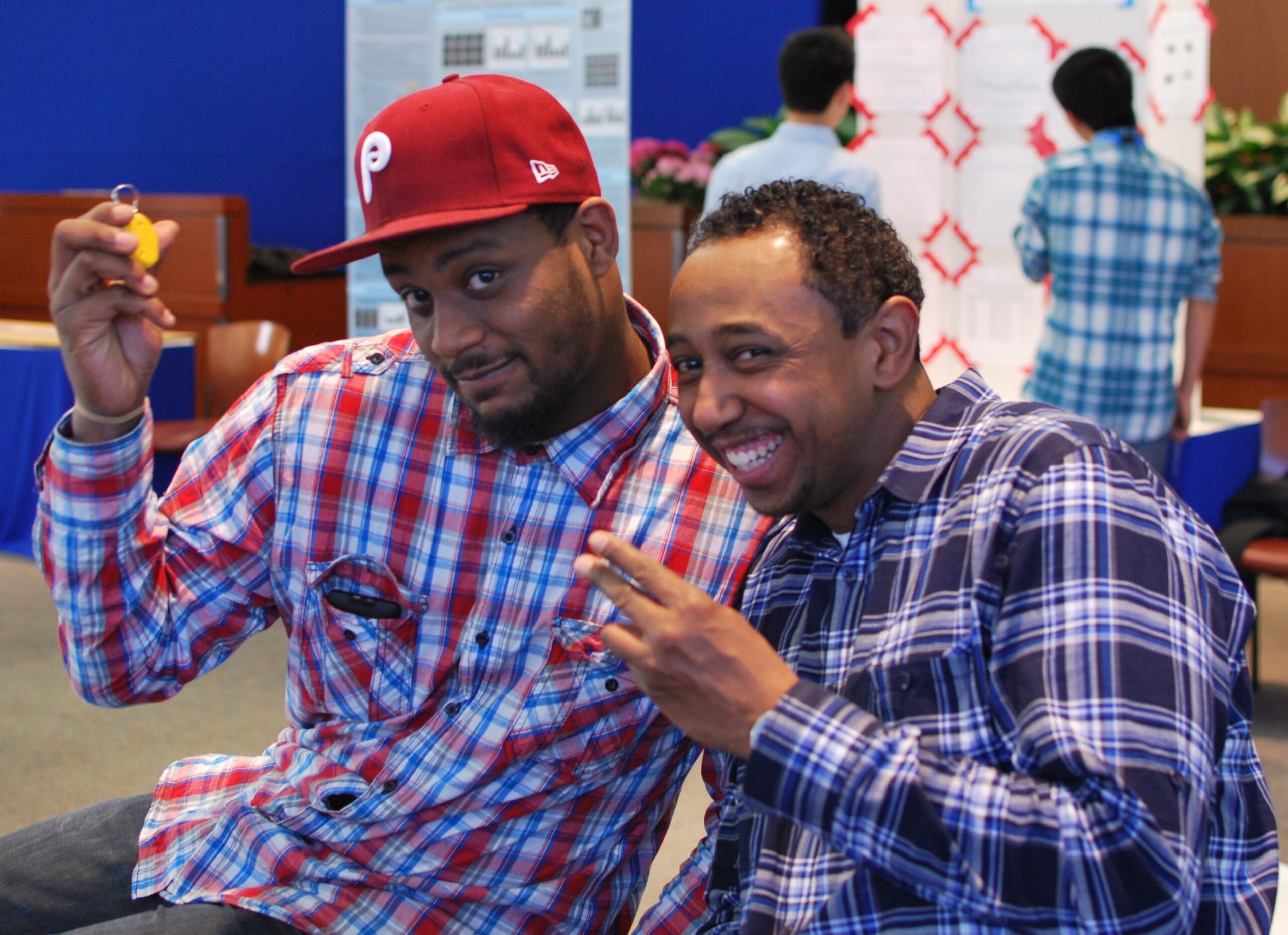 Randy was the soul of our team. Some of us knew him since his first day here while others met him along the way. Some watched him grow into the stalwart member of the team that bolstered so many components of the Society over the years. All benefited from his knowledge and mentorship. Making the best experience possible for the students and ensuring that everything was executed perfectly was a point of pride for Randy. He never questioned doing something again or indulging a change of mind if it meant making it better. He loved greeting guests at the gala, all of whom were welcomed with his captivating smile.
At ISEF, he was king of the HUB. He was the go-to person as he knew what needed to be done and how and when to do it. He could usually be found at the front of the HUB helping and interacting with students. He wholly owned that each finalist's project made it safely to their booth and that students had the tools they needed to set up. His partnership and camaraderie with the corps of volunteers who supported the team at ISEF year after year was unparalleled. It was a big reason why they donated a week of PTO to come each year. Together, no group worked as hard physically. Randy oversaw the movement of thousands of pounds of materials while walking miles each day, but he always made it fun. The banter on the radio during set-up days made each day funnier than the next and kept the energy going. He made us all laugh every day even when the struggles were real. He found humor in the silliest things, often breaking the tension in the room.
Randy loved LeBron James. Randy was loyal to LeBron and easily adopted LeBron's new team with each move LeBron made over his career. He was loyal to a fault.
Randy's favorite superhero was Superman, and it is obvious why that was true. His strength in body and spirit was seemingly limitless. He had unrelenting energy, especially during the busiest of times. He was quiet but had an infectious laugh. He was a keen observer and listener. He always did the right thing by everyone and wanted the best for anyone that he touched, especially his friends and family and his niece who he adored.
It was a blessing that we got more time together over the past couple of years when it was harder to be together. Some days working shoulder-to-shoulder just made the world feel a little more connected and, of course, it gave us time that we would have otherwise missed with Randy. We miss him every day. Thus far, time has not made it any easier to be without him. – Cait, Paul, Paolo, Tzeitel, Susan and Will – The Society's Events and Operations Team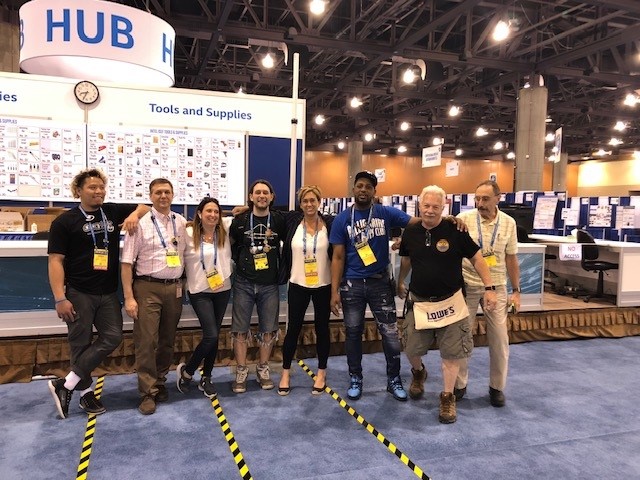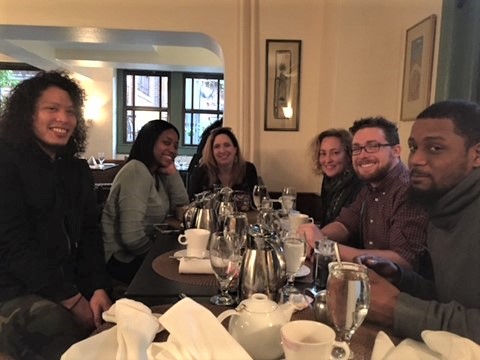 +++
Randy was kind, strong, smart, diligent, and I must say, handsome. He was always ready to help me with any task necessary. Every time I saw Randy in the office, he always put his hand up and said, "Hey, Maya." I will miss him. In the words of the Indian poet, Rabindranath Tagore, "Say not in grief that he is no more but say in thankfulness that he was." – Maya Ajmera
+++
When I think about Randy, to me the word that comes to mind first is dependable. I can picture him supporting the set-up of Board meetings and making sure important mailings made it out of the office quickly. Some days a short chat with Randy on my way into or out of 1723 would remind me to be appreciative of the opportunity we all have to work at the Society. Randy positively impacted everyone at the Society, often in ways we didn't even realize. – Rachel Goldman Alper
+++
Funny, smart, strong, smiling. That is how I will remember Randy Williams. He also always seemed a bit of a giant to me, this young kid in an NBA power forward's body.

Randy was hired onto the team tasked with making the buildings, the IT, the infrastructure, the events, and, so on, at the Society as a whole, work. He joined a great team; one that he made better with his work ethic, personality and with his presence. We worked together for a few years, and I always appreciated and valued when we ran into each other. We'd talk for a few minutes, usually about sports or something, and he would leave me in a better place for the day. He had a very special gift that way, one that I will always remember and be thankful for. And when we had events on the road, Randy was always the one solving problems during the day, carrying the heavy loads, and then the best person to sit next to at staff dinners as he always had such a positive outlook, no matter how hard the day.

I was heartened to learn a little bit more about Randy at his memorial service, to hear from his friends and his family, his people. To hear about his love for music, and having fun, and just being a good young man who lived a good life. I did not know, at all, the health issues he struggled with. As, typical for Randy, he just went about his days at work, never complaining, just smiling, working hard, and making people's days brighter just by his presence.
I am better for knowing Randy and spending a few years with him, as is the Society, and so many people. We will miss you, Randy. – Rick Bates
+++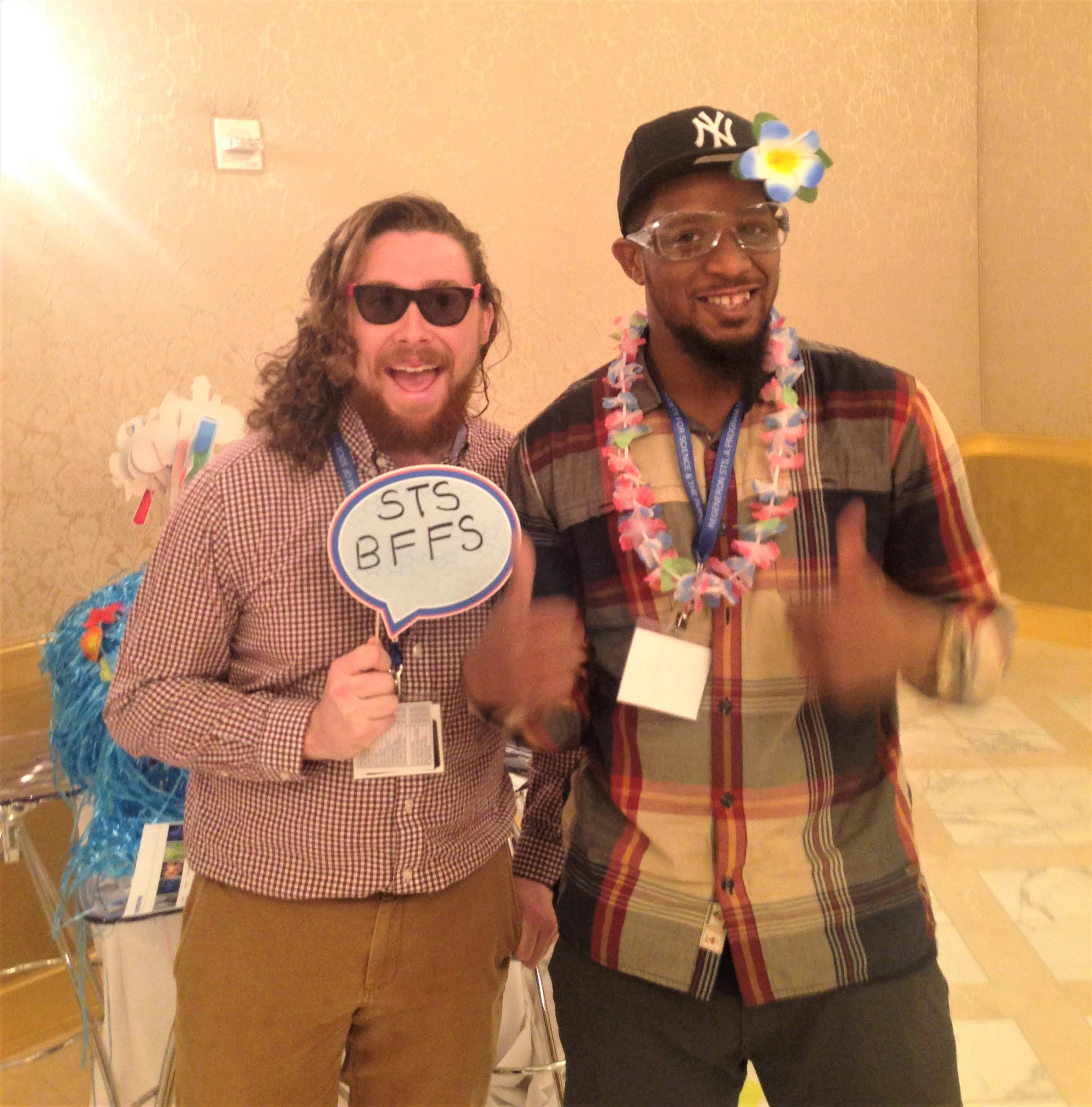 +++
My name is Erin Cummins and I am a former employee of the Society for Science, having worked in the Science Education Programs department for almost six years. One of the first people that I, and many others, met when working at the Society was Randy Williams. Almost every day, Randy would come around to each person's desk in the office to deliver the mail. That seems like a simple enough job that a person could easily speed through, impersonally shoving mail into each slot, but Randy would saunter into every room with a goofy smile and joyful word. He knew every person at our organization (approximately 100 people) by name, which I suppose must be easier when you deliver their mail day in and day out, but he also had little personal quips and jests for seemingly every person. Even when I was a new hire, Randy made me feel seen and valued — like I was a part of the team.
As I grew to know Randy more, I came to value him as a person and as a friend. We shared a love of dogs and for about a year I would send him links to adoptable dogs at the shelter where I volunteered, in an attempt to get him to cave and adopt one. We/I gave up that dream though after his niece was born and instead opted for occasionally swapping heart-melting, silly videos of people with their kids that we came across online. Being around Randy felt rejuvenating; it felt like standing in the sunshine, lucky to be chosen as someone he would spend his time with. I remember at one holiday party I jokingly asked Randy to make me an ornament at the arts and crafts station, and he did. He filled it with sparkles, drew squiggly lines all over it, and ceremoniously presented it to me, while simultaneously acting like it was no big deal. Randy was a secret softy, and that ornament has been on my Christmas tree every year since then. It will hold an even dearer place in my heart now.
During my last few days at the Society, I sent out an email letting everyone at the organization know that I was leaving. When Randy received that message, even though he already knew I was leaving, he hit "reply all" and simply shared a link to the Goodbye Song from the 90s children's show "Out of the Box." For anyone who was a kid around that time and watched the Disney channel, you knew that song. The lyrics go: "So long, farewell, to you, my friend. Goodbye for now, until we meet again." I never imagined that email would be one of the last times I communicated with Randy. When I heard of his passing, that song ran through my head for days. My heart still hurts every time I think about him, but when I remember the simple joy and message of that song he shared, accompanied by the memory of Randy's smile and raucous laughter, I feel a little bit better. We miss you, Randy. – Erin Cummins
+++
When I started at the Society, I was excited, but nervous seeing how much there was to learn. Randy is one of the people who took the time to answer my many questions and was always willing to help a colleague in need – even one he'd just met. He was helpful, funny and kind, and we were all blessed by his choice to share those gifts with others. – Elaine Edwards
+++
I have been struggling to find the words since Randy's passing, and honestly, I'm still at a loss. He was one of the hardest workers and greatest laughers I have ever had the privilege to know. For 11 years, starting together in 2009, we had the most incredible time working Operations for ISEF. I feel such an immense emptiness knowing he is no longer bringing smiles and love to those around him. Randy was a wonderful person with an infectious energy. Being able to make him belly laugh by doing a silly Elmo impression, or just singing along to old 70s tunes together will always bring a smile to my face. Rest peacefully my friend. – Michael Foy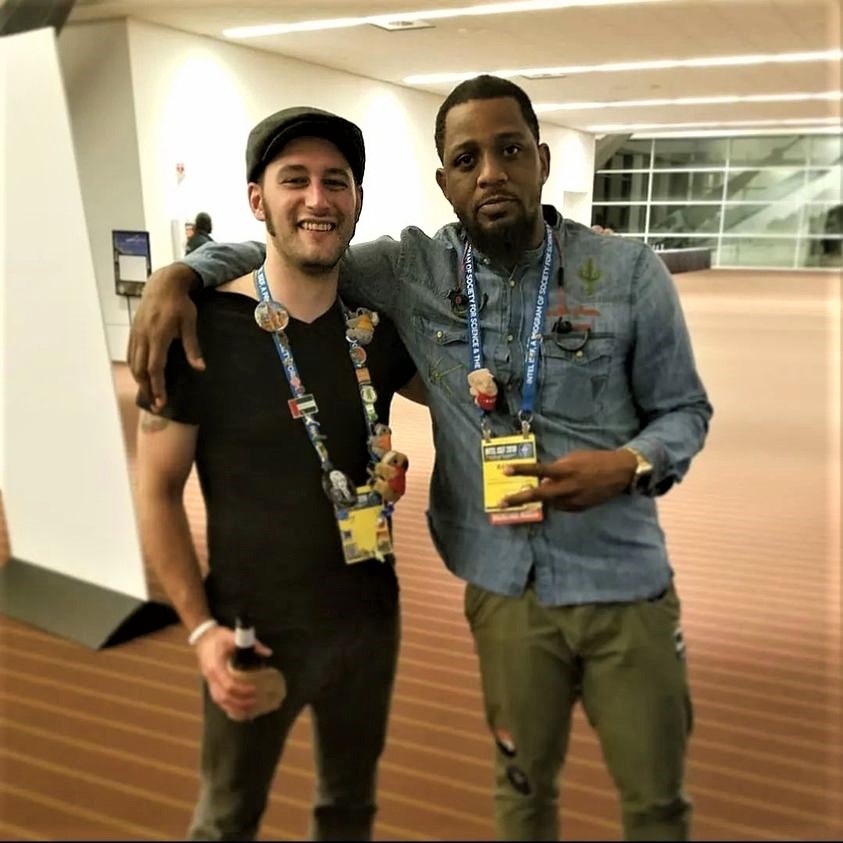 +++
Memories of Randy Williams make me smile. Not any single action or a specific moment in time, but just fondness for the person he was. Particularly in the earlier years of his employment at the Society, he was responsible for the twice-daily mail runs, and he knew everyone and always had a smile and energy in his step. He moved about his work – efficiently and with accuracy. If you asked for his help, you could trust it to get done.
Randy wasn't loud or a "talker," but he was fully engaged in working hard and having fun while doing so. At any program set-up and tear-down, Randy was in the thick of the action. At ISEF he became more and more responsible for the activities of the HUB – working with volunteers and staff to distribute medals and certificates and to troubleshoot any issues in the Exhibit Hall. He was respected by his colleagues and was an integral part of the success of the competitions over the years.
I am sorry that I did not have a chance to engage with Randy much over the last few years with only limited time at the office. He will be missed. – Michele Glidden
+++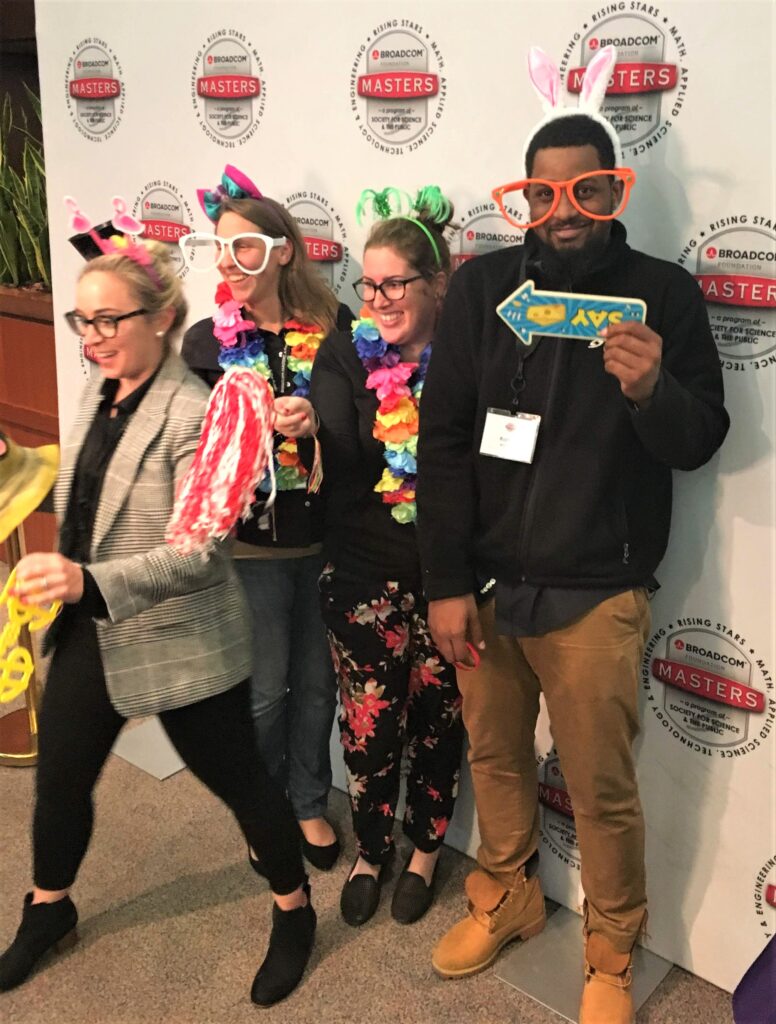 I was blessed to work with Randy "Rambo" Williams at two different jobs, and he was just absolutely the best young man I ever worked with. He was my best employee at Starbucks in downtown D.C. for five years, where he was an integral part of the best Starbucks crew. I recommended my old job hire him, (Society for Science) and they did. He went on to be a beloved member of their team for 14 years. I was able to travel with him to set up his first International Science and Engineering Fair in California. Together, we shed blood, sweat, tears and laughter too.
We played ball together, went to Wizards-Cavs games, debated lyrics, went to movies, went to parties and it wasn't enough. Randy had what my mom would call: "it." The total package, he embodied intelligence, wisdom beyond his years, strength, athleticism, humor, charm, charisma, diligence, empathy, good looks and morals. He was driven and he was a natural leader. For someone who possessed so much, he was so humble. He was a phenomenal person. One in a million. The kind of person that made you excited to just be around. I forever love you and can't wait to see you in heaven. Hopefully, my mom is cooking you up a great meal, and you're chopping it up with our folks. – Matt Greene
+++
Randy had the most infectious laugh. You may not have known what he was laughing at, but you were laughing with him. – Tzeitel Fetter Hirni
+++
Randy was one of the first people that I met when I joined the Society as a temp. We worked alongside each other every day for years before I transitioned to HR. Randy was like my brother at work. He always looked out for me in ways that I didn't even understand, until now. He would often greet me by calling me AJ, Moe or Ugg. Many may not have understood his humor, but I did all too well. Randy and I would often grab lunch together or coffee and we'd talk about current things happening in our personal lives. It was our way of connecting outside of the office. I'm definitely going to miss my favorite coworker but most importantly, I'm going to miss my friend. – Ashley Johnson
+++
June Kee had several recollections:
1. He had a funny laugh. I knew it was Randy laughing even when we weren't in the same room.
2. He was an extremely dependable person and always helped with all the SEP mailings when he could. And all the times I radioed him at ISEF, he always delivered. Always.
3. Once I went down to the mailroom and made a mention of a new Bruno Mars song I really liked: Uptown Funk. I asked everyone if they knew the song. Yes, they did. I pushed a little bit and directly asked Randy; He looked at me, said "No" and walked away with a huge grin on his face. Guess Bruno Mars wasn't his type of genre.
4. When I went in to work this past June, I got to see Randy for the first time in over two years and unfortunately, it was for the last time. We had a really nice, but serious talk. He was reserved but seemed to be in good spirits. I will always remember this last day.
5. Our birthdays are one day apart, so this year I mailed an Amazon gift card to Randy. Unbeknownst to us both the gift card never arrived. It was just returned to me with the USPS yellow sticker on it saying "address is undeliverable." I peeled off the sticker and the address is correct. I thought this was very odd. I'm sorry he never received it.
June Kee
+++
I'm still stunned. Randy was such a great colleague. That sounds weird because we worked in such different areas that he had no real obligation to match my face to my name. Yet he was friendly, funny and kind. It's a measure of a deep, big heart to go out of the way even with the people who aren't part of an already very big job description. – Susan Milius
+++
Randy and I were both hired in 2008 and had birthdays two days apart so we celebrated work anniversaries and birthdays together for many years. We were the new kids on the block for a while, and then we weren't! He will always have a special place in my heart as a kind, smart and friendly person who will be greatly missed by the Society and by me. – Nancy Moulding
+++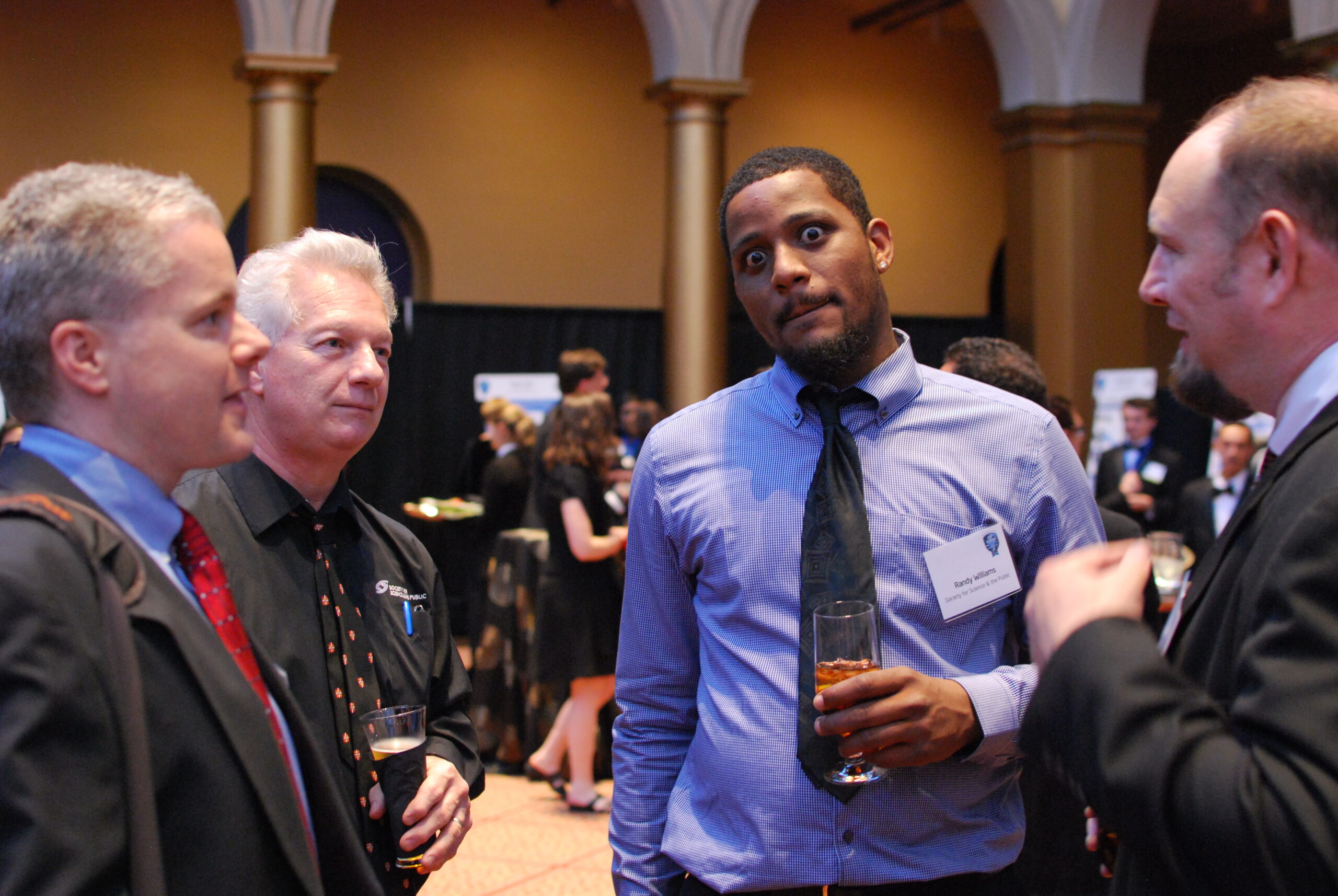 +++
Randy was genuinely compassionate and one of the kindest and warmest people I have had the privilege of knowing. He had this magical ability to cheer you up and empathize with you regardless of what he was going through himself. He inspired me in many ways through his words and actions to be a better person. I will miss his warm smile and he will forever be in my heart and thoughts. – Pratham Patkar
+++
Randy would come to my office and deliver the mail – as with all Society staff. During these deliveries, people got to know him and he them. When he first stopped by my door, it became clear very quickly that we root for very different baseball teams. Being from Boston, I obviously love the Red Sox. And anyone who knew him knew he rooted for the Yankees, sporting his navy and white Yankees cap, a mainstay of his apparel. Bostonians really despise the Yankees and New Yorkers the Red Sox; it was funny to contend with him about the team rivalry. But at work, we were on the same team. Randy was just so fun-loving and kind. These small day-to-day encounters are the things none of us will forget about him. In the end, these are the moments we remember about people – the smaller ones that give us a glimpse into a person's true spirit as they move through the world. – Aparna Paul
+++
Randy started at Science News the same year as me, in 2008. During those early years, I saw him every day, often multiple times a day. I remember him bounding up the 1719 stairs, always big smiles, always endless energy, always a swing in his step. He had such a great outlook on life. For me, his friendliness captured the family spirit of the Society; his growth over the years captured all of our potential. And in more recent, pre-pandemic years, chatting with him all spiffed up at STS galas was a concrete reminder that what we do is seriously fun. It seems to me that's how he saw life. – Beth Quill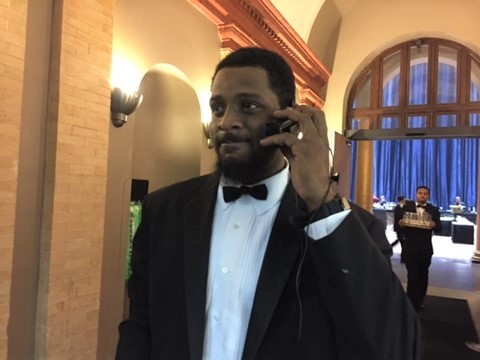 +++
There are a lot of great memories of Randy throughout the years, but one that I've been thinking a lot about lately was when Erin Cummins left in 2021. In response to the email I sent to staff letting everyone know of Erin's departure, Randy replied all with this video: – the "Goodbye" song from the show "Out of the Box" that ran in the late 90s-early 00s. It was so unexpected! Not sure if he meant to reply all or not, but it was so perfect and definitely left Erin and I smiling all day. Randy had that effect often. – Raeva Ramadorai
+++
Personality larger than life itself, lover of bao buns and Arnold Palmers, helpful, kind, and hilarious are words I would use to describe Randy Williams. I truly hope Randy knew how much he meant to those around him, his impact, and the happiness he sprinkled everywhere he went. – Krystal A. Robinson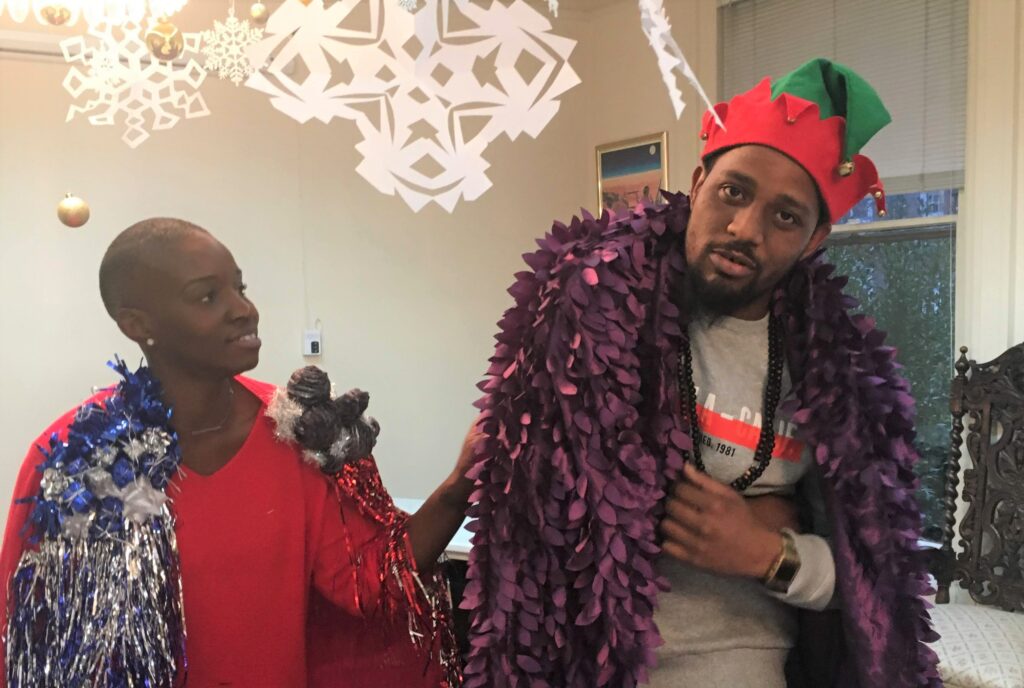 +++
Hiring Randy when I was at the Society was one of the best decisions I made. We worked together for almost five years and every day he had a big smile on his face and an infectious attitude and work ethic. Randy was one of the hardest-working, funniest and kindest people I've ever had the privilege to work with. All of us feel extreme sadness about his passing. May he rest in peace. – Harry Rothmann
+++
Randy was always—and I mean always—asking what kind of help people needed. His answer was always yes. Whatever help he could provide, whatever you needed to get the task accomplished—he would make it happen. I will be forever grateful for his positive and uplifting approach to life, and for the legacy he leaves behind. – Carole Russo
+++
Randy tended to be quiet, but was always super nice and a joy to work with. Randy worked hard and the volunteers at ISEF loved him too! I will miss him dearly. – Sharon Snyder
+++
If I could pull together a dream team of past and current colleagues, Randy would be at the top of my list. Always reliable, good-natured, ego-free, kind and hard-working, Randy also had the biggest laugh that would echo through the halls of our office, providing much-needed perspective during busy times. Randy performed near-miracles for his colleagues, so many times, to make sure the students in our programs had the best experience possible. Anyone who has ever read Science News, rocked an STS entrant t-shirt, attended any of the Society's events, big or small, has felt Randy's impact. Words cannot express how much we will miss him. – Allie Stifel
+++
I always thought of Randy as having a somewhat hidden sense of humor. We had our own little, private jokes and it was such a joy to me when they would pop up. While I was stressed out, rushing back and forth at STS Public Days, he would jokingly act like he was counting me each time I came and went from the room, and I would laugh every time. What I didn't fully realize about Randy until I heard stories from all who loved him, was his ability to read the room and adjust to the people in it. Some folks knew him as a man of few words, while others knew him as a fun-loving goofball. Whether he was conscious of it or not, he brought each of us calm or smiles in just the right doses. I'm thankful for those bright little moments from him in a busy program week. He will be missed. – Caitlin Sullivan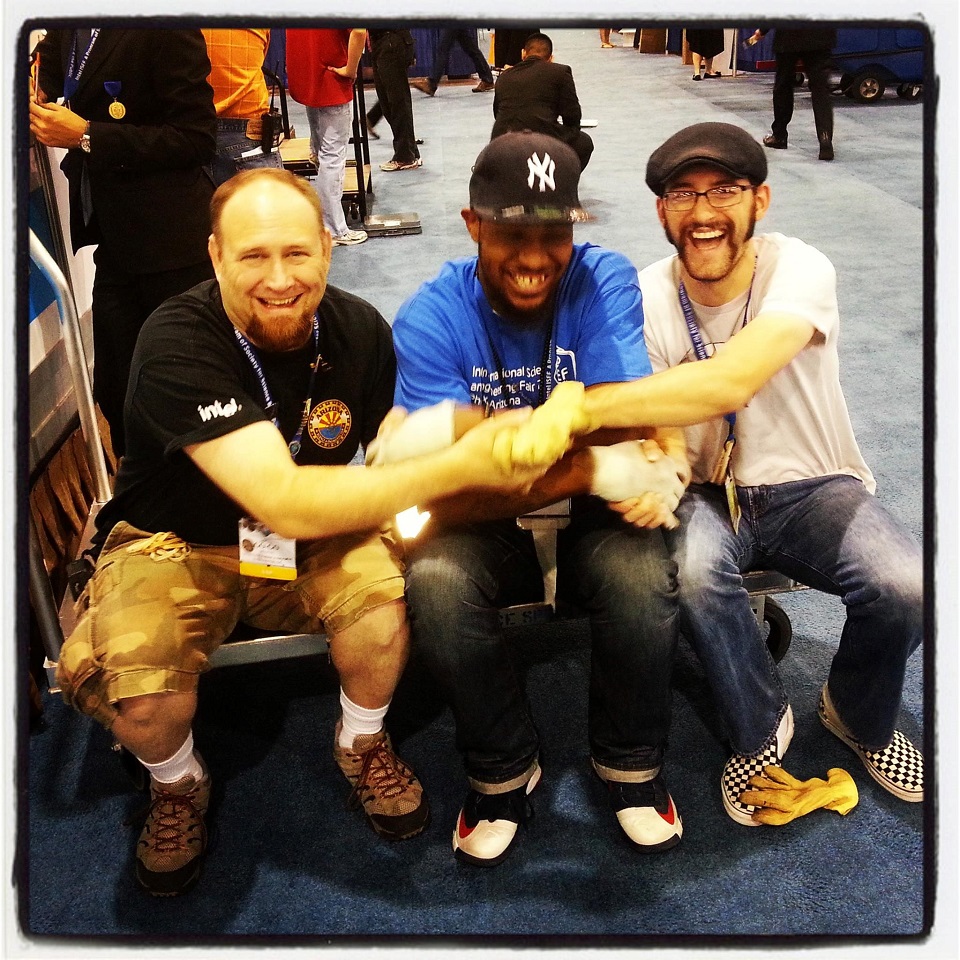 Greg Sprouse: I remember this like it was yesterday! I know you can hear his RANDY laugh while looking at this picture. I can't tell you how much I miss him.
Michael J. Foy: Greg, definitely remember this moment like it was yesterday.
+++
To plant a Memorial Tree in memory of Randy C. Williams, please click here.