'If one project inspires one of our students, the experience was worth it'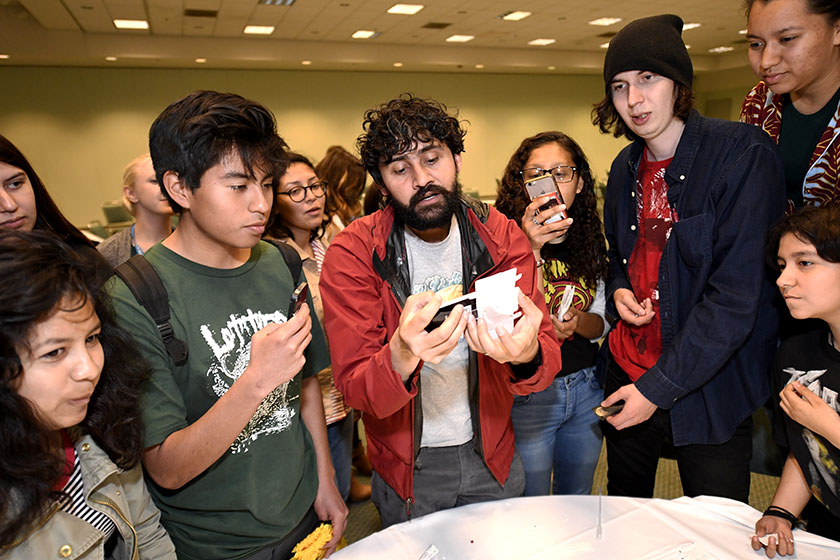 The Intel International Science and Engineering Fair (Intel ISEF) is a science competition unlike any other. It brings together nearly 2,000 high school students from over 75 countries, regions, and territories to the United States to showcase their scientific research in front of judges and the public, meet other likeminded scientists from around the world, and compete for millions of dollars in prizes, scholarships, and award trips.
Concurrently, on May 17 Intel ISEF will host an Education Outreach Day program, which will bring about 2,500 local public and charter school students and their teachers to Intel ISEF. Many of these students come from underserved communities that don't have high level science programming.
During Education Outreach Day, students experience science through interactive activities developed by local organizations, such as museums, universities, and nonprofits. Additionally, the students will view the finalists' projects and visit the Intel ISEF Commons, where they have the opportunity to meet representatives from universities and science organizations.
If one project can inspire one of our students at East Allegheny, then the experience was worth it.
The Society spoke with several schools and sponsors who have previously participated in the program. Learn more about this unique educational experience below.
---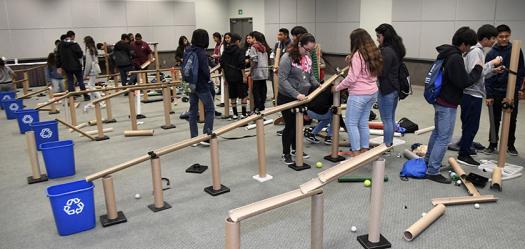 Marcie Sippey, a teacher at East Allegheny High School in North Versailles, brings her students to Education Outreach Day because "this is a wonderful opportunity for our students to experience all that is new and exciting in science and engineering," she said. "If one project can inspire one of our students, then the experience was worth it."
East Allegheny High School brought 90 students in 2015, the last time Intel ISEF was in Pittsburgh. "The students found some of the projects unbelievably amazing," Marcie said. "My seniors, who went as freshmen last time, still talk about the experience. Without the generosity of your donors and sponsors, we would not be able to participate — so thank you."
"Science fairs like Intel ISEF are important to show our students what a little curiosity can do," she explained.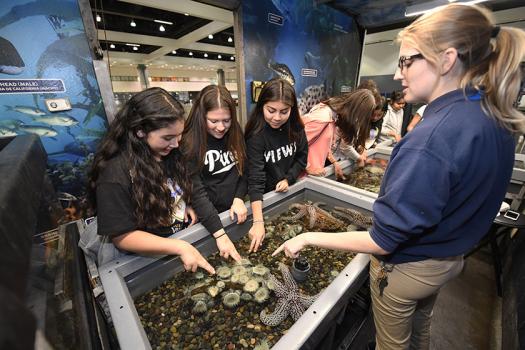 Kennametal and the Kennametal Foundation, in addition to many other sponsors, provide funding support for Education Outreach Day.
Robert J. Clemens, Kennametal's Vice President and Chief Technology Officer said, "Kennametal actively supports the communities in which we work and live, including Southwestern, Pa., and one of our areas of emphasis is STEM education. It's a natural extension of our efforts to support as important an activity as Intel ISEF. The Education Outreach Day helps broaden the exposure of local students to the event."
Robert emphasized, "STEM education is vital for America to maintain a strong technical workforce and to keep its economic advantage."
Science fairs showcase the best examples of what is possible with STEM education, Robert explained. The competitions provide a strong motivator for students. "The Education Outreach Day lets these students show others what can be done, and how much fun it can be," he said.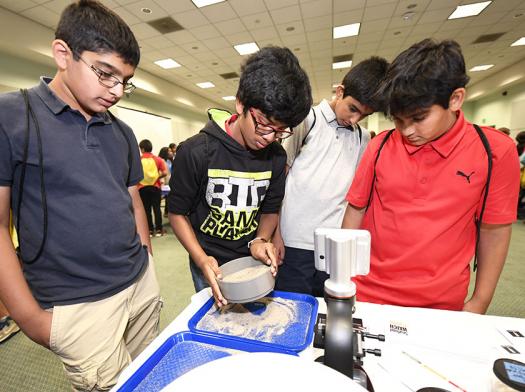 Supporting the next generation of STEM leaders
PPG Foundation has been an Education Outreach Day sponsor for several years. The local communities have a need for a skilled workforce in industries related to STEM, explained Denise Callihan, PPG's Manager of R&D Library Shared Services. 
"To meet this demand — and the challenges of the changing world — PPG and the PPG Foundation are investing in the next generation of innovators," she said. "Investing in our youth and the next generation of innovators will help manufacturers like PPG and the PPG Foundation develop a strong pipeline of talent in STEM fields," Denise said. "We support community organizations, like Intel ISEF, that offer creative activities for youth to spark their interest in science and math."
D'Ann Swanson, Senior Program Officer at The Grable Foundation — another long-time Education Outreach Day sponsor — agrees: "We support Intel ISEF, and in particular Education Outreach Day, because it exemplifies the power of hands-on activities to excite students about science and its mysteries that are yet to be discovered."
Tricia Britton, a 7th grade science teacher at Upper Dauphin Area Middle School, brings her students to the program. "We're a rural school district with limited resources. This event exposes my students to what others are doing in STEM."
Tricia's students last attended Education Outreach Day in 2015, and they plan to come back this year. "This will be my sixth Intel ISEF year — it never gets old," she said.
Michele Thomas, a teacher at Kiski Area Upper Elementary School, brings her students to Education Outreach Day because "it's an amazing event that allows our young students an opportunity to see STEM at a higher level," she said.
Michele believes it's important for her students to understand what it takes to develop and test an idea. "It's important for them to see high-quality projects and how those ideas could turn into future innovations," she said.
The students said it was the best field trip they ever went on!
Michele's students attended the program three years ago. "They loved interacting with students from around the world and collecting information and pins in their passports," Michele said. "Many said it was the best field trip they ever went on!"