Hook your audience on science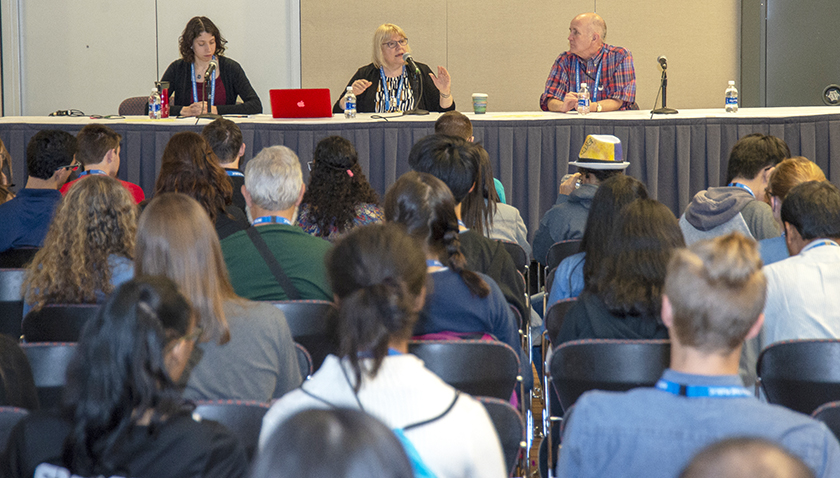 An image of Captain Hook was projected on the screen in the front of the room. "Hook the audience," was the main message of Monday's symposia session at Intel ISEF 2018 on "Communicating Your Science and Doing it Well!" The session was attended by Intel ISEF finalists who will be presenting their research to judges and the public at the David. L Lawrence Convention Center in Pittsburgh, Pa. for the rest of the week.
The session led by Janet Raloff, the editor for Science News for Students, explored the the importance of succinctly describing research. "You're not just trying to hook or impress the people in your field; you want the world to know your work," she said. "Explain why your science matters."
Janet, along with journalists Bethany Brookshire and Sid Perkins, explored journalism's 5 W's and one H with the finalists. They emphasized that answering the six questions — the who, what, where, why, when, and how — could help the finalists better describe their projects.
You have to hook them in.
Bethany, a science writer for Science News for Students, described a finalist who she had met years ago who had a highly specialized math project on number line theory. In order to make his complicated talk more entertaining and unforgettable, he juggled while explaining his technical project. "This made it memorable and people could understand it better," Bethany said.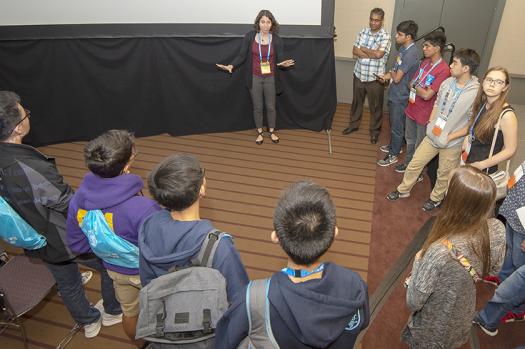 Bethany also reminded the finalists to "check in" with their audience. "Remember to make eye contact, get people engaged," she said.
The journalists recommended brainstorming analogies and metaphors ahead of time that could help explain the finalists' projects to those who are unfamiliar with the topic.
Another important rule the journalists impressed upon the finalists is when you're asked a question you don't know the answer to, don't be afraid to say you don't know. "Don't try to go beyond what you know," Janet explained. "That's important for your credibility. Don't bluff. You're just starting out in your research."
You care about your work, so make the world care about what you did.
One simple way to show how a research project has real-world impact is to limit jargon. These terms can keep people out and limit their understanding, Janet explained.
"You put so much work into your research," Janet said. "You care about your work, so make the world care about what you did the way you care about it. You have to hook them."