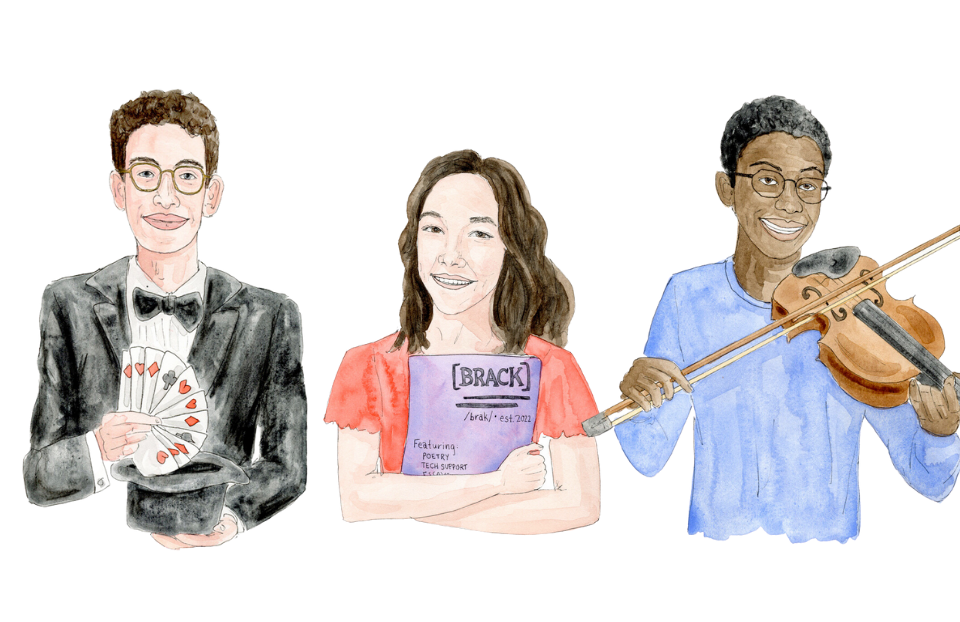 The 2023 Regeneron Science Talent Search finalists aren't just rigorous researchers. Outside the lab, many are also dedicated musicians, artists, writers and performers. Meet just a few of this year's exceptionally multitalented finalists:
Ariella Blackman
Harrison High School (Purchase, New York)
Ariella plays the flute and piccolo in her school's concert band, chamber ensemble and marching band. Last year, she played flute in the Macy's Great American Marching Band, performing on national television in the 2022 Macy's Thanksgiving Day Parade in New York City. She has also performed as a singer in several musical theater productions and taught herself how to play the ukulele.
August Deer
Geffen Academy at UCLA (Venice, California)
August is a magician, a Junior Member of the esteemed Magic Castle and an accomplished pianist who performed last year at the Elite International Music Competition Winners Recital. He is also a member of his school's theater program, where he contributes to all facets of their productions: acting, writing, directing, composing music and even designing props.
Angie Fogarty
Greenwich High School (Old Greenwich, Connecticut)
A music lover through and through, Angie's wide-ranging musical taste is reflected in her curated library of 85 Spotify playlists—and counting. She also plays the drums and the violin and enjoys video production.
Elane Kim
Stanford University Online High School (Walnut Creek, California)
Elane is a creative writer and author who recently published a volume of short stories, called Postcards, through Bull City Press. She is also the founding Editor-in-Chief of Gaia Literary Magazine, an online publication dedicated to championing climate awareness through the vehicles of art and writing, aiming to bridge science and the humanities.
Evan Kim
Tesla STEM High School (Redmond, Washington)
A lifelong musician, Evan has played piano since he was 4-years-old and violin since he was 6. His dedication and love of playing music has taken him near and far—From playing recitals for seniors at local retirement homes, all the way to performing piano at Carnegie Hall and violin with the Milwaukee Symphony Orchestra.
Ozioma Obi
North Carolina School of Science and Mathematics (Greenville, North Carolina)
A passionate violinist and composer, Ozioma founded a violin/viola duet group with his best friend called Ford & Ozi. They have used their performances to raise money for hurricane relief efforts. Always searching for ways to combine his love of science and music, in tenth grade Ozioma studied the physics behind sound production to build a homemade guzheng, a traditional Chinese string instrument.
Kevin Zhu
Jericho Senior High School (Jericho, New York)
A classical pianist who made his solo recital debut at age9, Kevin has performed around the world on storied stages including Carnegie Hall, Lincoln Center and Burgos Cathedral in Spain. He also plays cello, sings in the Julliard Pre-College Chorus and is a founding member and current CEO/Editor-in-Chief of The Incandescent, an umbrella organization promoting teenage mental health through the creative arts.
Sophie Zhu
Williamsville East High School (East Amherst, New York)
Outside of math, Sophie loves writing poetry and experimental fiction, as well as reading books and articles on cultural criticism and literary theory. Sophie is also an avid pianist who describes her most memorable solo performance as a Chopin impromptu in Carnegie Hall's Weill Recital Hall.Her most memorable ensemble performance is playing a jazz accompaniment for her school's winter concert.
You can learn more about the 2023 Regeneron Science Talent Search finalists by visiting the Virtual Public Exhibition of Projects or by watching the 2023 Regeneron STS Awards Ceremony.